Jewish World Review Nov. 11, 2003 / 16 Mar-Cheshvan 5764

Steve Young
Pride more precious than lives?: Sean Hannity is the right man to reverse the maddening trend
http://www.NewsAndOpinion.com | Seems lately that embarrassing another has become the worst transgression one person can commit against another.

Last week, syndicated talk show host, the adorable Sean Hannity, screamed holy horror about a democratic staff memo leaked to him that came out of the Senate Intelligence Committee. The Democrats felt that embarrassing the administration would strengthen their political position. Hannity with his self-admitted fondness for the President, felt that the attempt to embarrass the present administration and his pre-war strategy would hurt the war effort.

Is embarrassment that dangerous? Is image that much more important than substance? No shock when speaking of Hollywood and though it might be annoying, few lives are lost to that credo. Souls perhaps, but body bags? Never. But when you apply the same notion to politics and Washington, the result could be deadly.

On the ABC Sunday morning's This Week, Richard Perle, American Enterprise Institute fellow and former chairman of the Defense Policy Board, the Pentagon's advisory panel prior to the Iraqi war, said the prior to the invasion offer from the Iraqis was not seriously pursued was because if the part of the offer which mentioned oil concessions got out, it would embarrass the United States. Excepting that the administration could have said "no" to the oil concessions, is it better that our men and women were and continue to be killed because we didn't want to take a chance of being embarrassed?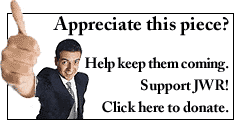 Perhaps that Sean's ire would be better served if he would scream about the administration's seeming concern that the POSSIBLE indignities of preemptive negotiation are of more consequence than the deaths of our young men and women. I wonder how much embarrassment the heartbroken parents of children coming home in boxes would be willing to absorb to see their sons and daughters live again?
A staffer's memo versus an administration that chose to ignore an attempt to abort a deadly war. Which one seems more urgent, more vile; more dangerous to you?
Sean. Where's your outrage? Why have you chosen not to alert your millions of fans to this administration's horrific crime of choosing vanity over lives; of fearing embarrassment over fearing war. It certainly can't be partisanship? Not you. It couldn't be fear. Not a person who stands up to the threats you say that Senator Jay Rockefeller launched in your direction (though with Mark Levin in your corner perhaps you might want to make sure you have plenty of raw meat with you). I know that you're not the type of person who would tap dance or rationalize the Iraqi offer as just another delaying ploy by Saddam. I just couldn't believe that my Sean Hannity would want to show up at the door of a slain soldier's grieving mother to tell her that the chance of this particular offer being just another false hope was not worth her child's life. Not the Sean Hannity I've come to know and respect
I'm sure it's just that haven't gotten around to dealing with it yet. Hopefully you will this week because you, Sean, are the perfect person to get the world to take notice of this insult to every soldier who puts his life on the line. People trust you. Don't let this opportunity to demonstrate the real patriotism that lives within you. And when you speak out with as much wrath and vinegar for what Richard Perle has admitted to with as much vitriol as you did about the leaked memo then I will be sure that you are more than just another political operative hiding behind a pretty face. Go get 'em Sean!


JWR contributor Steve Young, Prism Award winner and Humanitas Prize nominee for his television writing, is film correspondent for BBC radio. He is the author of "Great Failures of the Extremely Successful: Mistakes, Adversity, Failure and Other Stepping Stones to Success," "The 130 Tales of Winchell Mink," Harper Collins (Winter, 2003) and the director/writer of "My Dinner With Ovitz." His website is www.greatfailure.com. Comment by clicking here.
11/06/03: Everyone will be disappointed with "Saving Jessica Lynch" — except the audience
10/27/03: First It Was Reagan, Now There's A Possibility It's Lynch: Is Hollywood Determined To Turn Out Their Own Truth?
10/24/03: RUSH'S FAILURE CREATES POSSIBILITIES FOR US ALL: A Thank You To JWR Readers
10/16/03: This 'flaming lib''s wishes for Limbaugh
09/03/03: The louder the bias, the greater the audience: Interrupting Opposing Views Has Become An Art
08/12/03: Lib judges will be the ruin of civilization … At Least The Comedy Part
08/06/03: Bozo drops out : "California race too silly," says top clown
08/05/03: July 30th has come and gone
07/28/03: Buy Your Very Own Governor on eBay: Recall's On. Count Me In
07/14/03: "THE CIA DID IT." YEAH, THAT'S THE TICKET
07/10/03: OPEN LETTER TO PRESIDENT BUSH: Please Don't Make Me Put My Family Back On Ebay
07/07/03: The failure of our schools stems from our schools' failure to understand the value of failure: Profiting From an Ignored Resource Saves Money And Kids
06/23/03: AN OPEN LETTER TO AL GORE: I Pledge To Be A Great Liberal Talk Show Host
06/17/03: THE CLASS OF '03 MUST BE WILLING TO FAIL: An Unauthorized Commencement Speech
06/12/03: A lib's (maybe) last love letter to Sean Hannity
06/02/03: I WANT TO BE SEAN HANNITY
05/27/03: No popcorn refills? What's next, no stealing Sweet & Low?
05/19/03: Measuring failure of character is an uneven science: Failure May In Fact Be A+
05/16/03: Liar, liar, American Idol's on fire?
04/16/03: TAKE ME OUT OF THE BALL GAME: Politics pitched at national pastime and baseball strikes out
04/11/03: Goodbye Shecky Al-Sahaf, We Hardly Knew Ye
04/04/03: An open letter to the right...and left
03/25/03: Should we be funny during war?
03/19/03: The 2003 Academy aWARds
03/04/03: Energy shortage vs energy profit: A Political Primer
02/28/03: Celebrities for war
02/20/03: So you want to be a liberal talk show host
02/18/03: The Sting, Part II: Osama turns himself in
02/10/03: Michael Jackson threat level raised to "orange"
02/07/03: LET'S GET RID OF SADDAM --- ON EBAY!
01/23/03: Can we really blame HBO for terrorism?
01/09/03: You can buy your very own family...on eBay
01/02/03: A look back at a sorry but pretty funny year
12/30/02: Using 2002's failures to make a successful 2003
12/20/02: McCartney Credit Reverse Sets A Dangerous Precedent
12/18/02: Radio talk takes a surprise hit
12/16/02: Apologies running rampant: The country is in a sorry state
12/13/02: Lott apologizes for his apologies
12/09/02: FDA OKAYS "SOLARIS" FOR TREATMENT OF SLEEP APNEA
11/26/02: Finding the McTunity within their McFailure
11/15/02: Can the Dems learn from Lincoln's failures?
11/06/02: The Day After... who'll comfort me now?
11/04/02: We can all fight ageism!
10/29/02: Was I totally responsible for the market's upsurge?
10/09/02: Finding The Bull Within: Wall Street Needs To Rethink The "F" Word
10/01/02: Merriam-Webster Needs To Rethink the "F" word
09/25/02: Held up in the passing lane ... and life's other positive curve balls
09/23/02: Shrinking the waist problem: Using Good Old American Failure To Lose Inches
09/17/02: Earth to Florida: No more elections
09/11/02: The humor will return. Just not yet
09/09/02: Bush coalition on fast track
08/30/02: N'Sync's Bass gets NASA okay: Former astronauts Gagarin and Glenn form boy band
08/21/02: Insider trading...it's a good thing
08/05/02: America goes Madison Ave.: The Selling of America
07/29/02: ROCKIN' RENO: The Newest Political Strategy For Filling The Coffers
07/23/02: Is Wall Street the enemy? No, but that's where the enemy hides
07/10/02: Cooking the books
06/27/02: Apocalypse now!?
06/14/02: Coulter for the defense?
05/21/02: SUICIDE BOMBER KILLS SELF! NO ONE ELSE INJURED! Inept bomber is refused entrance into Paradise. 72 Virgins breathe sigh of relief
05/19/02: Hey world! How about trying the shoe on the other foot hypotheses
05/13/02: AM Radio and Enron
05/03/02: "Deep Throat" to Be Revealed ... But will America Swallow It!?
04/29/02: Britney Spears next in line to blast off into orbit
04/22/02: Former Liberal Seeks Conservative Book Deal
04/15/02: If you truly care about America, you'll read this column
04/01/02: My Uncle Miltie
03/27/02: The Fightin' Righties
03/20/02: Woody Allen refuses to cast self...
03/18/02: The Realies
02/19/02: Greenspan Announces Lower (Television Network) Interest Rates
02/15/02: Ken Lay sells soul to the devil: Beelzebub loses life's savings
02/12/02: Enron's Skilling mistakenly takes the Fourth, forcing him to spill his guts
02/06/02: BOOSTING THE SAGGING ECONOMY: Let Green Stamps be our financial brassiere
01/24/02: "I'M THE ONE!"
01/16/02: Goodbye "Rincoln Continental," we hardry knew ye
01/14/02: "But He Was Such A Good Boy" gene, found to be defective
01/04/02: PLAY BUZKASHI!
12/31/01: Come on war. You can do better!
12/26/01: NOT MY OSAMA!
12/24/01: TIME caves
12/20/01: Finally! Friends of Color
12/14/01: Bin Laden's Funniest Home Videos
12/10/01: What if Catching bin Laden is in dispute?
11/30/01: Back to normal...too bad
11/16/01: Osama not enough for some
11/09/01: Networks at war!
11/05/01: Bridges Over Troubled Water
10/29/01: The other terrorists
10/16/01: Diary Of A Young Defense Department Comedy Writer
10/01/01: Playlands, burgers, and family sanity
09/25/01: Dissent is walking on red, white and blue egg shells
09/21/01: OPEN LETTER THE MOST HIGH (RE: Falwell and Robertson comments)
09/17/01: Gary, we miss ya
09/10/01: Smelling out a real hero
09/04/01: Don't give up on that dream!
08/24/01: Pitch day at the Mouse
08/21/01: It Depends On What Your Definition Of "Unlimited" Is
08/06/01: IN OPEN LETTER FROM THE NEWS ORGANIZATIONS AND TALK SHOWS OF AMERICA

© 2002, Steve Young