http://www.NewsAndOpinion.com | In his recent speech in New Jersey, President Bush hammered on John Kerry's Senate record. Such as it is. It's like taking a blacksmith's hammer to a sheet of tinfoil. Can't get any thinner.

Granted, the bare bones of a voting record don't tell the whole story. Saying someone "voted against a weapon system" can be misleading. A parsimonious senator might have voted against a bill declaring May 2nd National Mandatory Spam Consumption Day because it had a rider adding $20 billion to develop robot sharks with laser-beam eyes. While such weapons might be handy, a senator may wish to address the issue separately from the issue of spurious meat. You have to look at the details, in other words.

Say what you will about Bush, the record is clear and blunt and simple.

Taliban: gone. Saddam: gone. Tax cuts: booyah! Deficit: (cough). No Child Left Behind still strikes most as a catch-phrase and a talking point. Prescription drug entitlement hasn't quite penetrated the national consciousness. Perhaps the most vivid part of his record: 9/11 wasn't followed by 5/25 or 2/03. We know what Bush has done, in other words.

An examination of Kerry's record shows that he's done very little in two decades. Bush says Kerry passed five bills. Kerry says he passed 56.

Well, according to FactCheck.org, a Web site run by the University of Pennsylvania's Annenberg Public Policy Center, the story is a bit different. Kerry authored seven bills that passed, co-authored four, and co-authored four joint resolutions.

This is not necessarily a bad thing. In fact it almost seems counterintuitive for a Republican to hammer a Democrat for insufficient legislating. Imagine if he had belonged to the Bill of the Month Club:
S. 146 — Changed the generally accepted pronunciation of "Genghis Khan" to "Jen-jis."
S. 189 — Petioned the International Olympic Committee to include the 30-meter medal toss as a recognized event.
S. 346 — Congratulated Dick Cheney on his daughter's birthday, and let the Congressional Record show she's a lesbian.

You'd expect such things from an average senator. We don't expect the Senate to generate good ideas. Senators are the great mediators.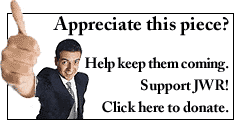 The Senate is the saucer in which the nation's passions are cooled, then dribbled out onto the tablecloth and blotted up by the servants who apologize even though they didn't spill the coffee. It's a millionaire's club whose occupants run the range from ancient steam-powered devices like Robert Byrd, to Mark Dayton, the Minnesota newbie who made headlines when he rabbited out of D.C., citing a fortune cookie message that could have been construed as a terrorist warning.

There are guys like John Edwards, who breeze in for a term, make serious faces on a few committees, and appear to enjoy being a senator in the sense that Gidget enjoyed being a girl. There are serious types like Daniel Moynihan, the gold standard for steel-trap intellect and decency. Then there are the Kerrys.

So what did he do? He authored a save-the-dolphins bill that he might have withdrawn if the dolphins had ever come out against the Sandinistas. He took co-authorship credit on several "joint resolutions," including one to make Oct. 22-28, 1989, "World Population Awareness Week." Remember that? All the parties, the street festivals, the lovely collectible snowdomes? Good times. And it was such a success, he co-authored another joint resolution in 1991, just to recapture the magic. There were two other joint resolutions to establish more special days, both in 1992 — which means he hasn't even come up with one of those rote ceremonial flourishes in 12 years.

Again: Thank you, Sen. Kerry, for not doing any more damage than you might have done. But if one is going to insist that one has fought for working families, fought for health care, fought for defense, it might be helpful to show where one led the charge. Otherwise, "fighting" sounds a lot like nodding your head as the parade goes by, and imagining you're the guy with the baton.

Incidentally, John Kerry has a plan to strengthen America's parades. And he'll fight for it.

Every weekday JewishWorldReview.com publishes what many in Washington and in the media consider "must reading." Sign up for the daily JWR update. It's free. Just click here.

JWR contributor James Lileks is a columnist for the Minneapolis Star Tribune. Comment by clicking here.