http://www.NewsAndOpinion.com | Some people saw the photos of Iraqi bandits stacked in a pyramid and winced: This was bad, but it would pass. Certain senators saw the pyramid and couldn't help but climb up on the bodies and wave for the cameras.

Sen. Joe Biden, whose self-assurance is matched only by the lack of evidence for same, made an early bid for political advantage by calling for Donald Rumsfeld's resignation. It was a remarkably tone-deaf attack.

America likes Rumsfeld. He's the flinty, cranky National Dad. He's the sort of fellow you want to grill the steaks. Or reform the Pentagon. Or both, while fighting two wars.

Rumsfeld has managed to spend his career inside the Beltway without succumbing to its institutional inertia; he's the anti-boomer. Absent a memo that says, "Hook them up to Diehards and make 'em dance. Love, Rummy," most folks are inclined to let him stay on the job. Particularly if the alternative is Joe Biden.

But Biden also reminded us where his party stands today: looking backwards.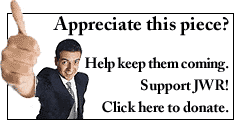 "What did he know," Biden said of Rumsfeld, "and when did he know it?" Ah, the old magic incantation. The litany of the left, sacred syllables that will conjure up the Hallowed '70s, when the forces of Good toppled the hated Nixon. The era when America was reviled abroad, militarily impotent, sunk in despair at home, desperate for a peanut farmer to save it. You know, the good old days.

Why ask for Rumsfeld's head? Because it would give Democrats political advantage in the war against terror. And by "terror" we mean a second Bush term, which terrifies the Democrats more than any plan hatched in an Afghan cave.

That's why the Democrats now seem willing to shiv anyone for transient political advantage, including the entire U.S. military. Taking a page from John Kerry's wholesale smear of the Vietnam-era military -- everyone except Al Gore came back from his tour with ears on a string, don't you know -- Sen. Carl Levin now blames the prisoner abuses on "systemic" aberrations in the military.

So we're not talking about a few bad apples anymore. "Systemic" means "affecting the body as a whole." From the joint chiefs to Pat Tillman, the taint is broad and deep.

One wonders if men like Levin feel a sense of freedom when they make these accusations -- this is how they probably regarded the military before this scandal broke, and now they can openly vent their distaste. How the days after Sept. 11 must have rankled such men; they foresaw that people might now admire soldiers more than senators.

Has this changed? Not for most of America. But this lesson hasn't penetrated the skulls of some Beltway solons.

Hence Biden, hence Levin. Hence the spectacle of flyweight Sen. Mark Dayton, jabbering incoherent accusations against Rumsfeld and Gen. Richard Myers, insisting that their plans to increase the number of tanks in Iraq will radicalize the planet's Muslim population. (If that's what he meant; Dayton's inability to construct an argument is matched only by his inability to deliver it.)

And then there's this gem from the Senate floor:

"The day Saddam was captured, President Bush said that `for the vast majority of Iraqi citizens who wish to live as free men and women this event brings further assurance that the torture chambers and secret police are gone forever.' On March 19, 2004 President Bush asked, `Who would prefer that Saddam's torture chambers still be open?' Shamefully we now learn that Saddam's torture chambers reopened under new management, U.S. management."

There's a Latin phrase: Res ipsa loquitor. The thing speaks for itself.

But this thing speaks for the Democratic Party. These aren't the words of some intemperate first-term junior congressperson throwing fireballs from the back bench; these are the words of Sen. Ted Kennedy.

This is the man who's been stumping for Kerry since his fellow senator wrapped up the nomination. This is the grand vizier of the Democratic Party. And he finds no significant difference between Saddam's institutionalized terror and the actions of a few bad soldiers. From your mouth to al-Jazeera's ear, Senator.

Oh, for the days of a loyal opposition.

Every weekday JewishWorldReview.com publishes what many in Washington and in the media consider "must reading." Sign up for the daily JWR update. It's free. Just click here.

JWR contributor James Lileks is a columnist for the Minneapolis Star Tribune. Comment by clicking here.