http://www.NewsAndOpinion.com | Howard Dean got a raw deal from the media last week. So he was hoarse. So he tried to rally the troops. So he pointed to people from various states and named said states with the enthusiasm usually reserved for calling in an airstrike while under heavy fire. It would have gone unnoticed had he not ended the rally with a sound of someone attempting to play a goose like a bagpipe.

It was not a presidential moment, as Dean himself noted to Diane Sawyer a few days later, but very little that's honest and fun is presidential. You can play the sax and talk about your underwear before the election, not after. You can shill for Viagra after you've lost. Once you're president, you put on the straitjacket of decorum. You are allowed two opportunities per year to "vacation" and be photographed in native garb.

Every troubled candidate has a YEAGH! moment of some sort, something that defines the candidacy in a way he or she had not intended. Ed Muskie's tears, Mike Dukakis in the tank, Dan Quayle in the headlights.

But Dean's moment was unique. It was one of those things that vaulted out of the realm of politics and entered the bloodstream of pop culture. Ten years ago talk radio would have used the YEAGH! to poke fun at Dean. Five years ago people would have traded the sound file as AOL mail attachments. But in 2004, the tools have improved. With a Mac or PC, Dean's gonzo-charged exhortation could be sliced, dissected, looped, set to music and distributed nationwide in a day. Grass-roots humiliation.

And it was. Disclosure: I assembled one of the more popular songs. Within 36 hours it had been mentioned by The Washington Post and the Wall Street Journal; it was played on NPR, Hugh Hewitt's nationally syndicated radio shows in a hundred markets — and even made MTV.com. I didn't mail the song to newspapers, or call up radio stations and offer payola. I simply seeded the URL in the comments section of a well-read liberal weblog and a well-read conservative one. And it was off. This is how information works today: You can go from the bottom to the top with no friction whatsoever.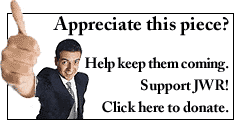 Meaning? Well, weblogs make it tough for candidates to sell falsehoods, because there will always be a hundred dozen foes ready to feast on the lie. Gaffes become major policy misstatements; half-truths are flayed or fleshed out. In the modern election cycle, we're used to seeing these candidates on the tube 24/7, and they have to say something when the camera's rolling. Forevermore now, there'll be someone watching who can tease an offhand remark however he pleases, post it to the Web and join the roiling conversation.

Dan Rather said he thinks the era of network coverage of conventions is over, and he's right. That's a good thing. All we need is C-SPAN and the volunteer pundit brigades. Weary Beltway wonks assembling the conventional wisdom, or a hundred smart observers sharing their views? Take your choice.

Dean's campaign had the weblog buzz; his pre-caucus Internet strategy was a thing of beauty, right down to the slogans, guest columns, effervescent comment sections and occasional visits by the man himself. And it didn't work.

John Kerry — who quite possibly thinks a weblog is something a spider spins in an rotting tree trunk — beat Dean handily. Lesson: Sometimes a bunch of kids sharing their enthusiasm on a Web page is just that, and little more. For now, anyway. There's a Bush blog at georgewbush.com/blog, but it's lame. It says "Official Blog" at the top, which sounds like we're going to see Grandpa try the funky chicken. The GOP's official strategy is e-mail. Supposedly they have the mother of all contact lists. Great: spam. We're at the point in the information revolution where more e-mail is the last thing anyone wants to get.

It's not the e-mail. It's not the blog. It's not the Web sites. It's the computers, and the people behind them, connected like never before. They won't control the buzz this year. But in 2008? Count on it.

Every weekday JewishWorldReview.com publishes what many in Washington and in the media consider "must reading." Sign up for the daily JWR update. It's free. Just click here.

JWR contributor James Lileks is a columnist for the Minneapolis Star Tribune. Comment by clicking here.