http://www.NewsAndOpinion.com | Campaigns are embarrassing to every candidate. Everyone says something blisteringly stupid at some point. You spend all day talking, and your mouth is moving while your brain is off wondering when you might flee this damp, hot hall and find the restroom.

President Bush won't have this problem. He isn't trying to fight his way out of a pack; he doesn't have a glib nervy guy from his own party knocking him. It's scripted appearances from here on, with a dull debate at the end. No more misspeakerating.

The Democrats are another story. They have to say something, all the time, and they have to stand out.

Dennis Kucinich stands out by being just plain weird; any day you expect him to announce he will institute a Department of Aromatherapy, or put the entire military on a vegan diet. John Kerry is sonorous and dull, and his lemon-sucking persona doesn't make you hang on every word.

Howard Dean, however, is fun. He's like Tigger. Always bouncing. Always something to say. And that's the problem.

Perhaps the biggest news Dean made in recent weeks wasn't for a Bold Policy Initiative, but his declaration that he is a metrosexual.

It's a trendy term, already long dead in the hipster circles that produced it. A metrosexual is a straight guy who moisturizes and accessorizes.

You can imagine his brain's reaction when his mouth let that one go: I step away for six seconds and you lose the entire NASCAR dad vote.

So he backpedaled, confessed he is actually a square. No big deal, but revealing nonetheless:

1. What would Bush have said if anyone asked if he was a metrosexual? You might have gotten a blank look, which would totally lose him that Upper West Side vote he's been assiduously courting. If you caught him in a chipper mood, he might simply have said, "Ask Laura." The Bush-As-Tart-Quipster whom some conservatives long to hear might have said, "You've seen my ranch. I'm more of a ruralsexual." But the issue probably wouldn't have come up at all; we are a nation at war and it would be a silly, frilly thing to waste time upon. Right?

2. More interesting was Dean's comment that he wanted to bring back to the Democratic Party all those Southern men who have Confederate flags in their pickup trucks. Hoo-boy. If Bush said that, the editorial cartoonists would have him in white sheets and pointy hats for the rest of his term.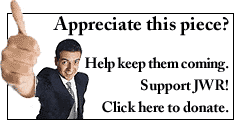 But Dean has hit on something. Why don't those guys want to vote for Dems?

Well: If you're going to cater to the pickup demographic, it doesn't help to run guys like Al Gore, who wished he could go back in time and throttle the inventor of the internal combustion engine in his crib. It doesn't help when the ACLU gets its undies in a bundle every time someone recites the Ten Commandments on the same block as a courthouse. It doesn't help when some people appear to regard the gay-unfriendly Boy Scouts as a greater threat to Western Civ than al-Qaida.

To many swing voters, that's the baggage the Dems carry right now. Wobbly on foreign policy, dependably pro-government benefits for anyone who can show up and sign a form with an X, pro-religion if the church supports abortion and euthanasia. In other words: liberals!

Unfair? Broad? Crude? Sure. But not entirely inaccurate. Just as the Republicans gradually purged the Buchananite strain after Pickaxe Pat's spittle-flecked speech at the '92 convention, so must the Dems cast off their angry fringe. When it comes to the swing voters, you have two groups: Social Moderates Who Don't Want Their Daughters to Wear Burqas for Bush, and Dixie Pedicure Enthusiasts for Dean.

Can a fellow win with the Confederate Metrosexual vote? Time will tell.

Every weekday JewishWorldReview.com publishes what many in Washington and in the media consider "must reading." Sign up for the daily JWR update. It's free. Just click here.

JWR contributor James Lileks is a columnist for the Minneapolis Star Tribune. Comment by clicking here.