http://www.NewsAndOpinion.com | "Go back and get the file footage," said John Kerry.

He was on "Good Morning America," sorting out whether he threw over the White House fence his medals, his ribbons, someone else's medals, someone else's ribbons, or a combination of the above mixed with some Cracker Jack prizes. How to clear things up? In a peeved and hectoring voice, Kerry told the interviewer to "go back and get the file footage."

Hmm. This would be the film of a grim, long-faced young man with ultra-'70s hair hurling some symbols of military honor at the White House. That's the sort of image the opposition usually puts in the October negative ads. Particularly when the nation is at war and soldiers are in vogue.

Kerry wants us all to see it in prime time. He seems to think it's something we want in a president.

It would impress those who abhor American power, who think that Vietnam turned into Sunny Candyland the moment the United States got out and let Ho Chi Minh's minions poke everyone into the camps. But it reminds others that once we cut and run — and that guys like Kerry were there with the scissors and track shoes.

Few would hold his medal toss against him today; his record as a senator and a presidential candidate is much more pertinent. People do things in their 20s they later repudiate. But Kerry is one of those people who hasn't changed his mind much in 30-plus years. The 60-year-old senator and the 27-year-old war vet getting his first taste of the sweet juice of national publicity — same guy.

Hence he feels compelled to defend himself with tortuous hair-splitting and excruciatingly complex explanations. If he was wrong then, you see, he's wrong now. And John Kerry, as he reminded us after a day on the slopes, doesn't fall down.

If the medal toss showed anything, it's how the left is welded to the curious morality of symbolism. In Kerry's camp, symbolism has an almost religious quality. Throwing medals for the cameras may be narcissistically theatrical, but the essence of the gesture is symbolically correct: Up yours, Nixon! It can never be retracted.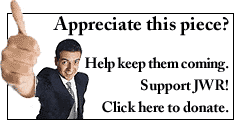 Alas, the medals flap overshadowed another remark that was more illustrative of Kerry's imprisonment in symbolic politics. He was asked if he had an SUV. He admitted owning a Chrysler 300M, and made a pitch against outsourcing: "I want cars to be made in Michigan, made in America, made" by the United Auto Workers, Kerry said.

The 300M is made in Canada. Oh well. Who can keep track of these things? Then came the telling line about his SUV. He said: "The family has it. I don't have it."

So now we have three separate Kerry Units: JFK himself, whose tax returns and military records are part of the debate; his wife, Teresa, whose tax returns are NONE OF YOUR BUSINESS; and "the family," an entity distinct from Kerry and Heinz, a sort of familial blind trust into which he contributes no input. Don't blame him for having an SUV. Blame THE FAMILY.

You have to feel sorry for him, you really do. No one can live the simon-pure life. No candidate can don the hairshirt for 30 years. He throws away a pop can, we shout gotcha, jump on him and insist this invalidates his position on recycling.

Modern life almost demands that you violate the innumerable tenets of each party. But it's easier to run afoul of the laws of the Pure Left than the Pure Right, because the left has freighted practical causes with moral weight. It's not enough to want to preserve the Earth; it has to be done because it is immoral not to. Smoking isn't just a bad habit, it's a sign of moral degeneracy. (They got that one from the old right.) Driving a vehicle the size of a rhino is evil. And so forth.

It's a minefield, because you can't tell what portion of the constituency might have a moral objection to a pragmatic decision.

Guaranteed: There are those who don't care whether he threw away his medals. But they're furious that he didn't recycle them.

Every weekday JewishWorldReview.com publishes what many in Washington and in the media consider "must reading." Sign up for the daily JWR update. It's free. Just click here.

JWR contributor James Lileks is a columnist for the Minneapolis Star Tribune. Comment by clicking here.