http://www.NewsAndOpinion.com | So Sheik Ahmed Yassin's a martyr now. And Hamas is upset? It surely beats passing away in your sleep — at least by the standards Yassin himself upheld. But he was by all accounts a humble chap. Martyrdom, for me? Oh, you're too kind. No, I'll just sit here with a nice cup of coffee and perhaps a pastry.

Martyrdom is a young man's game, my child. Run along now.

Well, live by the unexpected explosion, die by it. Commentators now fear an "upsurge" in the old dependable "cycle of violence" — you know, Hamas sends someone to drive ball bearings through children on a bus and Israel responds by killing the people who hatched the plot.

It takes a particularly Olympian viewpoint to view this as tit for tat, but moral equivalence is the dusty chipped prism through which the press regularly views the conflict. Killing the "spiritual leader" is an "escalation," and the newly inflamed extra-angry Hamas turns its Jew-hatred dials up to 11. Instead of killing 500 Israelis in five episodes, we're warned, they might try to do it all at once. So lay off the leadership, or they'll really be mad.

But Hamas' last suicide bombing was designed to kill a huge number of civilians. The attack on the Ashdod port on March 14 was designed to blow up tanks holding fuel and toxic chemicals, killing hundreds of people. At least that's what Abu Qusay, a leader of the Al Aqsa Martyrs Brigade, said after the attack.

Wait — what's this, you say? Al Aqsa commenting on Hamas' operational strategy? Aren't they all different organizations that sprang organically from the rich loam of Israeli oppression? Odd. And look at this: Hamas and Fatah both claimed credit for the port attack.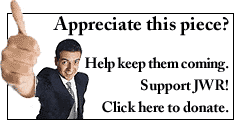 Nobel laureate Yasser Arafat is the head of Fatah, incidentally. Fatah has a paramilitary wing called the Tanzim, which supposedly was created to counterbalance competing terrorist organizations such as Hamas and Islamic Jihad. Fatah is mostly secular, concerned with shoveling Jews into the sea; ditto Al Aqsa. So it must surely be unthinkable that they would find common cause with Islamist groups such as Hamas, right? Just like Saddam Hussein would never deal with al-Qaida. Matter of principle.

Add this to the mix: Hamas, ramping up the RPMs on its death spiral, has now announced that the United States will be a target. (We weren't before? That's news.) And al-Qaida has issued another proclamation vowing retaliation: "We call on all the Abu Hafs al-Masri Brigades to avenge the sheik of the Palestinian resistance by striking the tyrant of the century America and its allies."

Note to Spain: This still means you.

As they say in the infomercials: But wait, there's more! The head of Indonesia's al-Qaida-linked terrorist organization Jamaah Islamiyah is getting out of jail, and has threatened America because it persecutes Muslims: "If the United States continues to do so, there are many Muslim fighters that have sworn to destroy the enemies of Islam, including America and its allies." And we haven't even mentioned Hezbollah or Al-Ansar.

So how do we untangle this mess of strange names and bewildering factions? Simple. Just keep this in mind:

It's all one enemy. Different shoots, same root. They may have different names. They may be distinguished from one another by different dental-care providers. They would probably start killing each other once the goal of destroying their enemies had been accomplished. But they have one enemy: us. And we have one enemy: them. We might not want to believe the latter, but rest assured they believe the former.

Dealing with this Hydra-headed beast is a different matter, though. What to do?

Well, just consult the new, self-anointed mastermind of anti-terrorism strategy, Richard Clarke. The Reagan-era holdover who presided over the Clinton administration's exquisitely nuanced policy of paralysis and inaction left the Bush administration last year, and resurfaces now to hawk his book and hammer Bush's approach to fighting terror.

What does he counsel? In a recent piece in Time magazine, he's frank: "In addition to placing more cameras on our subway platforms, maybe we should be asking why the terrorists hate us."

OK, Mr. Terrorist, what do you want from us? "We want you to lose."

Hmm. Well, there's only one reasonable, nuanced response: Would you be happy with the Sudetenland?

Every weekday JewishWorldReview.com publishes what many in Washington and in the media consider "must reading." Sign up for the daily JWR update. It's free. Just click here.

JWR contributor James Lileks is a columnist for the Minneapolis Star Tribune. Comment by clicking here.