http://www.NewsAndOpinion.com | What the Democrats need is a home-grown Tony Blair.

Britain's prime minister could announce his support for state-funded late-term abortions for the offspring of married gay orangutans, and he would still get votes from the right side of the spectrum.

He's a wartime leader. He grasps the nature of the enemy. He knows what's at stake, and can describe the moral duty of the West in electrifying rhetoric. He understands what Sept. 11 meant, even though he lives an ocean away. He is not a man who values cooperation more than victory. And he wouldn't stand a chance in the modern Democratic Party.

Is Blair one of the foreign leaders who supposedly told John Kerry of his hopes for a Bush defeat? "I've met foreign leaders who can't go out and say this publicly, but boy they look at you and say, `You've got to win, you've got to beat this guy, we need a new policy,' things like that," Kerry said in Florida.

The Kerry camp has no record of its candidate meeting with Blair or other foreign leaders, for that matter. Maybe he's referring to a seance. Maybe Neville Chamberlain is pulling for him from beyond the grave. Maybe Jean-Bertrand Aristide phoned from the plane.

In any case, it's a telling remark. Sen. Kerry might be surprised to discover that foreign opinion doesn't concern your average NASCAR dad, who would prefer America to be strong and disliked than weak and beloved.

In another sense, Kerry's assertion reminds his base that America "squandered" the world's good will -- you know, that boundless French pro-Yank sentiment we've basked in for years.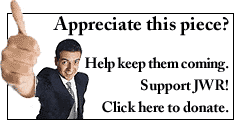 As the strongest nation in the world, we are apparently required to do what the weakest ones want, lest we waste their most precious commodity: sympathy. It's a common theme for those who value process over results and admire impotent international institutions whose primary output is thick, creamy paper stamped with interesting signatures and lovely official seals.

These people would rather the United Nations spend five years "engaging" Iran on its nuclear weapons program, even if the end result is a mushroom cloud over Tel Aviv. Better that than a unilateral pre-emptive strike, which would destabilize the international order that let Iran build a bomb in the first place. Better the process fail than the process be ignored.

On another level, though, Kerry's remark sounds pathetically naive. Why does he think the Unnamed Foreign Leaders like him best -- because they have America's best interests at heart? They want to mire the United States in the tarpit of the United Nations again, and Kerry looks like the man to wade right in.

Europe can't fight its way out of a paper bag, because it spends half its money propping up its paper bag industry, and the other half on bureaucracies regulating the strength and thickness of paper bags. Europe can only be the equal of American power with the willing cooperation of a president who stays up late at night wondering whether chain-smoking leftists in cafes on another continent might greet his next state visit with giant mocking puppets.

Perhaps Kerry was referring to his North Korean endorsement. State radio from Pyongyang has been singing his praises lately.

Of course, it doesn't mean that a vote for Kerry is a vote for Dear Leader. But North Korea would obviously prefer Kerry, or any softie multilateralist in the Jimmy Carter mode. "Here's some food for your army. Now please behave or next year we might consider bilateral negotiations to impose U.N. inspection on whether the food is going to your army." Dear Leader would tremble. From laughter.

Why would all these world leaders love a Kerry presidency? Because John Kerry is a man of nuance, you see.

The New York Times, explaining Kerry's innumerable flip-flops, says this: "Some aides and close associates say Mr. Kerry's fluidity is the mark of an intellectual who grasps the subtleties of issues, inhabits their nuances and revels in the deliberative process."

When 220 stories of skyscraper tumble into a mass grave, that's what you want in a leader. A nuanced response. Better yet: an inhabited one.

Every weekday JewishWorldReview.com publishes what many in Washington and in the media consider "must reading." Sign up for the daily JWR update. It's free. Just click here.

JWR contributor James Lileks is a columnist for the Minneapolis Star Tribune. Comment by clicking here.