http://www.NewsAndOpinion.com | At least now we know where John Kerry is meeting these unnamed foreign luminaries: "I mean, you can go to New York City and you can be in a restaurant and you can meet a foreign leader," he said on "Meet the Press."

Happens to us all, you know; one moment you're at Denny's garnishing your hamburger, and the next you have the Guatemalan undersecretary for bauxite slapping you on the back and expressing a fervent desire for your victory. You nod, you smile, you play along. And he goes on and on about Kyoto until you note that while you're all for fighting global warming, your meal is growing cold. If you don't mind? Gracias.

In the same interview, Kerry repeated his constant campaign theme: his intention to drop to one knee, Jolson-style, in the United Nations General Assembly and beg for forgiveness. "Within weeks of being inaugurated, I will return to the U.N. and I will literally, formally rejoin the community of nations and turn over a proud new chapter in America's relationship with the world."

It plays to the base. The left is terribly worried about what the popular kids are saying about them in the United Nations. "We've alienated the world! For heaven's sake, we've alienated China! Oh, and Free Tibet!" The right couldn't care less, but what can you expect out of a party that would rather get married to Great Britain than have an affair with France? The undecided middle — defined at this point as "people who aren't paying attention" — is waiting to learn why we'd be safer trusting an organization whose response to Rwanda was to send not armies, but condolences. And even that took years.

One suspects that the number of undecided Americans may be fewer this week than the last — at least if they heard about the U.N. reaction to Israel's ballistic dismissal of Abdel Aziz Rantisi, Hamas' leader-of-the-week. What a loathsome man he was. A architect of death and terror. Religious bigot, child-killer, slaughterer of fellow Arabs. Israel finally takes him out. The United Nations springs into action — to consider a resolution to condemn the attack.

It was "extra-judicial," you see. Contrary to "international law." In the mind of a Eurocrat, whose paycheck demands belief in these ephemeral concepts, these are grave charges. To your average American, however, the strike on Rantisi was like a strike on Osama bin Laden. Anyone whose main objection to the death of a terrorist is its "extra-judicial" nature has odd priorities, particularly in wartime.

It's as if U.N. groupies think we should prop up "international law" so it'll be our shield when the tides turn against the West. As if a triumphant Hamas would petition The Hague for the right to exterminate the Jews before the final pogrom began.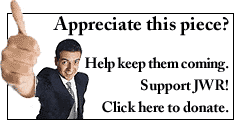 A reminder of what Rantisi was saying before he took the express elevator below: "We say to the Muslim people of Iraq, we are with you in your struggle against the American terror and destruction, we are with you in your war in defense of Islam. We say to the fighter and commander Moqtada al-Sadr: Hamas stands by your side and blesses your jihad and wishes you with the help of G-d, that you will win and be victorious."

Somewhere in that nuanced, reasoned assessment, you get the idea that he thinks they're at war with us.

John Kerry said he supported the strike on Rantisi. Good for him.

But he seems to think that the era of American strength will begin with an apology. He seems to think that the key to the Arab heart is spending more money on sub-Saharan AIDS programs. He seems to think that we can be both strong and loved. Imagine the look on President Kerry's face when he realizes that every pledge of goodwill and money evaporated in an afternoon because he blocked a U.N. condemnation of an Israeli strike on the Iranian nuclear facilities. But — but — I thought we were friends again!

Nations have no friends. Nations have interests.

That has to be true; a Frenchman said it.

Every weekday JewishWorldReview.com publishes what many in Washington and in the media consider "must reading." Sign up for the daily JWR update. It's free. Just click here.

JWR contributor James Lileks is a columnist for the Minneapolis Star Tribune. Comment by clicking here.