http://www.NewsAndOpinion.com | If presidents weren't limited to two terms, the Boston convention would have seen a familiar face at the podium, accepting his fourth nomination. I'm Bill Clinton, and I'm reporting for booty!

Leaving aside that pesky constitutional prohibition, Clinton could have gotten the nod if he'd wanted. He would have beat George W. Bush in 2000. He would probably beat Bush today, given our nostalgia for the happy, shiny '90s. But perhaps he enjoys retirement. Sure, it's good to be king, but there's something to be said for turning on "Monday Night Football" and letting someone else worry about loony long-beards with nukes.

So why does John Kerry want the job? It's the end of a private life, forever.

You can never walk down to the corner store for a beer again. You can't even rent "Wild Things 2" at the video store without wondering whether the Secret Service agent is noting your selection behind his dark glasses. The pay isn't bad, but your wife drops that every month in jet fuel bills. Half the country, which otherwise would have no opinion about you, now loathes your guts. Unless, of course, you have 80 percent approval ratings because you really united everyone after New York got nuked. But that's going down on your permanent record.

So why does Kerry want to be president?

The reason is almost tautological: John Kerry wants to be president because he is John Kerry, and John Kerry is supposed to be president. Hence his campaign's flummoxed and tone-deaf response to the swift boat vets. Ban the books, sue the stations, retreat, attack. Underneath it all you can sense the confusion. How dare they attack Kerry? He's supposed to be president. It's almost treason in advance.

It's not enough to believe you should be president. Clueless mortals need some hints. Is he motivated by a broad ideological agenda? There's no Kerry Doctrine, no Kerry Approach, no Tony-Blair-style "third way" gambit. There's just Lurch, lurching.

The war? He's said he would have gone to Iraq even if he knew then what he knows now — he just would have done it differently, whatever that means. He has endorsed the concept of pre-emptive war — but of course he would do it differently. It all seems to boil down to getting the French and the Germans on board so they can complain about the food and the quality of the sheets. He's pro-war when it counts, anti-war when it matters.

Inconsistencies are irrelevant, because he's consistently John Kerry. And he's supposed to be president.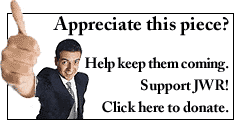 Is he running to reseed the blasted heath we call America? But he's already had decades in the Senate without much to show for his effort. Good for him! Run on that record! It would be a refreshing campaign ad: "For years I have steadfastly avoided using my power to screw things up, preferring to aid the people of my state with small riders on large bills. Who am I to overturn the American health care system? I can, however, provide a nice swimming pool for poor Bostonians."

It's fair to wonder why Bush wanted the job — and please, spare us all the Daddy psychobabble. Bush wanted to be president for the usual reasons. It looks nice on the resume. It's a select club. You might get your face on money or a mountain.

He had two issues: tax cuts and cutting taxes, with some mushy conservatism thrown in to realign moderate voters. If Sept. 11 hadn't happened, he'd be running again for no particular reason except inertia. Who wants to move after just four years? You have to pack, you have to change your magazine subscriptions. It's easier to stay.

But Sept. 11 changed him and his presidency. He wants to win the war and change the world. That usually takes more than one term; ask FDR.

Some men run because they truly wish to shake up the old order. Alan Keyes ran because he believed passionately in his ideals, but unfortunately he struck many people as somewhat insane. Ronald Reagan ran because he believed in a new direction, and inhabited his ambitions with ease and grace.

John Kerry is running because his turn has finally come. See also: Bob Dole, Michael Dukakis, Walter Mondale. And Richard Nixon.

Every weekday JewishWorldReview.com publishes what many in Washington and in the media consider "must reading." Sign up for the daily JWR update. It's free. Just click here.

JWR contributor James Lileks is a columnist for the Minneapolis Star Tribune. Comment by clicking here.