http://www.NewsAndOpinion.com | John Kerry doesn't just talk to foreign leaders; he counsels with Nobel science laureates as well. Kerry wants to lift the ban on federal money for experimenting on human embryos, and 48 of the nation's finest eggheads agree: President Bush's stance on the issue puts "ideology over science."

Ideology, in this case, means "a deeply held belief." It's peculiar, but true: Some people have a strange, amusing hang-up about the sanctity of human life, and they don't like vivisecting human embryos for any reason. Not even if the experiment brought Ronald Reagan back to life and restored his brain.

To these "ideologues," slicing and dicing embryos is almost like setting up baby farms so we have a steady supply of fresh organs. Silly ideologues! After all, if we'd listened to the superstitious fools in the 18th century no one would ever have dissected a human body, right?

Are these ideologues taking a page from People for the Ethical Treatment of Animals and Earth First!, burning down labs, threatening doctors, setting the embryos free to live in the wild? No. They are declining to spend federal money on the matter. Private investors are perfectly able to throw billions into this field if they wish. John Ashcroft will not show up in his Cotton Mather costume and block the door.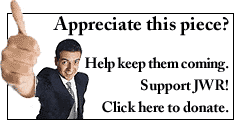 It's part of a campaign to show how Bush is an anti-scientific throwback who'd like nothing more than federal laws insisting the planet is 6,000 years old, and space ends about seven feet after Pluto.

In a speech in Denver, Kerry said, "We need a president who will once again embrace our tradition of looking toward the future and new discoveries with hope based on scientific facts, not fear." What fear is the senator talking about? Does he think Bush is terrified that stem cells will grow 50 feet tall, stomp around and crush whole cities? What fear is the senator talking about? Kerry goes on:

"Franklin Roosevelt built great national laboratories. Abraham Lincoln created the National Academy of Sciences. President Eisenhower established the White House science adviser. President Kennedy started America on the path that ended up with a man setting foot on the moon. And President Clinton helped lead us to a map of the entire human genome."

That's right. He helped lead us to the map. "Over here, boys! I spy a sequencing pair that might govern the pineal gland! Shazaam!" And what has President Bush done? Besides put us on the path that will end up with Americans on Mars? Nothing!

Nothing! Granted, the latest budget increases science R&D by 7 percent. Take out the moneys targeted for defense and homeland security initiatives, and it's a 4 percent raise. But to hear Kerry talk you'd think Bush was sending everyone who wore a white lab coat and thick black glasses to Gitmo.

Of course we can spend more. We can always spend more. This isn't to demean science, or even the government's role in promoting new advances. Rah, science. Rah, targeted grants for promising ideas. Rah for funding boring things when necessary. No, the issue is Kerry's belief that federal funding has some special holy quality because ... well, because it's federal funding.

It's hard to outspend Bush, but he'll try. How will he pay for his spending proposals? Kerry's camp says he'll "codify the economic substance doctrine, which defines a tax shelter as any transaction that is conducted purely for tax reasons with no economic merit. In addition, Kerry will close Enron-related tax shelters." By himself! Then he'll clean the Augean stables and knock off for lunch. He'll also set up an "Education Trust Fund, paid for by rolling back the Bush tax cuts for families making more than $200,000 per year."

Ah yes, those guys. The geese that lay the golden eggs. By the time Kerry's done with them they'll pay for new schools, a bigger drug benefit, national health care, universal Internet access, a hundred thousand new soldiers, and the spiffy new gold-braided kneepads all diplomats must wear when consulting with the Europeans. Why not just cut them open now and see where all those golden eggs come from?

In the name of science, of course.

Every weekday JewishWorldReview.com publishes what many in Washington and in the media consider "must reading." Sign up for the daily JWR update. It's free. Just click here.

JWR contributor James Lileks is a columnist for the Minneapolis Star Tribune. Comment by clicking here.