http://www.NewsAndOpinion.com | Of course George W. Bush said nice things to Bill Clinton. It was a nice, happy event for the 42nd president, welcoming him and his portrait to the people's house. What did people expect Bush to say?

"Look at him — a red-nosed satyr, a godless fleshy sack of appetites and vanities, his very blood clotted with the money he so assiduously condemned while seeking the votes of his peers. And now he comes again to the building he turned into a brothel, to bask in our regard! Perhaps it is too much to point out that this painting, being of two dimensions, has one more than the man it depicts? Fie, I say! Fie!"

That would be graceless. That would be un-Christian. That would be wrong.

No, Bush gave a nice speech, warmly received, full of charm. Sure, some wanted him to leap over the podium and plant a stake in Clinton's heart — or, at the very least, to hose him down with holy water until he ran shrieking from the building. But that's so 2000.

Clinton hatred has burned out on the right. It didn't get them anywhere. They looked at his high poll numbers like Hollywood executives reading the grosses for Mel Gibson's "The Passion." Whoa! Misjudged the appeal of that one. The main emotion the man now evokes is irritation, followed by bemusement.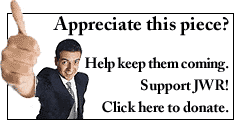 And now, to paraphrase Ronald Reagan: Here he comes again. Behold the Summer of Clinton. There will the convention speech, the Return of the Man from Hope, his long velvet shadow draped over the pale frowning figure of the nominee, John What's-His-Name. But first we have the long-awaited book, "My Life." First we have the publicity tour — and that will be revealing. But only for the questions no one asks.

Most reporters will gently toss him beach balls. Expect a lovefest. He's still charming, he had the right enemies, and, well, he didn't have an affair with our daughter.

We will hear a lot about impeachment, but little of the murky dealings that led to the articles. Expect the Pilgrim-hatted specter of Ken Starr to be dragged out again. Expect the most breathless portion of the interview to detail the moment when Bill broke the bad news to Hillary about Monica. Close-up. He bites his lip. The voice goes low and fills with regret. Or perhaps gravel. "It was the hardest thing I ever had to do," he'll say, or something like it.

"Really?" the tough interviewer will say. "Harder than sending American troops into harm's way in the Balkans?"

Of course, no such moment will happen. It would be unseemly. It might also remind people that the United States entered that conflict without even the pretense of a United Nations vote — but that's not something most interviewers remember, or care about. What matters is burnishing the legacy.

Which is what? Well, in the end, Clinton may be remembered for what he didn't do. He didn't win in Somalia. He didn't nationalize the health care system, and after one crack he wisely gave up and moved on. He didn't fight welfare reform. He didn't get Osama bin Laden. He didn't get thrown out of office. He didn't defeat Saddam Hussein. He didn't get in Alan Greenspan's way. He didn't save Social Security and he didn't wreck it. He was perhaps the perfect president for a time in which we didn't want to do much but make money and pretend history was over.

Even now, Clinton gets a pass for Sept. 11. We've censured and moved on, as some said during impeachment. Now we know what the threat looks like; now we're at war. If another attack happened during his book tour, no one would dare ask if he felt any responsibility.

But some idiot would probably ask if the planned bombing of a Columbus, Ohio, shopping mall was a response to Abu Ghraib. The politician in Clinton would want to say "no, but." The statesman would simply say no. The American in him might remember the good words Bush said the other day, and assert the need for national unity.

Which one of these characteristics will eventually be his legacy? We'll find out eventually. He could live as long as Reagan — which gives him 35 more years in politics.

If Republicans are sick of him by summer's end, they really need to learn how to pace themselves.

Every weekday JewishWorldReview.com publishes what many in Washington and in the media consider "must reading." Sign up for the daily JWR update. It's free. Just click here.

JWR contributor James Lileks is a columnist for the Minneapolis Star Tribune. Comment by clicking here.