Jewish World Review June 10, 2004 / 21 Sivan, 5764

Whatever happened to respect for the presidency?

By James Lileks

http://www.jewishworldreview.com | When did we start hating presidents? Openly, that is.


In the '50s, the urban liberals patronized Ike. Tolerated him. That dopey smile, those golf clubs. Suburban banality personified. Was he paternal or avuncular? As if he'd know the difference, poor man.


Nixon always had his rabid detractors, but the famous Silent Majority wasn't eager to embrace the rhetoric of shaggy collegians who danced around blazing flags and rooted for Uncle Ho.


Carter wasn't constantly eviscerated by the mainstream media — teased for his bout with a killer rabbit, yes, and regarded by the wags as an extra from "Hee Haw" who wandered off the set. But he was the president, and that counted for something.


Then came Reagan. In the '80s, open contempt for a sitting president was no longer sole property of the intelligentsia. From MTV videos to fiction to "Saturday Night Live" to editorials, the culture pronounced a unanimous verdict: This guy is nuts, and he is going to KILL US ALL.


He was stupid, for starters. Only simpletons were that happy. Deep, smart people wore black and frowned and sat in the corner chain-smoking over the latest issue of the Nation. And he was an actor! (Years later these same critics would secretly regard Martin Sheen as the finest president of their lifetimes.)


Reagan was an economic illiterate in the grip of voodoo theories! His policies starved the treasury, brought on a recession and led to higher interest rates. Granted, the recession he inherited turned into a long boom and interest rates declined — but those are details.


Troublesome facts aside, we all recall the Great Depression of the '80s, don't we? Donald Trump amusing himself by throwing homeless people off the roof of his building. Breadlines that laced through three states. Security camera footage of Reagan himself sneaking into savings and loans to cook the books.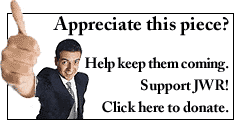 He was heartless! He didn't talk about AIDS at first — as if the people at risk would have taken sex tips from a 72-year-old they didn't like. As if a presidential order clearing Needle Park and shutting down the bathhouses would have met huzzahs.

He was religious! OK, all presidents have to say God-type stuff, but people feared Reagan would calmly order a nuclear strike, believing that Jesus would appear to bat incoming Soviet missiles from the sky.

Anything else? Oh, right: He was a warmonger.

But please don't suggest all that mongering accomplished anything. No, the Soviet Union was a house of cards. With termite riddled walls. And a foundation of sand. In a typhoon. During an earthquake. It would have gone any day, and if Reagan did anything he just exhaled a small gust of breath that brought the whole rotten thing down.

Even if that were true, and it's not, at least it gives him credit for giving the USSR a nudge. There are always those who see tyrannies and wonder how they might be persuaded to play nice. It's as if there were a bear prowling around, and the villagers decided to stake out a few infants for supper in hopes the beast would go away.

Reagan preferred to shoot the bear. One hopes the verdict of history will be simple: nice aim.

Yes, this rhetoric continued during Clinton. Elements of the right became utterly unhinged by Clinton's ability to rise above his attackers and connect with the voters, just as Reagan had done. You could say the right was reacting to the incessant Reagan-bashing, but in the end it changed no hearts.

No doubt George W. Bush also waits content for the judgment of history; if he wins a second term and secures the peace, he may think he'll go down in the books like Reagan.

But history isn't written by the victors anymore. History is written by the historians. By the people who write masters' theses with titles like "Janet Jackson and Abu Ghraib: The Inappropriate Breast and Postmodern Paradigms of Oligarchical Media Meta-themes." Such bright minds are more likely to bury Reagan than to praise him, and drape the headstone with garlic just in case.

We can no longer agree to disagree, apparently. The other side isn't just wrong; it's evil.
Every weekday JewishWorldReview.com publishes what many in Washington and in the media consider "must reading." Sign up for the daily JWR update. It's free. Just click here.

JWR contributor James Lileks is a columnist for the Minneapolis Star Tribune. Comment by clicking here.
© 2004, James Lileks