http://www.NewsAndOpinion.com | The more this campaign continues, the more one cannot suppress the nagging suspicion that John Kerry had something to do with the Vietnam War. The latest piece of evidence came in his epic acceptance speech, in which he said, "I defended this country as a young man, and I will defend it as president."

It's a clever line because it has two possible meanings.

He could mean that his service in Vietnam defended America. Not a common view on the left, which often regarded the war as a chance to test exotic weapons on equally exotic people.

Perhaps he means that his castigation of the war — and the men who fought it — was the true defense of America. This nation had lost its way, and only by abandoning Vietnam to a regime bent on butchery and subjugation would we restore our self-esteem.

By some estimations, 200,000 Vietnamese died trying to escape after we left, but who cared over here? The draft was over, grass was cheap, and hey, here comes disco! Good times.

So which is it? He defended America in Vietnam, or defended it opposing the war? Wrong question.

To a mind schooled in life's infinite shades of gray, the real question is, "Why can't it be both?" The war was moral for the four months Kerry fought it, and became extra-super unjust the moment he auditioned for his freestyle medals toss over that fence at the U.S. Capitol. Clear?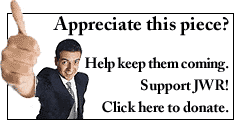 The public, however, may detect some first-class waffling here, since Kerry's poll numbers did not bound into the stratosphere after the Democratic National Convention. His message may not be resonating with the undecideds — particularly if the message comes across as "Tough on Terror, Gentle on France."

Consider the news of the week. Responding to the new alerts in New York, Newark, N.J., and Washington, Kerry attacked President Bush for not creating a super terrorism czar earlier, as if this ultra-powerful bureaucrat could morph into a 10-story transformer and stamp out al-Qaida cells with his big metal feet. He also noted the pesky problem of the madrassas, which churn out radicals at an alarming clip — but what would he have us do? Send in Delta Force to whack every loud-mouthed imam? JDAM everything with a spire in the Muslim world?

Of course not. Since Kerry blames Bush's policies for creating more terrorists, he can only advocate sending secret French agents to stroll past the storefront mosques and kick stinky pieces of cheese through the door. (And run.)

Then again, he does have a secret plan to win the war. How it works we don't know. He won't say because it's secret, silly. Perhaps it relies on a mind-control powder he slips into a foreign leader's tea. Perhaps he will bring other leaders on board by offering one of his vacation homes for a month. Full run of the bar, too! What can Bush offer? A ranch? Here are the keys to the chateau, Hosni; just leave them under the mat.

When the secret plan works its magic, foreign troops will take our place in Iraq. This suggests that the United Nations, which can't handle tiny Kosovo, could fix sprawling Iraq, if only it wanted to. But this also suggests that Americans want allies who would let us twist and bleed because they didn't like Bush's tone of voice. With friends like those, who needs the French?

The goal of the secret plan? Bugging out ASAP.

"I understand how to get us out of Iraq," Kerry said the other day — a remark that casually revealed his true intentions. To him it's not a matter of whether we should leave, but how. Victory is not defined by what we leave behind, but the fact that we're out.

Noted.

"To all who serve in the armed forces," he said in his acceptance speech, "help is on the way!"

Given his record, we can assume this means a helicopter landing on the embassy roof in Baghdad to evacuate the refugees. First come, first served. And no shoving! If we learned anything from Vietnam, it's the importance of an orderly retreat.

Every weekday JewishWorldReview.com publishes what many in Washington and in the media consider "must reading." Sign up for the daily JWR update. It's free. Just click here.

JWR contributor James Lileks is a columnist for the Minneapolis Star Tribune. Comment by clicking here.