http://www.NewsAndOpinion.com | Forget the vice presidential debate. The real meat of the campaign was provided by the first presidential debate.

We heard John Kerry offer nuclear fuel to the Iranians in exchange for a promise to behave. We heard Kerry suggest that he can use his superior Coalition-Building Mind Rays to get "our allies" to send troops. Never mind that Iran has rejected the offer. Never mind that France and Germany will cut figure eights on hell's hockey ring before they send troops to Iran, according to reports.

That makes two candidates who don't read the papers, apparently.

But those weren't the big revelations. Despite Richard Holbrooke's comforting assertion that "There is no Kerry Doctrine," we heard just such a thing summed up in two potent, fatal words: Global Test.

It's a restatement of the idea that adorns the bumpers of a million Volvos: "Think Globally, Act Locally." (Well, terrorists think globally and act quite locally. Ask someone who lived in lower Manhattan.) The idea assumes we have an idealistic global order devoid of self-interest, spreading a sweet, honeyed layer of goodness and grace over this benighted globe. All that stands in the way is Pox Americana.

Sorry; no. The global order is rooted in selfishness, nationalism and cultural chauvinism. It's been so since the original tribe of Neanderthals threw stones at each other because some wanted to worship the sun instead of the mastodon. It will remain so until the Vulcans arrive and give us a good spanking.

Did the occupation of Tibet pass the Global Test? Of course. The suppression of Myanmar dissidents, the depredations of the Taliban, the hanging of rape victims in Iran — they all passed the Global Test, inasmuch as no one did much about it besides make sad faces.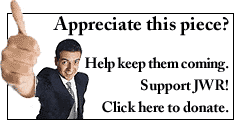 There's only one Global Test for the world community: Does something advance or confound the strength of the United States? They don't want us gone, not yet. But it would be nice if we didn't confound their objectives with our lethal toys and silly ideals. The Joker felt the same way about Batman.

"Global Test" isn't a phrase spawned in a focus group. It escaped from the locked room where candidates store the things in which they really believe. Such as the Nuclear Freeze, for example. Turns out it's not just part of Kerry's mysterious Senate history that we hear so little about — it's part of the Kerry Doctrine, or would be if such a thing existed.

In the debate, he said George W. Bush was spending "hundreds of millions of dollars to research bunker-busting nuclear weapons." It's 45 mil, but why quibble?

"The United States is pursuing a new set of nuclear weapons," Kerry said. "It doesn't make sense. You talk about mixed messages. We're telling other people, `You can't have nuclear weapons,' but we're pursuing a new nuclear weapon that we might even contemplate using. Not this president. I'm going to shut that program down."

Note to the senator: We're the good guys. Unlike North Korea, we're not going to sell new nukes for cash to keep Dear Leader in cognac and BMWs; unlike Iran, we're not going to build nukes to destroy Israel. The idea that we can shame these madmen by stripping naked is as daft as assuming you can stop a locomotive by standing on the tracks and renouncing the use of steam.

The Global Test is presumably part of the "smarter" war Kerry promises to fight — as if raw IQ matters.

The next time America is attacked, people will not want someone who can calculate pi to the 48th digit while reciting Latin maxims on the nature of war. They will want someone who says, "Hulk smash." Inelegant as the sentiment might be, Hulk-thought works better than Captain Nuance striding into the United Nations waving resolutions and chastening editorials from Le Monde.

You might think Kerry is a reborn hawk, ready to bloody the nose of our foes. But imagine Kerry forced to fight a war with a military deprived of every tool he's opposed throughout his long career. Feel safer?

That was just a test. A domestic one, if such things still matter.

Every weekday JewishWorldReview.com publishes what many in Washington and in the media consider "must reading." Sign up for the daily JWR update. It's free. Just click here.

JWR contributor James Lileks is a columnist for the Minneapolis Star Tribune. Comment by clicking here.