http://www.NewsAndOpinion.com | President Bush recently insisted that Iraq was en route to stability, and Sen. John Kerry shot back: "With all due respect to the president, has he turned on the evening news lately? Does he read the newspapers? Does he really know what's happening? Is he talking about the same war that the rest of us are talking about?"

This would seem a rather inopportune time to claim the evening news as the font of truth unvarnished.

It's hard to imagine the American people reassured by a president who bases his decisions on things he sees on the tube. President Kerry! What is your response to the Iranian nuclear test? "I was in a meeting when the news came on, but I think my aides taped it. I'll get back to you once we find the remote."

To answer his question: No, Bush was not talking about the war Kerry sees, because Bush hasn't spent his life contorting everything into the thin and squiggly template of Vietnam. Bush is talking about a war he intends to win, a war in which Iraq is one front. Kerry is talking about a war he believes was a mistake, and his success depends on bumming everyone out until we concede defeat and beg Kofi Annan for forgiveness.

At least Kerry has returned to his roots. His recent speech was indistinguishable in tone and timbre from the sonorous recitation of American woe he related before the Senate in 1971. We are losing, the "insurgents" are growing, the Beaujolais is late, and Saigon — sorry, Baghdad — does not yet resemble Beacon Hill. We must wash our hands and bow our heads and slump our way back home.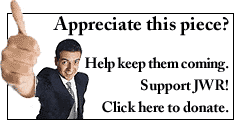 In other words, Kerry has a new strategy: He's Howard Dean without the hoarse, impromptu screeches. New slogans: "Just as anti-war — but lankier!" Or "Even a fish on the dock stops flipping eventually." He has flopped back and forth on Iraq, but the exigencies of his guttering campaign have forced a final position: He's the bug-out candidate.

Wrong, you say! He wants "to fight and win the war on terror," as he put it.

Really. Just as he wanted to fight and win the war against the Soviets? Kerry wanted a nuclear freeze, the fashionable concept that we could shame the Soviets into disarming by climbing up on the moral high ground and singing "Kumbayah." Just as in the war against Vietnamese collectivism? That was the "biggest nothing" in human history, according to war protester Kerry. A bigger nothing than, say, World War I? Yes, because his generation was involved. It's one thing to mow down 50,000 Britons in an afternoon, but don't you think of mussing the hair on a boomer's precious head.

The war against Soviet influence in Central America? He took up the Sandinista cause, trusting Daniel Ortega over Ronald Reagan. The war against Saddam Hussein? He voted against the first Gulf War, even though it had a seriously bodacious coalition. Why? Because it was a war, and if he learned anything from Vietnam, it's this: You can get a lot of votes in securely liberal districts by pulling long faces every time the United States sends troops anywhere but home for Christmas.

Like the second Gulf War? He's admitted he wouldn't have taken out Saddam, and don't think other dictators didn't perk up when they heard that. Under a Kerry presidency, Saddam would have died a happy old man in bed, handing his money and weapons and hatreds to his sons. What's one more prison-camp oil-rich nation, after all.

All this nonsense about bringing in "allies" is window dressing for American withdrawal. In your gut, you know it — Kerry wants out. He's revealing the same ideas that have characterized his entire career: appeasement and naivete, shot through with self-servicing drama. He has spent his entire political career shouting "Theater!" in a crowded firehouse, and this attempt to paint Iraq as the new Vietnam is nothing different.

It's hardly inspirational. It doesn't exactly fire up the troops. Kerry once said: How do you ask someone to be the last man to die for a mistake? Simple. Just tell him to hold his position until his retreat is covered by Ivory Coast peacekeepers. If that doesn't boost morale, nothing will.

Every weekday JewishWorldReview.com publishes what many in Washington and in the media consider "must reading." Sign up for the daily JWR update. It's free. Just click here.

JWR contributor James Lileks is a columnist for the Minneapolis Star Tribune. Comment by clicking here.