http://www.NewsAndOpinion.com | What exactly did the protesters at the Republican National Convention want? Not much.

They want George W. Bush defeated, of course; dragging him in chains through every city in America would be nice, but they'll settle for Washington and San Francisco.

They want immediate withdrawal of troops from Iraq, leaving that peaceful country to Muqtada al-Sadr and the Iranians; abolition of the U.S. military; health care and housing for everyone, paid for by dissecting Bill Gates to see how he lays the golden eggs. Oh, and no more capitalism, because it's mean.

Let's look at the placards from the big Peace and Justice and Hugs and Love rally that spilled through the streets of New York. These might not reflect the mainstream opposition to Bush, but you have to ask yourself: How many Kluxers and FREE TERRY NICHOLS signs did you see protesting the Dems in Boston?

If you were to march to oppose John Kerry's promise to give the Iranians nuclear fuel, and all the signs accused him of being in league with U.N.-funded Gay Abortion Doctors, wouldn't you wonder if your side had gone a bit daffy?

The cable stations covered the marches. The bloggers posted the screen shots. Oh, such bounty:

"BUSH" with a swastika for the S; Bush as "The Real Terrorist" with his face imposed on Osama bin Laden's head. John Ashcroft in a KKK outfit. Bush with Satan horns. One gigantic banner saying, "SAVE AMERICA — DEFEAT BUSH." It's that dire!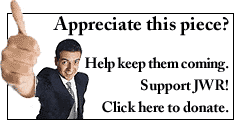 Naturally, all were mowed down by Federal Machine-Gun Gangs, with the stragglers beaten into black vans and hauled off to the Staten Island landfill. No? Well, they'll have to work on the whole police-state thing; details need tuning.

More: "Empty warhead found in White House," with a picture of Bush. Hah! That's more frightening than a warhead found in Iraq brimming with sarin, of course. A placard with a threat: "You're next after Milosevic" — meaning an interminable war-crimes trial, apparently. Milosevic has been charged with mass murder and forced relocation, crimes reminiscent of fellows such as Saddam.

Saddam who? The protesters might ask. Oh, right. That poor man they found in a hole. Terrible how he suffered.

We continue: Bush and Hitler as mirror images over the words "WANTED FOR MASS MURDER." It goes without saying that these people would probably have marched against invading Germany, too. NO WAR FOR SAUERKRAUT!

On and on. Were there puppets? Of course. Nothing impresses the mind of the unconvinced better than papier-mache. If those people can mold plaster of Paris on chicken wire into a vaguely recognizable shape, they must have insight on international affairs! One puppet had Bush's head — or Kerry's head; the medium is not known for verisimilitude — and its tongue read "FEAR HATE LIES." How true. Because no one had fear or trepidation about terrorism until Bush used his silver tongue to cloud our minds.

Bush is insane: "Elect a Madman You Get Madness." Bush is racist: "BUSH (hearts) JIM CROW." Bush invades countries because every molecule of his body cries out for whiskey: "George Bush is a Dry Drunk on a RAGE!"

Religion entered into the march, of course; "Satan is a Republican," one sign stated. Apparently they found his registration card. "God is voting for the Democrats," said another. He was on the fence until He heard Al Sharpton speak in Boston.

One man, one placard: "Why did Bush knock down da towers?" Oh, I don't know. Death lust. Blood fever. Kicks 'n' grins. He wanted to jump-start the collectible plate industry by giving them a new date to kitsch up. You tell us.

Elsewhere, a sweet message for the Bush twins: "Help fight population growth, Mr. Bush — send your daughters to Iraq." How nice. Death to Jenna and Barbara, so they don't reproduce. Try this: "Capital Punishment for Corporate Crime." But Free Mumia!

For some reason the parade did not go all the way down to ground zero. But why should it? You can imagine the protesters standing there, wondering why — it's just a construction site, so what does this have to do with Bush?

What does it have to do with anything?

Every weekday JewishWorldReview.com publishes what many in Washington and in the media consider "must reading." Sign up for the daily JWR update. It's free. Just click here.

JWR contributor James Lileks is a columnist for the Minneapolis Star Tribune. Comment by clicking here.