Jewish World Review Oct. 14, 2004 / 29 Tishrei, 5765

James Lileks
Meaning of War on Terror eludes Kerry

http://www.NewsAndOpinion.com | Once again, John Kerry has been accurately misquoted. The Republican Attack Machine — that strange, clanking leviathan bristling with loudspeakers and cannons — has circulated devious contortions of Kerry's true positions, using the recent New York Times Sunday mag feature for ammo. Yes, he said that this war wasn't like Iwo Jima — well, tell it to the Marines, as they used to say. Yes, he said he wasn't really changed by Sept. 11 — true, inasmuch as he wasn't laid off when the economy tanked, and didn't have to post a picture of a loved one on a NYC storefront. But here's the key passage penned by Times contributing writer Matt Bai:

"When I asked Kerry what it would take for Americans to feel safe again, he displayed a much less apocalyptic worldview. `We have to get back to the place we were, where terrorists are not the focus of our lives, but they're a nuisance,' Kerry said. `As a former law-enforcement person, I know we're never going to end prostitution. We're never going to end illegal gambling. But we're going to reduce it, organized crime, to a level where it isn't on the rise. It isn't threatening people's lives every day, and fundamentally, it's something that you continue to fight, but it's not threatening the fabric of your life."'

Tony Soprano doesn't take over schools and shoot kids in the back. The doxies of the Bunny Ranch don't train at flight schools to ram flying brothels into skyscrapers. What's more, people who hire a hooker or sidle into a back room to wager on a cockfight are willing participants; these crimes are sins of volition. Terrorism is not a victimless crime. And even if you do have hookers on your street corner or a dice game in the alley, the end result isn't a high heap of dead bystanders.

You don't want the definition of success in fighting terrorism to be "it isn't on the rise." You want the definition of success to be "free democratic states in the Middle East and the cessation of support of those governments and fascist states we haven't yet kicked to the curb, cough cough IRAN cough SYRIA. You want the definition of success to mean a free Lebanon and free Persian people, and a Saudi Arabia that realizes there's no point in funding the fundies and considers letting women vote sometime in this century. An Egypt that stops pouring out Jew-hatred as a form of political novocaine to keep citizens from turning their ire on their own government. You want the definition of success to mean that Europe takes a stand against the Islamist radicals in their midst before the poison dominates the continent and cows decent folk into frightened submission. You know. The little things.

One word sticks out. A "nuisance"? Mosquito bites are a nuisance. Cable outages are a nuisance. Someone shooting up a school in Montana or California or Maine on behalf of the brave martyrs of Samarrah isn't a nuisance, particularly if it happens to you. It's war. It's the war we're already in.

But that's not the key phrase. This matters: "We have to get back to the place we were."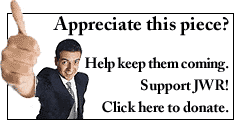 Why? When we were there, we were blind. When we were there, we were losing. When we were there, Americans died without consequence. "We have to get back to the place we were." We have to get back to Sept. 10? Back to diffident, calibrated responses, firewalls 'twixt the FBI and CIA, the occasional embassy turned to dust, indictments and speeches and the comfy slumber of those who don't know that their worst nightmares are their enemies' sweetest dreams? "We have to get back to the place we were."

No. We have to go to the place where they are.

As a young and ambitious man, John Kerry famously asked: How do you ask someone to be the last man to die for a mistake? Good question. Perhaps President Kerry will explain how you ask someone to be the first person to die for a nuisance.

Every weekday JewishWorldReview.com publishes what many in Washington and in the media consider "must reading." Sign up for the daily JWR update. It's free. Just click here.

JWR contributor James Lileks is a columnist for the Minneapolis Star Tribune. Comment by clicking here.

10/06/04: Kerry's global test fails the reality exam
09/29/04: Dems' mixed messages alienate the Center
09/23/04: Kerry's almost just about final position on Iraq
09/21/04: Will anyone trust them again?
09/09/04: Now can you name the enemy?
09/02/04: Save America from those who would save it
08/26/04: The character (or lack) behind the Kerry candidacy
08/19/04: Time for Old Media to make like McGreevey
08/12/04: Another Swing Vote: the Sufferers of Sudden Bush Hatred Fatigue Syndrome
08/05/04: Is Kerry's Problem nuance? Or is it obfuscation?
07/30/04: Intimate liability
07/26/04: Sandy Berger's classified wardrobe
07/15/04: Pretty faces, ugly words
07/08/04: Genocide can't happen if we banish the word
07/01/04: Dropping political discourse level
06/24/04: Kerry's Science Buddies and the Silly Sanctity of Life
06/17/04: Behold the Summer of Bill Clinton!
06/10/04: Whatever happened to respect for the presidency?
06/03/04: Tales at the intersection of war and popular culture
05/20/04: Athletes on Notice: Strive Unflaggingly
05/13/04: America likes Rumsfeld, and the Dems can't take it
05/07/04: Kerry Supporters Have a New Take on Vietnam War
05/05/04: New cell phone does everything, but there's a problem...
04/29/04: John Kerry, prisoner of symbolic politics
04/22/04: Shall we grovel? Kerry Plan to Restore America's Place in the World
04/08/04: Sept. 11 Might Have Been Different If ...
04/02/04: Slinging slime or citing facts?
03/26/04: One War, One Enemy
03/22/04: Bloodied Spain Rejoins Old Europe
03/12/04: Why All Those Foreign Leaders Want Kerry to Whup Bush
03/08/04: Introducing the Kerry Doctrine
02/27/04: Introducing the AWOLs: Angry White Outraged Libs
02/20/04: Sifting the headlines of election year 1992
02/18/04: Guess Which Candidate Our Enemies Want to Lose in 2004?
01/29/04: Every Laptop a Truth Squad
01/27/04: When the battle over artistic freedom goes over the edge
12/31/03: For the Left and Right, Some New Year's Resolutions
12/22/03: Dean's black helicopters
12/15/03: Dems Are Mainstreaming the Extreme
12/08/03: Does Dean Really Want to Be President? One Wonders, When He Opens His Mouth
11/24/03: The real story: Most Brits see U.S. as force for good
11/19/03: The Trouble With Al Gore's Screed on Civil Liberties
11/11/03: Can a fellow win with the Confederate Metrosexual vote?
10/22/03: Let's make Greenpeace pay
09/29/03: Ah-nold & Clark may be on different sides of the aisles, but their supporters are cut from the same cloth
09/19/03: All Hail the Ninth Circuit Court of Surreal
08/26/03: This time, the record industry doesn't stand a chance!
08/18/03: Assessing the Schwarzenegger Factor in Republicanism
08/08/03: No wonder Howard 'Two Covers' Dean gets all the buzz
08/04/03: Expect bad news for the foreseeable future
07/28/03: Despot's Deserts
07/21/03: No winners in this game of gotcha
07/14/03: Doing the right thing in Liberia may not be the right thing to do
06/27/03: On feet in Democratic mouths
06/16/03: The real story behind Hillary's book
06/09/03:America's new mission was and remains: Extirpating the flaming nutballs and the societies that nurture them
06/03/03: The Constitution as gag order
05/23/03: Sometimes the theme of world events is chaos itself
05/16/03: Newspapers are only human, after all
05/13/03: What McCarthy messed up
05/06/03: Still think the International Criminal Court was a good idea?
04/03/03: The world is ending, the world is ending! Doesn't anybody care!? Why won't anybody listen!?
03/14/03: Kerry and the Dems are banking on American electorate's tendancy to forget history
02/28/03: Roadmap to peace?
02/13/03: We live in an age where the poet has been cast out from the halls of power --- sob, sob
02/10/03: Found: League for International Justice and Peace talking points
01/30/03: The US can go to war whenever it likes for its own reasons, and all the UN can do is pass more worthless paper
01/23/03: People who'd volunteer for the Iraqi army if they saw Saddam wearing a "Free Mumia" button
01/16/03: One of those head vs. heart things
12/27/02: Whistleblowers?
01/06/02: The second year of this jangled millennium
11/16/01: Attack of the 'Patriotism police' and other Hollywood fare
11/12/01: From the bleats of dismay
10/30/01: Osama and the Genie
10/08/01: "We can stop the Bush Death Juggernaut"
11/04/01: America, loathe or it leave it
09/25/01: Do the Europeans actually think that the war on murderous zealotry will be furthered by undercutting America?
08/27/01: If the economy is in a funk, why aren't we dancing?
08/14/01: Dubyah's embarrassing presidential vacation
08/10/01: Hail to our co-chiefs?
08/03/01: Constitution: George the Uniter picked a doozy to unify detractors
07/25/01: The real reason why we need missile defense (What those uppity policy wonks won't tell you!)
06/18/01: Paining the egalitarian soul
06/01/01: One of the stranger indexes you'll ever hear about
05/21/01: One man's toke is another man's snort
05/08/01: Republicans want poisoned water
04/23/01: We bleat as we're sheared
04/10/01: Boys will be boys. And that's the problem
04/06/01: Pity the anti-American Left, they're gonna have a hard time on this one
03/26/01: You've been warned
03/16/01: The GOP's inexplicable desire to fold
02/23/01: Will the Jeb Bush administration attack Saddam in 2011?
02/09/01: In search of the the first ashtray thrown by a member of the First Family
02/06/01: Can you say 'Ayatollah Bush'?
01/24/01: The new Executive Orders
01/22/01: Hey, Dubya: Wanna save Ashcroft? Teach him to rap!
01/09/01: Bubba gets his last licks
01/05/01: The low-down on the coming recession (What those snooty economists won't tell you)
12/23/00: Memo to Dubya: Wanna show who is boss? Nuke 'em!
12/06/00: The Count of Carthage
At the Sore/Loserman Transition HQ
12/01/00: The Count of Carthage
11/28/00: Clinton knows history isn't written by the victors anymore
11/17/00: Chad's the word
11/08/00: The strangest political night
11/07/00: Get ready to return to the Dark Ages


© 2004, James Lileks