Jewish World Review Oct. 17, 2003 / 21 Tishrei, 5764

Andy Borowitz

IN major setback, Kucinich receives endorsement from Chicago Cubs


Other candidates gleeful

http://www.NewsAndOpinion.com | One day after losing baseball's National League Championship Series to the Florida Marlins, the Chicago Cubs endorsed Rep. Dennis Kucinich (D-OH) for President in what was widely seen as a major setback to the lawmaker's fledgling presidential bid.




The Cubs had earlier endorsed Florida Senator Bob Graham's run for the Democratic nomination, but when Sen. Graham dropped out of the race last week they decided to give the nod to Mr. Kucinich instead.




While other major candidates refused to go on record about the Cubs' anointment of Mr. Kucinich, privately several of them were either relieved or in some cases gleeful that they were not endorsed by the ill-fated team.




In Chicago, Democratic mayors have long played the role of kingmaker in Presidential politics, but the Cubs' long record of endorsing candidates has been far less heralded, and considerably spottier.




In the past forty years, the Cubs have given their seal of approval to such Democratic standard bearers as George McGovern, Walter Mondale, Michael Dukakis and Al Gore.




They broke with their longstanding tradition of backing Democrats in 1992, when they backed the ill-fated reelection bid of President George Bush.




Given the history of the Cubs political "curse," few in the current White House were surprised when President George W. Bush decided, several weeks ago, to stop taking any incoming phone calls from Chicago altogether.




"The President is determined to keep the Cubs away, just like he did with Rumsfeld," one aide said.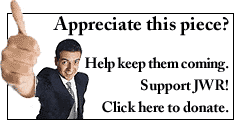 Enjoy this writer's work? Why not sign-up for the daily JWR update. It's free. Just click here.
JWR Contributor Andy Borowitz, a former president of the Harvard Lampoon, is a regular humor columnist for Newsweek.com, The New Yorker, The New York Times and TV Guide. Recognized by Esquire magazine as one of the most powerful producers in television, he was the creator and producer of the hit TV series The Fresh Prince of Bel-Air and producer of the Oscar-nominated film Pleasantville. He is the author of the just released "Who Moved My Soap? The CEO's Guide to Surviving in Prison and "Trillionaire Next Door: The Greedy Investor's Guide to Day Trading" , "Rationalizations to Live By". Comments by clicking here. Visit his website by clicking here.

10/07/03: Schwarzenegger admits praising O.J.
10/03/03: Schwarzenegger accused of groping for pronunciation
10/02/03: With Huffington out, Gary Coleman surges to 1%
10/01/03: Nostradamus: Cubs, Red Sox playoff berths mean end is near
09/19/03: Russia bans McCartney's post-Beatles work
09/17/03: Unemployment plunges as J. Lo rehires posse
09/04/03: Olsen twins to play Uday, Qusay in new miniseries
08/13/03: J. Lo out, Nemo in for Affleck's new film
08/08/03: Seabiscuit enters governorís race
08/07/03: Kobe judge bans reporters from making idiotic "court" puns
08/05/03: Poll: majority call athletes their number one fear
08/04/03: J. Lo and Ben flee angry U.S.
07/22/03: No longer Jenny From the Block, J. LO concedes
07/21/03: Kobe Bryant coverage foils Kim Jung-Il's plot to blow up world
07/09/03: Spike Lee sued by Sara Lee: Filmmaker, pie-maker in new legal tussle
07/08/03: Voice purporting to be bin Laden disputes authenticity of voice purporting to be Saddam
07/07/03: Thousands of Saddams surrender
06/27/03: Saddam alive, well, and dating Demi
06/18/03: Harry Potter thieves spoil book's ending
06/17/03: CBS offers Ratherís job to Jessica Lynch
06/16/03: NYTimes admits serious errors in its weather forecasts
06/12/03: Waksal's prison lacks HBO, lawyers complain
06/11/03: As Hillary steals spotlight, Kim Jung-Il seethes
06/09/03: Iraqi information minister vows big changes at NYTimes
06/05/03: Martha Stewart recruiting look-alikes
05/30/03: Chirac calls for an end to French jokes
05/29/03: Peterson pleads temporary blondness
05/28/03: Dem hopefuls disappear
05/16/03: Weekly World News fires reporter over Batboy story
05/15/03: McDonald's plans to supersize seats, tables
05/07/03: Fearing flood of Dem hopefuls, Iowa steps up border patrols
05/05/03: Saddam, Osama threaten to stop writing letters if no one writes back
04/30/03: Wall Street firms pay $200 billion advance against future crimes
04/21/03: CNN, Fox promise 'orderly transition' to 24-hour Modesto murder coverage
04/15/03: Iraqi information minister moves to AOL/Time Warner
04/14/03: Looted plumbing fixtures named new Iraqi currency
04/11/03: Iraqis topple giant statue of Saddam look-alike
04/10/03: CHIRAC: VICTORY IS OURS! 04/04/03: Saddam no longer sure he is himself
04/02/03: Peter Arnett hired, fired by al Jazeera
04/01/03: Geraldo gives precise location of Peter Arnett
03/27/03: Army unit un-imbeds Geraldo
03/26/03: Iraq broadcasts half-eaten sandwich to prove Saddam is still alive
03/25/03: France vetoes chemical weapons find: Chirac vows to say no to everything, forever
03/21/03: "Are you Saddam?' premieres tonight
03/20/03: U.S. offers Saddam look-alikes amnesty, surgery to look like Cheney
03/18/03: 'Not the diplomatic solution I meant,' says Chirac
03/14/03: Unnamed Dem announces candidacy
03/13/03: Blair to Britain: Just kidding! Claims Iraq position was elaborate practical joke
03/07/03: Hollywood group protests war, lack of good roles for women over forty
03/04/03: Al Jazeera preempts Osama tape for Michael Jackson special
03/03/03: U.S. threatens to turn al Qaeda kingpin over to Bill O'Reilly
02/28/03: Blix: Saddam responded to Internet offer to make missile bigger
02/26/03: Saddam backs out of Bush debate; will debate Gore instead
02/20/03: Joe millionaire, Bachelorette to create mutant race of vapid idiots
02/19/03: Kim Jung-Il: I will prevail over Tiger Woods
02/13/03: Al-Jazeera refuses to air scary Kim Jung-Il tape
02/12/03: NATO disbands; will become book club
02/11/03: Mercedes-Benz recalls Sedans; cars may run over cheating husbands
02/10/03: Lose the scary sunglasses, Kim Jung-Il is urged
02/07/03: Michael Jackson admits plastic surgery; France unconvinced
02/06/03: Iraqis: We were talking about beer, not weapons
01/29/03: U.N. inspectors need 'more time' to find Dems
01/28/03: Saddam's look-alikes face uncertain future
01/27/03: Rumsfeld: France, Germany are 'so over'
01/24/03: Winona Ryder takes top prize at Sundance
01/23/03: U.S. asks Delta Airlines to lose suitcase bombs
01/22/03: U.S. would accept exile for Hans Blix
01/21/03: New AOL chief offered 1,000,000,000,000 hours free
01/17/03: Saddam: Chemical weapons were used to research movie role
01/16/03: Saddam quits; cites desire to spend more time with family
01/15/03: Kim Jung-Il angered by NFL officiating
01/14/03: Lieberman vows to be whiny voice for all Americans
01/09/03: Man, 41, regrets Daschle's decision not to run
01/07/03: Saddam calls weapons inspectors spies; spies demand apology
01/06/03: In bid for credibility, Raelian leader removes silly hair-knot from top of head
01/03/03: Ronald McDonald gets the axe; replaced by Calista Flockhart
01/02/03: Dick Clark: I am a clone
12/31/02: Kenneth Lay blasts Bushís presidential pardons
12/30/02: Baby clone: I wasn't born yesterday
12/26/02: Big retailers report 5% jump in shoplifting
12/24/02: Lieberman vows to carry on Gore's boring legacy
12/19/02: North Korea urges farmers to grow missiles
12/18/02: Lott stands in front of Capitol with 'kick me' sign
12/17/02: Gore: I decided not to run in 2000, too
12/16/02: Coalition forms to stop Hugh Grant
12/12/02: North Korea fires minister of weapon-hiding
12/09/02: SUE THE BUMS!
12/05/02: Hosing sector remains strong
12/04/02: Greyhound reaffirms policy on bus drivers telling Taliban jokes
12/03/02: Microsoft buys Massachusetts
11/22/02: New tape may mean Al Gore is alive
11/21/02: Baby drops Michael Jackson from hotel balcony
11/20/02: Eminem enters anger-replenishment program
11/18/02: Jack Grubman admits hyping Toys 'R' Us stock in exchange for Chicken Dance Elmo
11/15/02: FBI and CIA agree to share the letter 'I': Congressional critics call agreement 'disappointing'
11/14/02: Voice on al Jazeera tape believed to be Rich Little
11/08/02: Daschle seeks leadership role at KFC
11/07/02: Saddam unimpressed by G.O.P. victory margin
11/06/02: Winning candidates to voters: "suckers!!!"
11/05/02: Politician accidentally airs positive ad
11/04/02: Queen Elizabeth exonerates Winona
11/01/02: Saddam hires Liza's hubby as liaison to weapons inspectors
10/30/02: Ken Lay to use 'method acting' defense
10/28/02: Angry white loner in van still on the loose, profilers warn
10/25/02: CNN asks public's help in finding new story
10/22/02: Saddam offers former prisoners plastic surgery to look like him
10/18/02: CBS Morning Show to go with ninety co-hosts
10/17/02: Obesity may be America's secret weapon in war on terror
10/16/02: Saddam trounces Gore in Iraqi election
10/15/02: Bin Laden seeking Botox, U.S. says
10/14/02: O.J. no longer "100% sure" he's innocent
10/11/02: Waging psychological warfare, U.S. drops VCR manuals on Iraq
10/10/02: Networks cancel sitcoms, dramas; will air Bush foreign policy speeches instead
10/08/02: Bin Laden removes his name from 'Osama' magazine
10/04/02: Downgrading of Lili wreaks damage in the millions for CNN, MSNBC
10/03/02: Yankees win divisional series for $175 million
10/02/02: New Jersey Democrats launch write-in campaign for Joe Piscopo
10/01/02: Torricelli quits senate race; will become corrupt CEO instead
09/30/02: U.N. to begin weapons inspections sometime between 8 and 12 this morning; asks Iraq if someone will be home
09/18/02: 'Monday Night Football' to air fights between fans instead of football
09/13/02: Airlines ban back-shaving on all domestic flights
09/10/02: Adam Sandler films on the increase, Center for Disease Control warns
09/09/02: GE still paying for Welch's crack, 'women'
09/06/02: Britney Spears' year off poses dire eco-threat
09/04/02: Air marshals defend 'controlled scaring' policy
09/03/02: Airlines to charge extra for airsickness bags
08/29/02: ABC admits it has no idea what it is doing
08/28/02: Steroid makers threaten strike
08/27/02: CNN urges U.S. not to invade Iraq until sweeps
08/26/02: Gore travels U.S. dressed as hobo
08/23/02: Sharks bemoan lack of summer media coverage
08/22/02: Clinton to star in 'C.S.I.' spin-off for CBS
08/20/02: CIA asks CNN to find Osama
08/14/02: Beer drinking promotes longer life, say drunken pilots
08/07/02: Copycat miners trap selves for movie deal
07/31/02: Angelina Jolie, Billy Bob Thornton unlikely to find equally icky new mates
07/24/02: As markets crash, the world asks: Where is Bono?
07/22/02: Time Warner admits it was high on crack when it merged with AOL
07/19/02: Poll: Most Americans believe they have already seen newHarrison Ford film
07/15/02: Brokerage houses to enclose Prozac with monthly statements
07/12/02: Baseball takes bold steps to alienate remaining fans
07/09/02: Michael Jackson accuses Sony Music chief of stealing his nose
07/03/02: CIA using American CEOs to infiltrate al Qaeda
06/13/02: Victims of Eminem's latest verbal assaults agree to mend their ways
06/10/02: June 17 named 'Athletes Obey the Law Day'
05/29/02: Bush urges CIA to pretend FBI agents are Russian spies
05/28/02: U.S. issues list of 5,000 bad things that might happen someday
05/22/02 Depression screening reveals: 98% of Americans depressed
05/20/02 Woody Allen sightings up sharply in 2002
05/16/02 Carter, in Wisconsin, sees no evidence of cheese
05/09/02 Showing commitment to democracy, Pakistan's leader runs negative ads against himself
05/07/02 Bush to dump cheney, run with Ozzy Osbourne in '04
05/06/02 'Spider-Man' film riddled with inaccuracies, says man with way too much time on his hands
05/02/02 Arafat placed under house arrest with former Sotheby's exec
05/01/02 Minnelli marriage enters Day 47, baffling experts
04/30/02 Saudis increase production of bossy foreign policy lectures
04/25/02: AlGore regrets breakdancing incident
04/23/02: Geraldo declares war on terrorism 'over'
04/22/02: O.J. calls Robert Blake murder case 'derivative'
04/19/02: Ally McBeal goes on eating rampage
04/18/02: In latest doctored tape, Osama appears at Liza Minnelli's wedding
04/17/02: Segway creator invents 'round thingy'
04/16/02: Osama bin Laden, Mullah Omar to appear on VH1's 'where are they now?'
04/12/02: Ken Lay declares moral bankruptcy
04/10/02: FAA pronounces 'runaway plane' experiment a success
04/10/02: Rukeyser, Koppel to launch 'Angry Old Bums network'
04/09/02: Oprah closes book club, opens pie club
04/08/02: Fearing request to go to Afghanistan, Phil Donahue flees to MSNBC
04/05/02: Halle Berry still sobbing uncontrollably
04/02/02: Baseball players strike
04/01/02: Laughter no longer the best medicine
03/31/02: U2's Bono proposes sweeping social security overhaul
03/26/02: NBC to air ads for crack
03/19/02: Celebrity boxing, Minnelli wedding spark fears of national has-been shortage
03/18/02: In latest mix-up, bin Laden receives Minnesota driver's license
03/15/02: ROSIE: I'M A POLAR BEAR
03/13/02: Gore loses bid to run 'shadow government'
03/11/02: Condit blows job interview with Blockbuster Video
03/08/02: Comedians demand Condit recount
03/07/02: Jennings out, J-Lo in at ABC News
03/06/02: Dennis Miller takes obscure, hard-to-understand parting shot at ABC
03/05/02: Pentagon, shutting down lying office, will shift lie-telling duties to other government agencies
03/04/02: Britney Spears is not a girl
02/28/02: Katie Couric demands that 'Today' start at noon
02/26/02: Paper that Enron stock is printed on is worthless, too, paper experts say
02/21/02: Kenneth Lay to head Pentagon's global lying effort
02/20/02: Johnny Cochran: 'Walker was framed!'
02/14/02: 'Friends' cast 900 times more talented than Sir Laurence Olivier, experts say
02/13/02: Athlete without compelling personal drama expelled from Olympics
02/11/02: In major gaffe, Mrs. Kenneth Lay appears on MTV's "Cribs"
02/07/02: CIA using Mariah Carey film in Al Qaeda interrogations
02/04/02: Tyson to fight himself in Japan
02/01/02: NFL PLANS TO FIRE MARIAH CAREY DURING NATIONAL ANTHEM
01/30/02: CLINTON DELIVERS FIRST 'STATE OF CHAPPAQUA' ADDRESS
01/21/02: OSAMA GIVES GERALDO THE SLIP
01/17/02: QUEEN ELIZABETH CAUGHT SMOKING POT
01/15/02: ENRON MAY NOT BE BIGGEST CROOKS IN HISTORY, EXPERT SAYS
01/11/02: U.S. ATTEMPTS TO LURE OSAMA WITH AD IN PERSONALS

© 2003, Andy Borowitz