Jewish World Review May 10, 2004 / 19 Iyar, 5764

Joanne Jacobs
Back to the '60s: The new campus protest; activists without 'critical mass'; more
http://www.NewsAndOpinion.com | Lehigh students taking Movements and Legacies of the 1960s decided to show what they'd learned by protesting the midterm, reports the student paper, The Brown and White.
What were they protesting? What have you got? They didn't have a problem with the class or the test, said a student named Clare Burchi. "It was more protesting the whole idea of exams and writing down all that we had learned into a little blue book."
Hold out for a little red book!
The Brown and White writes:
Instead of taking the exam, the students organized a war protest march and teach-in, which took place yesterday. Protesters named themselves "The New Resistance," and their goal is to make students aware that they are in charge of their education. The students of the New Resistance feel that the education system puts too much emphasis on grades and getting an education in order to get a high-paying job rather than for the purpose of learning.
Actually, it's the students who are rushing into business and econ majors while watching "The Apprentice" on TV. Nobody's stopping them from majoring in classics or philosophy.
Students learn that the "hidden curriculum" trains students "to be machines to work for the major corporations as well as capitalism," Burchi said.
Wouldn't it be more efficient just to replace the drones with real machines?
The New Resistance students feel that education as a whole does not allow students to see the connection between themselves and what is going in the world today.
"Students don't see that their getting through business school and working for a corporation is a direct connection to the war in Iraq," (student Terry) Hall said.
Oh, that is so 1971.
The professor said they'd get a zero if they didn't take the exam. But then he gave them an alternative assignment.
Students can write individual assessments of why they protested in light of what they learned about the 1960s movements. The students are also asked to give a full report of the actions they took to put what they learned into action.
Nobody will have to sacrifice an A for protesting against grades. They can be rebels without a cost — and with the added thrill of looking down from the moral heights on the foolish sheep being led unsuspecting to high-paying corporate jobs.
Activists Without 'Critical Mass'
In the Daily Bruin, UCLA officials complain that the decline in black and Hispanic enrollment — caused by the ban on race-based preferences — is changing campus culture. There isn't a "critical mass" of activists, they complain. Without preferences, there are fewer Hispanic and black students and more Asian-Americans.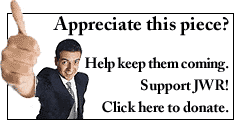 "Without generalizing, I would say that Asian Americans have not had a traditional role of activism in the United States," (Berky) Nelson said. "They believe the way to success is through education, so they might study hard at the expense of things others may deem relevant."
Good thing Nelson, director of student programming, isn't prone to generalizing.
Discriminations points out the stereotyping.
A Discriminations commenter, who attended in 1995-99, says Asian-American students were very active in campus groups — especially evangelical groups.
...the powers that be are confusing left-wing activism with activism. Difficult as it may be to believe, someone can be concerned with society and things other than success through education without buying into your party line. Baby boomer elites may not appreciate that when UCLA's Asian students form groups they often, but not always, do so to worship Jesus Christ rather than Frantz Fanon, but one cannot accuse them of a lack of civic engagement and ascribe it to the stereotype of the diligent but passive oriental.
My daughter attended UCLA from 1999-2001. She thought campus social and political life was balkanized, with students encouraged to categorize themselves by race and ethnicity. It's one of the reasons she transferred.
Dam Silly
I admire people who stand up for their rights, but... This just doesn't seem worth making a fuss about. A 12-year-old girl was sent home from school in Needville, Tenn., when she refused to change her T-shirt, which the principal felt violated the dress code's ban on vulgarity. WKMG reports:
The T-shirt says, "Somebody went to the Hoover Dam and all I got was this 'Dam' T-shirt."
When Heather Mercer, 12, wore the shirt Thursday, she was told to change or be disciplined. She refused, claiming it's her First Amendment right to wear it, and was sent home.
Her parents support her decision to fight.
"I love it. It's my constitutional right ... talking about the dam," Mercer said.
Oh yeah, this isn't just a juvenile play on words. It's about the freedom to laud dams.
Mercer said she would be back at school Monday wearing the controversial T-shirt again. She and her family have agreed to fight it all the way, even if they have to home-school Heather.
Dam silly.
Every weekday JewishWorldReview.com publishes what many in Washington and in the media consider "must reading." Sign up for the daily JWR update. It's free. Just click here.


JWR contributor Joanne Jacobs, a former Knight-Ridder columnist and San Jose Mercury News editorial writer, blogs daily at ReadJacobs.com. She is currently finishing a book, Start-Up High, about a San Jose charter school. Comment by clicking here.
05/03/04:Dumbed down and out in high school; thanks for the F; kill the messenger
04/29/04: How much is enough to spend on education?
04/26/04: Kids who can't compute; Nutter Butter nutsiness; schools without bullies; more
04/22/04: The false promise of universal pre-school
04/19/04: College craziness; diversity of the affluent; downgrading Princeton
04/11/04: Math instruction doesn't add up
04/05/04: Companies outsource for better workers, study says; nothing succeeds like failure; suspending everyone
04/01/04: Average pay gets average teachers; failing teachers; fake Master's
03/15/04: Translating Shakespeare, the Princess and the 'B'
03/08/04: School sued for saving lives; teachers protest students; saive oure skules; graduate yourself; jumping for Darwin
03/01/04: No Drugs? No problem; double standard; control
02/23/04: Over-Praised New Yorkers; Under-Educated Hawaiians; Mothers and Nannies
02/17/04: Under the skin; don't call them 'gifties'; a piece of sheepskin; parent participation — or else
02/09/04: The Limits of Discovery Learning; science lite; not just a buzzword; fish, unfried
02/02/04: Flight from excellence; the look that screams; show them the money
01/26/04: It's the Parents, Stupid
01/20/04: High School Blahs, Naked Math, Boys in Trouble
12/22/03: Saving the teacher, skipping a grade, paying for AP tests, laptops don't boost scores
12/15/03: Missing Columbine; tuned out; kindergarten kamikazes; Suffer the Little Children; ungot greats; dangerous rhymes
12/08/03: Desensitizing students to f-word; Like a Rock; Unmannered; Cool Christians on Campus
11/24/03: Integrating lunch; peewee athletes; The Promise
11/17/03: School Principals Gone Wild; School vs. Bloggers; A Is For Absent
11/10/03: Feeling history; no-sided history; passing on a record; winning respect; bright flight
11/03/03: Super Pay for Super Teachers?; 'Failing' Teachers; Dissect the Bunny; Yuck
10/27/03: Parent, teachers, parents as teachers; cramming in education; out of control
10/21/03: Go, Samaritan; 2 + 2 = ?; Majoring in Middle-class Status
10/14/03: To Gag a Mockingbird; saying 'hate' is hate speech; protest school
10/08/03: No Homework Overload; Self-centered Social Studies; The Boy Code; Codswallop; College 101: Don't Jump Out of Your Bunk Bed
09/29/03: Flunking mom; classroom classics; ritalin gag rule; lousy children
09/22/03: Order, disorder
09/08/03: No Child Left Behind: A Primer
08/29/03: The Decline and Fall of Social Studies
08/18/03: F is for valedictorian
08/14/03: Start-up success
08/11/03: Subliterate Superintendent
08/04/03: Alternative High School
07/28/03: Out of the System
07/21/03: Too Snobby for Shop
07/14/03: Be very afraid
07/09/03: Know-nothing nonsense
06/30/03: Affirmative action reactions
06/23/03: Overdressed Students, Underdressed Teachers, Dressed-down Exams
06/16/03: Paper 'Is-ness,' Excluding Awards, New Racial Consciousness and Politics
06/09/03: Racist math, red tape for charters, potty reading
06/02/03: Teacher Pay, Illiteracy , No Republicans Allowed
05/27/03: Research papers, athletics, reading
05/19/03: Soft America, plagiarism, Minutemen and Jets
05/12/03: Demographics, nerves, valedictorian, vouchers
05/05/03: Gender Bias, Banned Words, Helen of Troy
04/28/03: Tests, home-schooling, self-esteem
04/25/03: Lessons, American Pride, Iraqi Schools
04/14/03: Iraqi Textbooks and the English language
03/31/03:Teachers, hugging, text messaging
04/07/03: War talk at school
03/24/03: Watching the war
03/10/03: Classroom chaos
03/03/03: Teaching tales
02/24/03: Segregation stories
02/18/03: Writing Essays, America, Beyond Bert and Ernie
02/13/03: Size matters
02/10/03: Parental homework, cheaters and memoirs
02/03/03: Diplomas, academics, preschools and Ritalin
01/27/03: Head Start, Social Studies, Marx, Africa and Math
01/22/03: Teachers as targets
01/13/03: Big Bully's Feelings
01/06/03: School of 60's Whining and Communal Destruction
12/23/02: Teaching in
12/16/02: Chocolate city?
12/10/02: Mandatory Victimhood --- and when cleaning up a school is 'racist'
11/25/02: Multi-colored math, sensitive science
11/20/02: How to leave no child behind
11/18/02: The tummy track
11/11/02: Dysfunctional documents?
11/04/02: Why go to college? Why test schools?
10/28/02: Pride goeth before an F
10/21/02: Diversity adversity
10/14/02: Bad hat day
10/07/02: Inflated sense of worth
09/30/02: The Royal road to knowledge
09/24/02: Sierra's Club
09/20/02: Stupidity Watch
09/03/02: First, win the war
08/26/02: Out of their field, out of their minds?
08/20/02: Fun with failure

© 2003, Joanne Jacobs