Jewish World Review April 1, 2004 / 11 Nissan, 5764

Joanne Jacobs
Average pay gets average teachers; failing teachers; fake Master's
http://www.NewsAndOpinion.com | Smart women now have lots of career opportunities, which has lowered the quality of the teaching force. That's the conventional wisdom, but is it true?
Writing in the New York Times, Virginia Postrel analyzes a study of teachers' aptitude scores (used as a measure of teacher quality). From 1964 to 2000, there was little change in teachers' scores. But the best female students are much less likely to choose teaching careers today. Postrel writes:
"Whereas close to 20 percent of females in the top decile in 1964 chose teaching as a profession," making it their top choice, the economists write, "only 3.7 percent of top decile females were teaching in 1992," making teachers about as common as lawyers in this group.
So the chances of getting a really smart teacher have gone down substantially. In 1964, more than one out of five young female teachers came from the top 10 percent of their high school classes. By 2000, that number had dropped to just over one in 10.
The average has stayed about the same because schools aren't hiring as many teachers whose scores ranked at the very bottom of their high school classes. Teachers aren't exactly getting worse. They're getting more consistently mediocre.
Another study looks at the effect of unionization on compressing the range of teacher pay: All teachers earn about the same, regardless of their abilities.
"Women who went to a top 5 percent college earned about a 50 percent pay premium in the 1960's and earn about the same as other teachers today," Mr. Leigh said. "By comparison, somebody who went to a bottom 25 percent college earned about 28 percent below the average teacher in the 1960's, and they have the earnings of about the average teacher today."
In hiring teachers, we get what we pay for: average quality at average wages.
There's another reason smart women don't become teachers. It can be dangerous.
Physical assaults on teachers are up 17 percent this year in Chicago, reports the Chicago Trib.
Janet Pena-Davis is barely five feet tall, but the veteran English teacher doesn't scare easily.
One day, though, a girl arrived 15 minutes late to class -- and full of attitude. When the girl took out a snack and began to talk loudly to a friend, Pena-Davis asked the student to leave the class and try again the next day.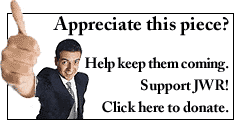 The girl hurled a full soda can at her head.
Pena-Davis was able to duck the can. But as the teacher went to close the classroom door, the girl dragged her into the hall and began to beat her --punching and scratching, pulling off her glasses and tugging viciously at her hair. The attack was enough to terrify Pena-Davis, 55, who walked out of Austin High School that day and never went back.
Teachers complain violent students get short suspensions and return to class before the victim's bruises are healed.
Pena-Davis was assaulted by a girl who'd just returned from a 10-day suspension.
The school disciplinarian told her to be careful because the girl who had beaten her up had a boyfriend who already was looking to avenge his girlfriend's arrest, Pena-Davis said. When she asked to fill out an assault report, she was told it was not necessary, she said.
When she called to follow up on the police report that was filed, the police told her to give up, she said. Nobody was going to pursue the case.
Failing Teachers
Philadelphia's middle school teachers are having trouble showing they're qualified to teach their subjects. Many are former elementary teachers who aren't subject-matter specialists. Half of the "district's 690 middle school teachers who took exams in math, English, social studies and science in September and November failed," reports the Inquirer. Nearly two-thirds of middle school math teachers failed the exam.
The district will offer test prep classes to teachers who have to retake the exams, and will try to hire people who know math to teach math.
Fake Master's
Not everyone kills their buy-a-college-degree spam. In Georgia, six teachers will have to pay back $30,000 in pay raises they received for earning advanced degrees from an online outfit based in Liberia that sells "life experience" degrees.
Every weekday JewishWorldReview.com publishes what many in Washington and in the media consider "must reading." Sign up for the daily JWR update. It's free. Just click here.


JWR contributor Joanne Jacobs, a former Knight-Ridder columnist and San Jose Mercury News editorial writer, blogs daily at ReadJacobs.com. She is currently finishing a book, Start-Up High, about a San Jose charter school. Comment by clicking here.
03/15/04: Translating Shakespeare, the Princess and the 'B'
03/08/04: School sued for saving lives; teachers protest students; saive oure skules; graduate yourself; jumping for Darwin
03/01/04: No Drugs? No problem; double standard; control
02/23/04: Over-Praised New Yorkers; Under-Educated Hawaiians; Mothers and Nannies
02/17/04: Under the skin; don't call them 'gifties'; a piece of sheepskin; parent participation — or else
02/09/04: The Limits of Discovery Learning; science lite; not just a buzzword; fish, unfried
02/02/04: Flight from excellence; the look that screams; show them the money
01/26/04: It's the Parents, Stupid
01/20/04: High School Blahs, Naked Math, Boys in Trouble
12/22/03: Saving the teacher, skipping a grade, paying for AP tests, laptops don't boost scores
12/15/03: Missing Columbine; tuned out; kindergarten kamikazes; Suffer the Little Children; ungot greats; dangerous rhymes
12/08/03: Desensitizing students to f-word; Like a Rock; Unmannered; Cool Christians on Campus
11/24/03: Integrating lunch; peewee athletes; The Promise
11/17/03: School Principals Gone Wild; School vs. Bloggers; A Is For Absent
11/10/03: Feeling history; no-sided history; passing on a record; winning respect; bright flight
11/03/03: Super Pay for Super Teachers?; 'Failing' Teachers; Dissect the Bunny; Yuck
10/27/03: Parent, teachers, parents as teachers; cramming in education; out of control
10/21/03: Go, Samaritan; 2 + 2 = ?; Majoring in Middle-class Status
10/14/03: To Gag a Mockingbird; saying 'hate' is hate speech; protest school
10/08/03: No Homework Overload; Self-centered Social Studies; The Boy Code; Codswallop; College 101: Don't Jump Out of Your Bunk Bed
09/29/03: Flunking mom; classroom classics; ritalin gag rule; lousy children
09/22/03: Order, disorder
09/08/03: No Child Left Behind: A Primer
08/29/03: The Decline and Fall of Social Studies
08/18/03: F is for valedictorian
08/14/03: Start-up success
08/11/03: Subliterate Superintendent
08/04/03: Alternative High School
07/28/03: Out of the System
07/21/03: Too Snobby for Shop
07/14/03: Be very afraid
07/09/03: Know-nothing nonsense
06/30/03: Affirmative action reactions
06/23/03: Overdressed Students, Underdressed Teachers, Dressed-down Exams
06/16/03: Paper 'Is-ness,' Excluding Awards, New Racial Consciousness and Politics
06/09/03: Racist math, red tape for charters, potty reading
06/02/03: Teacher Pay, Illiteracy , No Republicans Allowed
05/27/03: Research papers, athletics, reading
05/19/03: Soft America, plagiarism, Minutemen and Jets
05/12/03: Demographics, nerves, valedictorian, vouchers
05/05/03: Gender Bias, Banned Words, Helen of Troy
04/28/03: Tests, home-schooling, self-esteem
04/25/03: Lessons, American Pride, Iraqi Schools
04/14/03: Iraqi Textbooks and the English language
03/31/03:Teachers, hugging, text messaging
04/07/03: War talk at school
03/24/03: Watching the war
03/10/03: Classroom chaos
03/03/03: Teaching tales
02/24/03: Segregation stories
02/18/03: Writing Essays, America, Beyond Bert and Ernie
02/13/03: Size matters
02/10/03: Parental homework, cheaters and memoirs
02/03/03: Diplomas, academics, preschools and Ritalin
01/27/03: Head Start, Social Studies, Marx, Africa and Math
01/22/03: Teachers as targets
01/13/03: Big Bully's Feelings
01/06/03: School of 60's Whining and Communal Destruction
12/23/02: Teaching in
12/16/02: Chocolate city?
12/10/02: Mandatory Victimhood --- and when cleaning up a school is 'racist'
11/25/02: Multi-colored math, sensitive science
11/20/02: How to leave no child behind
11/18/02: The tummy track
11/11/02: Dysfunctional documents?
11/04/02: Why go to college? Why test schools?
10/28/02: Pride goeth before an F
10/21/02: Diversity adversity
10/14/02: Bad hat day
10/07/02: Inflated sense of worth
09/30/02: The Royal road to knowledge
09/24/02: Sierra's Club
09/20/02: Stupidity Watch
09/03/02: First, win the war
08/26/02: Out of their field, out of their minds?
08/20/02: Fun with failure

© 2003, Joanne Jacobs