Jewish World Review Nov. 10, 2003 / 15 Mar-Cheshvan, 5764

Joanne Jacobs
Feeling history; no-sided history; passing on a record; winning respect; bright flight
http://www.NewsAndOpinion.com | Eighth graders at a Sacramento middle school will remember that U.S. history teacher Emilio Moran announced fees on homework (10 cents), hall passes ($1) and tardiness (10 cents per minute).
But will they understand the American colonists' resistance to "taxation without representation?"
"Ultimately, we got the outrage and upset we wanted," (Moran) said.
"Part of the problem with teaching history is that it is hard to get kids into the proper mindframe. I could tell them what happened 200 years ago, but my colleagues and I believe that if students remember anything, they will remember the fraudulent classroom rules."
Yes, but remembering fraud is not the point, is it?
Feeling history  is all the rage, Education Gadfly points out.
The Detroit News, for example, recently praised a teacher who built a life-size replica of a  World War I trench with his students to help give them "a realistic feeling of being a [Word War I] soldier."
Sixteen-year-old Jessica Harbin, faithfully parroting the party line, told the News that once students see the trench, "there will be a great impact in their understanding and knowledge of war." No word on whether rats, mud, influenza, dead bodies and post-war mental problems are part of the lesson.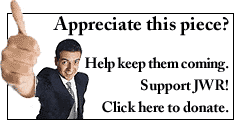 Actually, the paper trench does come equipped with model rats. But it doesn't seem all that authentic. Perhaps the teacher should arrange for a few students to be shot each day. Or the class could go "over the top" to attack a trench in another classroom. Extra credit for creative use of the bayonet.
If students know history well, they may be able to understand the emotions of people in the past. But the knowledge comes first. Trying to learn by feeling is a dubious proposition.
It gets even worse when getting students to feel the approved way is the goal, not the means to an end. Cincinnati students who sleep in cardboard shacks will feel compassion for the homeless. They won't question how housing will solve the problems of people who are homeless due to addiction or mental illness.
No-sided History
Iraq's new history books eliminate Saddamite propaganda -- and controversial subjects. That means the books skip huge chunks of Iraqi history, including the Iran-Iraq war, the 1991 Gulf War and "all references to Israelis, Americans or Kurds."
"Entire swaths of 20th-century history have been deleted," says Bill Evers, a US Defense Department employee, and one of three American advisers to the Ministry of Education.
. . . While US advisers don't want to be seen as heavy-handed in influencing the way Iraqis interpret history, neither do they want to be in the position of endorsing texts that could be anti-American, anti-Israeli, or radically religious.
As a result, some charge, in a matter of months Iraqi education has gone from one-sided to 'no-sided.'
The Christian Science Monitor quotes a prospective history teacher as saying she'll teach her students that Americans are terrorists. Just try it lady, and you'll be thrown into prison, tortured and executed. Oh. You don't believe the American "terrorists" will do that? Well, OK. Maybe not. But maybe we won't equip your school. Oh, OK. We'll do that too.
Passing on a Record
The fix was in: One high school coach agreed to let the rival team score a touchdown; the other coach agreed to let the rival's quarterback complete a record-setting pass. But the quarterback didn't want to set a record by cheating.
SPRINGFIELD, Ill. -- A high school quarterback has asked officials to erase his record-setting pass because his coach had made a deal with the opposing team to let him complete it.
Nate Haasis' Springfield Southeast High School team let Cahokia High School score a touchdown late in Saturday's game, which Cahokia won 42-20. In exchange, Cahokia made no effort to keep Haasis from completing a 37-yard pass that gave him a record.
In post-game comments Saturday, both coaches acknowledged arranging the deal during a time-out.
The completion gave Haasis 5,006 yards for his career, setting a new record for the Central State Eight Conference and making him one of 12 Illinois high school quarterbacks to pass for more than 5,000 yards.
But in a letter to the president of the conference, Haasis asked that the pass be stricken from the record books.
Stupid coaches. Classy kid.
Winning Respect
Wilcox High in Santa Clara, Calif., was on its way to a great season, till the coach learned a special teams player had forged a teacher's signature on a grade change. The coach reported the ineligible player. The team forfeited five games. It made the front page of the San Jose Mercury News. Integrity is newsworthy these days.
Bright Flight
To compete with private and charter schools, Phoenix's school district wants to start small high schools for untroubled, academically successful students. But it will take a tax increase to fund the plan to combat "bright flight."
Every weekday JewishWorldReview.com publishes what many in Washington and in the media consider "must reading." Sign up for the daily JWR update. It's free. Just click here.


JWR contributor Joanne Jacobs, a former Knight-Ridder columnist and San Jose Mercury News editorial writer, blogs daily at ReadJacobs.com. She is currently finishing a book, Start-Up High, about a San Jose charter school. Comment by clicking here.
11/03/03: Super Pay for Super Teachers?; 'Failing' Teachers; Dissect the Bunny; Yuck
10/27/03: Parent, teachers, parents as teachers; cramming in education; out of control
10/21/03: Go, Samaritan; 2 + 2 = ?; Majoring in Middle-class Status
10/14/03: To Gag a Mockingbird; saying 'hate' is hate speech; protest school
10/08/03: No Homework Overload; Self-centered Social Studies; The Boy Code; Codswallop; College 101: Don't Jump Out of Your Bunk Bed
09/29/03: Flunking mom; classroom classics; ritalin gag rule; lousy children
09/22/03: Order, disorder
09/08/03: No Child Left Behind: A Primer
08/29/03: The Decline and Fall of Social Studies
08/18/03: F is for valedictorian
08/14/03: Start-up success
08/11/03: Subliterate Superintendent
08/04/03: Alternative High School
07/28/03: Out of the System
07/21/03: Too Snobby for Shop
07/14/03: Be very afraid
07/09/03: Know-nothing nonsense
06/30/03: Affirmative action reactions
06/23/03: Overdressed Students, Underdressed Teachers, Dressed-down Exams
06/16/03: Paper 'Is-ness,' Excluding Awards, New Racial Consciousness and Politics
06/09/03: Racist math, red tape for charters, potty reading
06/02/03: Teacher Pay, Illiteracy , No Republicans Allowed
05/27/03: Research papers, athletics, reading
05/19/03: Soft America, plagiarism, Minutemen and Jets
05/12/03: Demographics, nerves, valedictorian, vouchers
05/05/03: Gender Bias, Banned Words, Helen of Troy
04/28/03: Tests, home-schooling, self-esteem
04/25/03: Lessons, American Pride, Iraqi Schools
04/14/03: Iraqi Textbooks and the English language
03/31/03:Teachers, hugging, text messaging
04/07/03: War talk at school
03/24/03: Watching the war
03/10/03: Classroom chaos
03/03/03: Teaching tales
02/24/03: Segregation stories
02/18/03: Writing Essays, America, Beyond Bert and Ernie
02/13/03: Size matters
02/10/03: Parental homework, cheaters and memoirs
02/03/03: Diplomas, academics, preschools and Ritalin
01/27/03: Head Start, Social Studies, Marx, Africa and Math
01/22/03: Teachers as targets
01/13/03: Big Bully's Feelings
01/06/03: School of 60's Whining and Communal Destruction
12/23/02: Teaching in
12/16/02: Chocolate city?
12/10/02: Mandatory Victimhood --- and when cleaning up a school is 'racist'
11/25/02: Multi-colored math, sensitive science
11/20/02: How to leave no child behind
11/18/02: The tummy track
11/11/02: Dysfunctional documents?
11/04/02: Why go to college? Why test schools?
10/28/02: Pride goeth before an F
10/21/02: Diversity adversity
10/14/02: Bad hat day
10/07/02: Inflated sense of worth
09/30/02: The Royal road to knowledge
09/24/02: Sierra's Club
09/20/02: Stupidity Watch
09/03/02: First, win the war
08/26/02: Out of their field, out of their minds?
08/20/02: Fun with failure

© 2003, Joanne Jacobs