Jewish World Review Dec. 15, 2003 / 20 Kislev, 5764

Joanne Jacobs
Missing Columbine; tuned out; kindergarten kamikazes; Suffer the Little Children; ungot greats; dangerous rhymes
http://www.NewsAndOpinion.com | In a generally positive New York Times Magazine story on misfits who choose cyber-schools, writer Emily White worries that virtual students miss out on school violence. Many of those she interviewed see school as hostile, coercive, distracting and dangerous. They don't see the beauty.
Before Columbine, the social Darwinism of the hallway was seen as character-building. Now we effortlessly imagine those ''characters'' hiding guns in trench coats, or dead. Promoters of virtual school promise that their Web sites are safe from online predators, and traditional school is portrayed as a haven for bullies, a brutal, corrupted environment in which violent confrontations are bound to occur.
Yet it is also true that there is a beauty in high school: those long, exhausting hours full of other kids, everyone trying to interpret one another. It's a beauty that Gus Van Sant evokes in his new Columbine-inspired film, ''Elephant'' -- kids break dancing and taking pictures and making out, even as the school day is headed for darkness.
Some students like the social interaction of school; others can't handle it or prefer not to or go to schools where the danger is too dangerous to be beautiful.
Tuned Out
By high school, many students are disengaged and drifting, says a National Research Council report, "Engaging Schools: Fostering High School Students' Motivation to Learn." Education Week summarizes:
Although the best high schools are filled with well-qualified and caring teachers in a setting where all students are valued, the book-length report says, for too many teenagers, high school has become an impersonal place where low expectations are common.
The committee recommended creating small schools within schools, pairing students with an "adult advocate" (counselor, I guess), linking curriculum to students' lives, eliminating tracking and connecting students to social and health services.
Number 2 Pencil comments on a Seattle Times' story on the disconnect between high school and college. Basically, if high school was easy, college will be hard. Even good students may discover they're not prepared for higher education.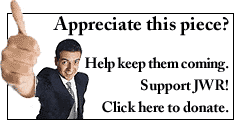 Kindergarten Kamikazes
School violence is starting at earlier ages as an increasing number of unsocialized children are cursing at classmates, punching teachers and throwing temper tantrums in class. They spend hours each day watching TV but not enough time interacting with caring, responsible adults. Time reports:
Kids who are chronologically 6 years old are showing up in school with "emotional experience you would expect of a 3-year-old," says Dr. Bruce Perry, a child psychiatrist who works with the nonprofit group ChildTrauma Academy, based in Houston. "Imagine a child with the terrible twos in a 6-year-old body. It's a huge problem in education and mental-health circles." This "relational poverty," he says, affects even the wealthiest kids.
Suffer the Little Children
Natalie Solent, a self-admitted fellow traveler who's failed her libertarian parenting badge, writes about Learning by minor suffering.
Libertarian parenting? Hah! I've got merit badges for nagging and bossing, not to mention the much-coveted Order of the Imperious Order.
Ungot Greats
This Blowhards' thread asks: What great writers, musicians and artists do you just not get? You have to accept their greatness, but find it doesn't work for you. My number one entry is common to others: Henry James. He just doesn't do it for me. And I think all his characters should get jobs.
Dangerous Rhymes
Nursery rhymes are filled with safety hazards, write Canadian researchers -- facetiously.
Sarah Giles and Sarah Shea, from Dalhousie University in Halifax, Canada, say Humpty Dumpty should have been put on a spinal board immediately after his big fall.
In a satirical letter to the Canadian Medical Association Journal, they added the presence of all the King's men suggests a "shocking lack of crowd control."
And what was that baby doing in a treetop?
They also criticise the rhyme about Jack and Jill for vagueness about the children's injuries and say that foul play could have killed off the old man in It's Raining it's Pouring.
That's just the beginning: Jumping over a candlestick could cause a fire. Wee Willie Winkie risks a fall down the stairs. And Old King Cole really should stop smoking, drinking and, um, fiddling around.
Every weekday JewishWorldReview.com publishes what many in Washington and in the media consider "must reading." Sign up for the daily JWR update. It's free. Just click here.


JWR contributor Joanne Jacobs, a former Knight-Ridder columnist and San Jose Mercury News editorial writer, blogs daily at ReadJacobs.com. She is currently finishing a book, Start-Up High, about a San Jose charter school. Comment by clicking here.
12/08/03: Desensitizing students to f-word; Like a Rock; Unmannered; Cool Christians on Campus
11/24/03: Integrating lunch; peewee athletes; The Promise
11/17/03: School Principals Gone Wild; School vs. Bloggers; A Is For Absent
11/10/03: Feeling history; no-sided history; passing on a record; winning respect; bright flight
11/03/03: Super Pay for Super Teachers?; 'Failing' Teachers; Dissect the Bunny; Yuck
10/27/03: Parent, teachers, parents as teachers; cramming in education; out of control
10/21/03: Go, Samaritan; 2 + 2 = ?; Majoring in Middle-class Status
10/14/03: To Gag a Mockingbird; saying 'hate' is hate speech; protest school
10/08/03: No Homework Overload; Self-centered Social Studies; The Boy Code; Codswallop; College 101: Don't Jump Out of Your Bunk Bed
09/29/03: Flunking mom; classroom classics; ritalin gag rule; lousy children
09/22/03: Order, disorder
09/08/03: No Child Left Behind: A Primer
08/29/03: The Decline and Fall of Social Studies
08/18/03: F is for valedictorian
08/14/03: Start-up success
08/11/03: Subliterate Superintendent
08/04/03: Alternative High School
07/28/03: Out of the System
07/21/03: Too Snobby for Shop
07/14/03: Be very afraid
07/09/03: Know-nothing nonsense
06/30/03: Affirmative action reactions
06/23/03: Overdressed Students, Underdressed Teachers, Dressed-down Exams
06/16/03: Paper 'Is-ness,' Excluding Awards, New Racial Consciousness and Politics
06/09/03: Racist math, red tape for charters, potty reading
06/02/03: Teacher Pay, Illiteracy , No Republicans Allowed
05/27/03: Research papers, athletics, reading
05/19/03: Soft America, plagiarism, Minutemen and Jets
05/12/03: Demographics, nerves, valedictorian, vouchers
05/05/03: Gender Bias, Banned Words, Helen of Troy
04/28/03: Tests, home-schooling, self-esteem
04/25/03: Lessons, American Pride, Iraqi Schools
04/14/03: Iraqi Textbooks and the English language
03/31/03:Teachers, hugging, text messaging
04/07/03: War talk at school
03/24/03: Watching the war
03/10/03: Classroom chaos
03/03/03: Teaching tales
02/24/03: Segregation stories
02/18/03: Writing Essays, America, Beyond Bert and Ernie
02/13/03: Size matters
02/10/03: Parental homework, cheaters and memoirs
02/03/03: Diplomas, academics, preschools and Ritalin
01/27/03: Head Start, Social Studies, Marx, Africa and Math
01/22/03: Teachers as targets
01/13/03: Big Bully's Feelings
01/06/03: School of 60's Whining and Communal Destruction
12/23/02: Teaching in
12/16/02: Chocolate city?
12/10/02: Mandatory Victimhood --- and when cleaning up a school is 'racist'
11/25/02: Multi-colored math, sensitive science
11/20/02: How to leave no child behind
11/18/02: The tummy track
11/11/02: Dysfunctional documents?
11/04/02: Why go to college? Why test schools?
10/28/02: Pride goeth before an F
10/21/02: Diversity adversity
10/14/02: Bad hat day
10/07/02: Inflated sense of worth
09/30/02: The Royal road to knowledge
09/24/02: Sierra's Club
09/20/02: Stupidity Watch
09/03/02: First, win the war
08/26/02: Out of their field, out of their minds?
08/20/02: Fun with failure

© 2003, Joanne Jacobs