Jewish World Review Dec. 8, 2003 / 13 Kislev, 5764

Joanne Jacobs
Desensitizing students to f-word; Like a Rock; Unmannered; Cool Christians on Campus
http://www.NewsAndOpinion.com | To desensitize students to f-word use in "Catcher in the Rye," a Virginia teacher assigned unusual homework.
"My teacher decided that it would be best to have the students go home and say in private the phrase 'F-U,' 10,000 times in different dialogues and different ways and tones and stuff, so that we'd become desensitized to it and wouldn't have to worry about it," said Chantilly High School student Jeff Daybell.
...The school system issued a statement that read: "The teacher didn't want the students to be alarmed by what they read. There may have been better ways to handle this."
I think the teacher was joking. He had to be joking. Right?
Like a Rock
Stephanie Hightower, president of the Columbus, Ohio school board, is taking heat for cursing at a 14-year-old boy who threw a rock at her car when she was driving with her husband and child. Hightower, a former Olympic track star, chased the boy to a nearby YMCA. George Hunter, the program director, stood between Hightower and the boy. The Columbus Dispatch (no free link) reports:
(Hunter) quoted Hightower as saying: "Do you know who I am? You hit my damn car, my f'ing car. I'm the president of your school board. You being a Columbus Public Schools student, it's embarrassing for this to happen."
"We were just not going to let her hit him. And (the boy) is the kind that if she hit him, he would have hit her back," Hunter said.
The argument was moved into an office, where the boy eventually shed tears and admitted he had thrown the rock, Hunter said. The boy then went to another room and wrote Hightower an apology.
. . . Hightower said yesterday that she was rattled because the rock had thudded loudly against the car window, just inches from her head.
Hightower has apologized for using "inappropriate language." Her political opponents are accusing her of child abuse.
Too bad the YMCA guy got in the way. I'll take a 45-year-old woman in high heels over a 14-year-old punk any day.
Unmannered
If students don't learn manners in school, they may not learn it at all.
"The dramatic shift is parents' expectations for their kids," said Ed Harris, principal at Cahokia High. "It used to be that the parent and the school were in cahoots to make sure the student was doing the right thing. Now, the parent often sides with the kid."
Increasingly, students show no respect for authority figures or for classmates.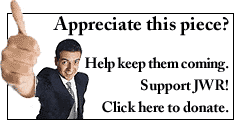 Cool Christians on Campus
Evangelical Christianity is the hot new thing on elite college campuses, says the Boston Globe.
There are 15 evangelical Christian fellowship groups at the Massachusetts Institute of Technology alone. This is a pretty stunning development for a university where science has always been god, where efficiency and rationality are embedded in the DNA of the cold granite campus. Hundreds of MIT students are involved in these fellowships -- blacks, whites, Hispanics, and Asians, especially Asians.
...At Harvard University, "there are probably more evangelicals than at any time since the 17th century," says the Rev. Peter J. Gomes, religious historian and minister of the university's Memorial Church, who arrived on campus in 1970. "And I don't think I have ever seen a wider range of Christian fellowship activity."
Gomes credits Buddhists, Muslims and Hindus for making it socially acceptable to be religious in public.
"It's very chic to be a believer now," says Gomes. "In a place which is so dispassionate, so rational, and in many ways so conformist intellectually, if you want to break out of the pack, you say your prayers in public. It is the example of religious practice elsewhere that has emboldened American evangelicals to exercise their own practice."
Interesting.
Every weekday JewishWorldReview.com publishes what many in Washington and in the media consider "must reading." Sign up for the daily JWR update. It's free. Just click here.


JWR contributor Joanne Jacobs, a former Knight-Ridder columnist and San Jose Mercury News editorial writer, blogs daily at ReadJacobs.com. She is currently finishing a book, Start-Up High, about a San Jose charter school. Comment by clicking here.
11/24/03: Integrating lunch; peewee athletes; The Promise
11/17/03: School Principals Gone Wild; School vs. Bloggers; A Is For Absent
11/10/03: Feeling history; no-sided history; passing on a record; winning respect; bright flight
11/03/03: Super Pay for Super Teachers?; 'Failing' Teachers; Dissect the Bunny; Yuck
10/27/03: Parent, teachers, parents as teachers; cramming in education; out of control
10/21/03: Go, Samaritan; 2 + 2 = ?; Majoring in Middle-class Status
10/14/03: To Gag a Mockingbird; saying 'hate' is hate speech; protest school
10/08/03: No Homework Overload; Self-centered Social Studies; The Boy Code; Codswallop; College 101: Don't Jump Out of Your Bunk Bed
09/29/03: Flunking mom; classroom classics; ritalin gag rule; lousy children
09/22/03: Order, disorder
09/08/03: No Child Left Behind: A Primer
08/29/03: The Decline and Fall of Social Studies
08/18/03: F is for valedictorian
08/14/03: Start-up success
08/11/03: Subliterate Superintendent
08/04/03: Alternative High School
07/28/03: Out of the System
07/21/03: Too Snobby for Shop
07/14/03: Be very afraid
07/09/03: Know-nothing nonsense
06/30/03: Affirmative action reactions
06/23/03: Overdressed Students, Underdressed Teachers, Dressed-down Exams
06/16/03: Paper 'Is-ness,' Excluding Awards, New Racial Consciousness and Politics
06/09/03: Racist math, red tape for charters, potty reading
06/02/03: Teacher Pay, Illiteracy , No Republicans Allowed
05/27/03: Research papers, athletics, reading
05/19/03: Soft America, plagiarism, Minutemen and Jets
05/12/03: Demographics, nerves, valedictorian, vouchers
05/05/03: Gender Bias, Banned Words, Helen of Troy
04/28/03: Tests, home-schooling, self-esteem
04/25/03: Lessons, American Pride, Iraqi Schools
04/14/03: Iraqi Textbooks and the English language
03/31/03:Teachers, hugging, text messaging
04/07/03: War talk at school
03/24/03: Watching the war
03/10/03: Classroom chaos
03/03/03: Teaching tales
02/24/03: Segregation stories
02/18/03: Writing Essays, America, Beyond Bert and Ernie
02/13/03: Size matters
02/10/03: Parental homework, cheaters and memoirs
02/03/03: Diplomas, academics, preschools and Ritalin
01/27/03: Head Start, Social Studies, Marx, Africa and Math
01/22/03: Teachers as targets
01/13/03: Big Bully's Feelings
01/06/03: School of 60's Whining and Communal Destruction
12/23/02: Teaching in
12/16/02: Chocolate city?
12/10/02: Mandatory Victimhood --- and when cleaning up a school is 'racist'
11/25/02: Multi-colored math, sensitive science
11/20/02: How to leave no child behind
11/18/02: The tummy track
11/11/02: Dysfunctional documents?
11/04/02: Why go to college? Why test schools?
10/28/02: Pride goeth before an F
10/21/02: Diversity adversity
10/14/02: Bad hat day
10/07/02: Inflated sense of worth
09/30/02: The Royal road to knowledge
09/24/02: Sierra's Club
09/20/02: Stupidity Watch
09/03/02: First, win the war
08/26/02: Out of their field, out of their minds?
08/20/02: Fun with failure

© 2003, Joanne Jacobs