Jewish World Review Dec. 22, 2003 / 27 Kislev, 5764

Joanne Jacobs
Saving the teacher, skipping a grade, paying for AP tests, laptops don't boost scores
http://www.NewsAndOpinion.com | Six students saved their teacher's life at Heritage High in suburban Atlanta. Debbie Shultz's estranged husband, just out of a mental institution, showed up with a large knife. He rushed her. The Atlanta Journal-Constitution reports:
That's when Shultz's students, 16 and 17-year-old kids, went to her rescue. Several of the youngsters tackled the man, pinning him to the floor and wresting the knife from his hand.
The roll of honor is: Nimesh Patel, 17; Austin Hutchinson, 16; John Bailey, 16; Andy Anderson, 17; Matt Battaglia, 17; and Scott Wigington, 17.
As Hutchinson saw the man pull the knife, "I thought I could run like the rest of the people or I could help," the student said. "It's just not right leaving her there."
Hutchinson and Wigington, son of Rockdale County Sheriff Jeff Wigington, were the first to reach the assailant. Wigington grabbed the hand holding the knife.
The others helped push the man to the ground, at which point Wigington took the knife away from him. The six boys then kept him pinned to the ground.
After police took the attacker away, some of the boys stayed at school to finish taking their finals. Odds are they all passed Spanish II.
Smart Skipping
Skipping grades  benefits very smart students academically and socially, researchers say. Among factoids from Davidson Institute for Talent Development:
Accelerated highly gifted students achieve significantly higher levels of social and general self-esteem than do children of equal intellectual ability who have been retained with age peers or who have been permitted only a single grade-skip. (Gross, 2000)
. . . When exceptionally gifted children who have been rejected by their age peers are removed from the inappropriate grade placement and are permitted to work and play with intellectual peers, the loneliness and social isolation disappears, and the child is accepted as a valued classmate and friend. (Gross, 1993; Hollingworth, 1942)
Profoundly gifted students need to skip many grades, not just one, to benefit.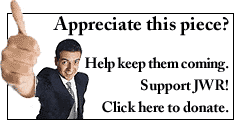 Laptops Don't Boost Scores
In Minneapolis, ninth graders in the class of 2002 were given free laptops for four years. Graduation rates improved, though of 980 students who got laptops an unimpressive 530 graduated four years later. Test scores didn't rise, says the Pioneer Press.
Ninety-two percent of continuously enrolled students with laptops passed the Minnesota Basic Standards reading test in October 2001. By comparison, 91 percent of similarly enrolled students in other schools passed the test.
The passing rate for the math section was 85 percent for the laptop-toting students, and 87 percent for students at other schools. Students passed the writing test at the rate of 90 percent and 87 percent, respectively.
Joshua Angrist, a Massachusetts Institute of Technology economics professor, found no increase in achievement from laptop use in a study on Israeli students. Math scores went down.
"I'm sure that kids are happy to get a free computer. I would be too," he said. "The simple answer is that it's not a better way to teach. It's costly. It's distracting. And it decreases teachers' ability to control what's going on in the classroom.
Money invested in laptops is not available for other things; teachers' energy and students' time are finite as well.
Pay for AP
More students are taking Advanced Placement classes at Texas high schools where students  get a $100 reward for passing the AP exam; teachers get $150 for each passing student. The program, which started in Dallas and is now spreading, is privately funded. Over five years, the number of Dallas students passing the AP exam jumped from 130 to 754, reports the Houston Chronicle. "The passing rate among minority students is 10 times higher than the national average" according to the program coordinator.
Bob Daniel, Tascosa High School principal in Amarillo, calls the program nothing short of "incredible."
"We've had about a 300 percent increase in the number of tests taken over the last three years and a 190 percent increase in the number of tests passed," Daniel said. "We are hearing back from our kids as they come back from college, saying they are much better prepared."
The Chronicle quotes critics who say the money should be spent elsewhere, or that financial incentives would put too much pressure on some students. Actually, this program is creating opportunities for advanced study at mediocre and low-performing schools that typically don't have enough ambitious students to justify AP Physics or AP European History. Once the classes are created, more students can give it a try.
Every weekday JewishWorldReview.com publishes what many in Washington and in the media consider "must reading." Sign up for the daily JWR update. It's free. Just click here.


JWR contributor Joanne Jacobs, a former Knight-Ridder columnist and San Jose Mercury News editorial writer, blogs daily at ReadJacobs.com. She is currently finishing a book, Start-Up High, about a San Jose charter school. Comment by clicking here.
12/15/03: Missing Columbine; tuned out; kindergarten kamikazes; Suffer the Little Children; ungot greats; dangerous rhymes
12/08/03: Desensitizing students to f-word; Like a Rock; Unmannered; Cool Christians on Campus
11/24/03: Integrating lunch; peewee athletes; The Promise
11/17/03: School Principals Gone Wild; School vs. Bloggers; A Is For Absent
11/10/03: Feeling history; no-sided history; passing on a record; winning respect; bright flight
11/03/03: Super Pay for Super Teachers?; 'Failing' Teachers; Dissect the Bunny; Yuck
10/27/03: Parent, teachers, parents as teachers; cramming in education; out of control
10/21/03: Go, Samaritan; 2 + 2 = ?; Majoring in Middle-class Status
10/14/03: To Gag a Mockingbird; saying 'hate' is hate speech; protest school
10/08/03: No Homework Overload; Self-centered Social Studies; The Boy Code; Codswallop; College 101: Don't Jump Out of Your Bunk Bed
09/29/03: Flunking mom; classroom classics; ritalin gag rule; lousy children
09/22/03: Order, disorder
09/08/03: No Child Left Behind: A Primer
08/29/03: The Decline and Fall of Social Studies
08/18/03: F is for valedictorian
08/14/03: Start-up success
08/11/03: Subliterate Superintendent
08/04/03: Alternative High School
07/28/03: Out of the System
07/21/03: Too Snobby for Shop
07/14/03: Be very afraid
07/09/03: Know-nothing nonsense
06/30/03: Affirmative action reactions
06/23/03: Overdressed Students, Underdressed Teachers, Dressed-down Exams
06/16/03: Paper 'Is-ness,' Excluding Awards, New Racial Consciousness and Politics
06/09/03: Racist math, red tape for charters, potty reading
06/02/03: Teacher Pay, Illiteracy , No Republicans Allowed
05/27/03: Research papers, athletics, reading
05/19/03: Soft America, plagiarism, Minutemen and Jets
05/12/03: Demographics, nerves, valedictorian, vouchers
05/05/03: Gender Bias, Banned Words, Helen of Troy
04/28/03: Tests, home-schooling, self-esteem
04/25/03: Lessons, American Pride, Iraqi Schools
04/14/03: Iraqi Textbooks and the English language
03/31/03:Teachers, hugging, text messaging
04/07/03: War talk at school
03/24/03: Watching the war
03/10/03: Classroom chaos
03/03/03: Teaching tales
02/24/03: Segregation stories
02/18/03: Writing Essays, America, Beyond Bert and Ernie
02/13/03: Size matters
02/10/03: Parental homework, cheaters and memoirs
02/03/03: Diplomas, academics, preschools and Ritalin
01/27/03: Head Start, Social Studies, Marx, Africa and Math
01/22/03: Teachers as targets
01/13/03: Big Bully's Feelings
01/06/03: School of 60's Whining and Communal Destruction
12/23/02: Teaching in
12/16/02: Chocolate city?
12/10/02: Mandatory Victimhood --- and when cleaning up a school is 'racist'
11/25/02: Multi-colored math, sensitive science
11/20/02: How to leave no child behind
11/18/02: The tummy track
11/11/02: Dysfunctional documents?
11/04/02: Why go to college? Why test schools?
10/28/02: Pride goeth before an F
10/21/02: Diversity adversity
10/14/02: Bad hat day
10/07/02: Inflated sense of worth
09/30/02: The Royal road to knowledge
09/24/02: Sierra's Club
09/20/02: Stupidity Watch
09/03/02: First, win the war
08/26/02: Out of their field, out of their minds?
08/20/02: Fun with failure

© 2003, Joanne Jacobs