Jewish World Review March 1, 2004 / 8 Adar, 5764

Joanne Jacobs
No Drugs? No problem; double standard; control
http://www.NewsAndOpinion.com | I will not make students write the same sentence repeatedly.
I will not make students write the same sentence repeatedly.
Requiring misbehaving students to write sentences is corporal punishment, according to a Philadelphia-area school appropriately named Cramp Elementary. The Philadelphia Inquirer reports:
The clash between using stern, "old-school" methods, which (Fred) Creel employed for seven years as disciplinarian, and teaching students to adopt "self-discipline," favored by principal Adrienne Carpenter, came to a head yesterday at a raucous meeting of more than 60 parents.
Many parents demanded the return of Creel, who was transferred out of his post to a teaching position at Cramp in October after parents complained he made disruptive students write sentences such as "I will not hit or head-butt someone" 100 times.
Officials at Cramp, a 900-student kindergarten-through-fifth-grade school, decided the writing assignments were a form of corporal punishment, and corporal punishment is prohibited by the district.
Creel -- who has worked 27 years at Cramp -- also was accused of grabbing students and calling them names.
Yesterday, Creel said, "Never in my life have I gone after a child to hurt a child." He said he did restrain children when they were fighting. And he said he never called children names, but told them: "We have no animals in school. Animals throw food. Animals spit food. Animals play with food. Animals open their mouths and show people what they're eating."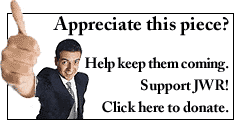 Parents complained student behavior has gone downhill since Creel was removed as assistant principal.
At several points, the meeting became a shouting match with lots of participants. Creel waded into the fray and quieted the crowd, using the same tactic that he uses with children: "One, hands up. Two, mouths closed."
Even Bart Simpson has to write lines at school.
Control
When you've got to go, you've got to go. Except at a New Jersey middle school that locks up the restrooms during passing periods and limits students to 15 restroom passes per month. On other days, students can go during lunch or gym, if they have it, or not at all. There's less vandalism in the restrooms -- but students are avoiding fluids to save their passes for emergencies.
But some parents don't buy any of the school's arguments. They say students are pressed for time at lunch and usually feel the need to use the restroom later in the day, especially if they drank something with their meals. If students have gym at the beginning or end of the day, parents say it doesn't help much. Gym is every other day and some students are enrolled in health instead.
At my large and spread-out high school, most restrooms were locked all the time because the teachers didn't want to be on anti-smoking patrol. We learned planning and self-control. But, at least, there were some restrooms open during passing periods.
Double Standard
At a school in Ohio, a sixth grader was suspended for bringing the Sports Illustrated swimsuit issue to school. The boy's mother had refused to let him spend two days at an alternative school for violating the school's non-verbal sexual harassment policy. He showed the magazine to other boys in the gym before school.
At a Washington high school, a teacher-coach who "pantsed" a basketball player in practice, and then complimented her "butt," received a verbal reprimand despite previous complaints she'd made sexual remarks to students.
In the zero tolerance era, children are punished for minor misjudgments that could be handled by a warning, but then don't see the same standard applied to teachers who make more serious errors in judgment.
No Drugs? No Problem
Police searches found no drugs at Mohr High School in Michigan. So the assistant principal, who kept confiscated drugs in his desk, decided to plant marijuana in the locker of a student he suspected of dealing. The police dog failed to sniff the marijuana, and the assistant principal, now facing a misdemeanor marijuana possession charge, has resigned. Here's the Smoking Gun.
(Pat) Conroy told police he came up with the idea of placing marijuana in the student's locker early last year after several locker searches by the South Haven Police Department's drug dog, Herbie, turned up no drugs at the school.
Why no criminal charges for the attempt to frame the student? For once, I hope there's a lawsuit. That kid could have been the one with a criminal record, as well as being expelled from school. And all because the assistant principal wouldn't take no for an answer. (I do wonder if Herbie's lost his nose.)
Letters
Landy Johnson of Carrollton, Texas, writes:
You are absotively, posilutely 100 percent correct! It's W-A-Y past time someone says to little Johnny that he isn't special, that he doesn't deserve praise until he does something that is, wait for it: praiseworthy!
It just sickens me that we've raised a entire generation of kids who expect the world to be given to them. We have done this entire group a major disservice by telling them "You can be anything you want to be." It should have been "You can be anything you work at becoming." We're raising another generation of "victims."
Every weekday JewishWorldReview.com publishes what many in Washington and in the media consider "must reading." Sign up for the daily JWR update. It's free. Just click here.


JWR contributor Joanne Jacobs, a former Knight-Ridder columnist and San Jose Mercury News editorial writer, blogs daily at ReadJacobs.com. She is currently finishing a book, Start-Up High, about a San Jose charter school. Comment by clicking here.
02/23/04:Over-Praised New Yorkers; Under-Educated Hawaiians; Mothers and Nannies
02/17/04: Under the skin; don't call them 'gifties'; a piece of sheepskin; parent participation — or else
02/09/04: The Limits of Discovery Learning; science lite; not just a buzzword; fish, unfried
02/02/04: Flight from excellence; the look that screams; show them the money
01/26/04: It's the Parents, Stupid
01/20/04: High School Blahs, Naked Math, Boys in Trouble
12/22/03: Saving the teacher, skipping a grade, paying for AP tests, laptops don't boost scores
12/15/03: Missing Columbine; tuned out; kindergarten kamikazes; Suffer the Little Children; ungot greats; dangerous rhymes
12/08/03: Desensitizing students to f-word; Like a Rock; Unmannered; Cool Christians on Campus
11/24/03: Integrating lunch; peewee athletes; The Promise
11/17/03: School Principals Gone Wild; School vs. Bloggers; A Is For Absent
11/10/03: Feeling history; no-sided history; passing on a record; winning respect; bright flight
11/03/03: Super Pay for Super Teachers?; 'Failing' Teachers; Dissect the Bunny; Yuck
10/27/03: Parent, teachers, parents as teachers; cramming in education; out of control
10/21/03: Go, Samaritan; 2 + 2 = ?; Majoring in Middle-class Status
10/14/03: To Gag a Mockingbird; saying 'hate' is hate speech; protest school
10/08/03: No Homework Overload; Self-centered Social Studies; The Boy Code; Codswallop; College 101: Don't Jump Out of Your Bunk Bed
09/29/03: Flunking mom; classroom classics; ritalin gag rule; lousy children
09/22/03: Order, disorder
09/08/03: No Child Left Behind: A Primer
08/29/03: The Decline and Fall of Social Studies
08/18/03: F is for valedictorian
08/14/03: Start-up success
08/11/03: Subliterate Superintendent
08/04/03: Alternative High School
07/28/03: Out of the System
07/21/03: Too Snobby for Shop
07/14/03: Be very afraid
07/09/03: Know-nothing nonsense
06/30/03: Affirmative action reactions
06/23/03: Overdressed Students, Underdressed Teachers, Dressed-down Exams
06/16/03: Paper 'Is-ness,' Excluding Awards, New Racial Consciousness and Politics
06/09/03: Racist math, red tape for charters, potty reading
06/02/03: Teacher Pay, Illiteracy , No Republicans Allowed
05/27/03: Research papers, athletics, reading
05/19/03: Soft America, plagiarism, Minutemen and Jets
05/12/03: Demographics, nerves, valedictorian, vouchers
05/05/03: Gender Bias, Banned Words, Helen of Troy
04/28/03: Tests, home-schooling, self-esteem
04/25/03: Lessons, American Pride, Iraqi Schools
04/14/03: Iraqi Textbooks and the English language
03/31/03:Teachers, hugging, text messaging
04/07/03: War talk at school
03/24/03: Watching the war
03/10/03: Classroom chaos
03/03/03: Teaching tales
02/24/03: Segregation stories
02/18/03: Writing Essays, America, Beyond Bert and Ernie
02/13/03: Size matters
02/10/03: Parental homework, cheaters and memoirs
02/03/03: Diplomas, academics, preschools and Ritalin
01/27/03: Head Start, Social Studies, Marx, Africa and Math
01/22/03: Teachers as targets
01/13/03: Big Bully's Feelings
01/06/03: School of 60's Whining and Communal Destruction
12/23/02: Teaching in
12/16/02: Chocolate city?
12/10/02: Mandatory Victimhood --- and when cleaning up a school is 'racist'
11/25/02: Multi-colored math, sensitive science
11/20/02: How to leave no child behind
11/18/02: The tummy track
11/11/02: Dysfunctional documents?
11/04/02: Why go to college? Why test schools?
10/28/02: Pride goeth before an F
10/21/02: Diversity adversity
10/14/02: Bad hat day
10/07/02: Inflated sense of worth
09/30/02: The Royal road to knowledge
09/24/02: Sierra's Club
09/20/02: Stupidity Watch
09/03/02: First, win the war
08/26/02: Out of their field, out of their minds?
08/20/02: Fun with failure

© 2003, Joanne Jacobs