Jewish World Review March 8, 2004 / 15 Adar, 5764

Joanne Jacobs
School sued for saving lives; teachers protest students; saive oure skules; graduate yourself; jumping for Darwin
http://www.NewsAndOpinion.com | When a 15-year-old boy plots to shoot up his high school, whose fault is it? The school, of course.
Thanks to a tip, nobody was killed at Laguna Creek High School, near Sacramento. Two students were arrested. But the parents of a 15-year-old freshman who was arrested plan to sue the school district and the sheriff for $6 million, reports the Sacramento Bee. The family's lawyer said the kid really planned "suicide by cop," not a massacre targeting black students and others.
The first claim accuses the school district of not providing the teen with trained counselors when his mother sought help for her disturbed son.
The second claim accuses the Sheriff's Department of providing the media with false information about the "racial component" of the incident.
"This was blown out of proportion. The NAACP got involved, and there was no reason. Somebody is at fault, and we are working to determine who that is," (lawyer J. Jeffries) Goodwin said Wednesday.
He disputed claims by law enforcement authorities that the student intended to break into a store to steal weapons and attack the school with guns and explosives.
"This boy was going to take a BB gun to school so that he could be killed," Goodwin said. "There was no burglary attempt to get guns. There were no bombs. This was going to be a suicide."
Well, then, no problem. A few sessions with a school counselor would have cured him in no time.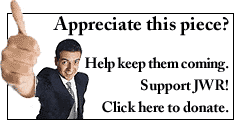 In the first news story, the defendant's father is quoted as saying the boy had confessed.
But the father conceded that his son told him during the jail visit about the plot. "He admitted to wanting to steal guns from Big 5 and take them to school and shoot people."
The tipster said the suspects claimed their goal was to "beat Columbine's record" of deaths, then kill themselves afterward.
In letters to the editor, Bee readers comment on the lawsuit. Unfavorably.
Teachers Protest Students
At a Tucson charter school, teachers went on strike demanding students work harder and show respect. From the Tucson Citizen:
Students arriving at Cesar Chavez Middle School and Aztlan Academy yesterday were met with striking teachers in the parking lot carrying signs. The messages on the signs: "We're tired of excuses," "I Quit Until You Care," "Quit Wasting Your Time," "Quit Stealing Our Time" and "Try, Damn It, Try."
All 16 teachers and administrators at the charter middle and high school took part in the strike, which prompted some of the older students to go into the school building at 3376 S. Sixth Ave. and take charge of the approximately 200 students.
..."If I were a teacher I'd be out here, also," said Beatrice Baltierrez, 18, a student at the schools for five years. She said some of the students wrote letters of apology.
The teachers' strike ended with a schoolwide meeting to discuss solutions, including, "Be committed to getting your education instead of complaining and making excuses."
Saive Oure Skules
Poor spelling  and punctuation doomed a letter-writing campaign against new charter schools in Massachusetts.
All the proof state Board of Education member Roberta Schaefer needed to OK controversial new charter schools were the letters before her from public school students.
Schaefer ridiculed the letters against a proposed school in Marlboro for their missing punctuation and sloppy spelling — including a misspelling of the word "school" in one missive.
"If I didn't think a charter school was necessary, these letters have convinced me the high school was not doing an adequate job in teaching English language arts," Schaefer said.
The Marlboro-based Advanced Math and Science Academy and charter schools in Cambridge, Lynn and Barnstable were approved.
Graduate Yourself
Number 2 Pencil  points to an entrepreneurial twist: Students who can't pass their state's exit exam can get an official-looking diploma from a private school, North Atlantic Regional High in Maine. Haitian immigrants are using North Atlantic to get around the reading portion of the Florida graduation exam, reports the Miami Herald.
Two years after arriving from Port-au-Prince, Edison High student Stephania Fourron had learned enough English to pass the math portion of the Florida Comprehensive Assessment Test, but failed the reading exam three times.
She could not receive a diploma, could not start college, could not study nursing — until a community activist offered her a novel solution from 1,600 miles away.
For a $255 fee, a private school designed for home-schooled students in Lewiston, Maine, offered to accept her course credits from Edison and issue a diploma — even though she has never attended classes there. Within weeks, Fourron was able to begin classes at Miami Dade College.
Of course, without basic reading skills, it's unlikely Fourron will understand college nursing texts.
This is a great racket for North Atlantic, but eventually students will wise up. They can claim to be homeschooled and award themselves free diplomas. The piece of paper will be worth nothing without the skills it claims to represent; ultimately, that's true of all diplomas.
Jumping for Darwin
You've heard of the Darwin Awards for people who voluntarily terminate their unfit genes? In a science class at Miami Beach High, a teacher bet a student that he'd be injured if he tried to prove his point about evolution by jumping out the window of the second-story classroom. The student jumped without injury, winning the $20 bet. The teacher will be reassigned — probably to a ground-floor classroom.
Every weekday JewishWorldReview.com publishes what many in Washington and in the media consider "must reading." Sign up for the daily JWR update. It's free. Just click here.


JWR contributor Joanne Jacobs, a former Knight-Ridder columnist and San Jose Mercury News editorial writer, blogs daily at ReadJacobs.com. She is currently finishing a book, Start-Up High, about a San Jose charter school. Comment by clicking here.
03/01/04: No Drugs? No problem; double standard; control
02/23/04: Over-Praised New Yorkers; Under-Educated Hawaiians; Mothers and Nannies
02/17/04: Under the skin; don't call them 'gifties'; a piece of sheepskin; parent participation — or else
02/09/04: The Limits of Discovery Learning; science lite; not just a buzzword; fish, unfried
02/02/04: Flight from excellence; the look that screams; show them the money
01/26/04: It's the Parents, Stupid
01/20/04: High School Blahs, Naked Math, Boys in Trouble
12/22/03: Saving the teacher, skipping a grade, paying for AP tests, laptops don't boost scores
12/15/03: Missing Columbine; tuned out; kindergarten kamikazes; Suffer the Little Children; ungot greats; dangerous rhymes
12/08/03: Desensitizing students to f-word; Like a Rock; Unmannered; Cool Christians on Campus
11/24/03: Integrating lunch; peewee athletes; The Promise
11/17/03: School Principals Gone Wild; School vs. Bloggers; A Is For Absent
11/10/03: Feeling history; no-sided history; passing on a record; winning respect; bright flight
11/03/03: Super Pay for Super Teachers?; 'Failing' Teachers; Dissect the Bunny; Yuck
10/27/03: Parent, teachers, parents as teachers; cramming in education; out of control
10/21/03: Go, Samaritan; 2 + 2 = ?; Majoring in Middle-class Status
10/14/03: To Gag a Mockingbird; saying 'hate' is hate speech; protest school
10/08/03: No Homework Overload; Self-centered Social Studies; The Boy Code; Codswallop; College 101: Don't Jump Out of Your Bunk Bed
09/29/03: Flunking mom; classroom classics; ritalin gag rule; lousy children
09/22/03: Order, disorder
09/08/03: No Child Left Behind: A Primer
08/29/03: The Decline and Fall of Social Studies
08/18/03: F is for valedictorian
08/14/03: Start-up success
08/11/03: Subliterate Superintendent
08/04/03: Alternative High School
07/28/03: Out of the System
07/21/03: Too Snobby for Shop
07/14/03: Be very afraid
07/09/03: Know-nothing nonsense
06/30/03: Affirmative action reactions
06/23/03: Overdressed Students, Underdressed Teachers, Dressed-down Exams
06/16/03: Paper 'Is-ness,' Excluding Awards, New Racial Consciousness and Politics
06/09/03: Racist math, red tape for charters, potty reading
06/02/03: Teacher Pay, Illiteracy , No Republicans Allowed
05/27/03: Research papers, athletics, reading
05/19/03: Soft America, plagiarism, Minutemen and Jets
05/12/03: Demographics, nerves, valedictorian, vouchers
05/05/03: Gender Bias, Banned Words, Helen of Troy
04/28/03: Tests, home-schooling, self-esteem
04/25/03: Lessons, American Pride, Iraqi Schools
04/14/03: Iraqi Textbooks and the English language
03/31/03:Teachers, hugging, text messaging
04/07/03: War talk at school
03/24/03: Watching the war
03/10/03: Classroom chaos
03/03/03: Teaching tales
02/24/03: Segregation stories
02/18/03: Writing Essays, America, Beyond Bert and Ernie
02/13/03: Size matters
02/10/03: Parental homework, cheaters and memoirs
02/03/03: Diplomas, academics, preschools and Ritalin
01/27/03: Head Start, Social Studies, Marx, Africa and Math
01/22/03: Teachers as targets
01/13/03: Big Bully's Feelings
01/06/03: School of 60's Whining and Communal Destruction
12/23/02: Teaching in
12/16/02: Chocolate city?
12/10/02: Mandatory Victimhood --- and when cleaning up a school is 'racist'
11/25/02: Multi-colored math, sensitive science
11/20/02: How to leave no child behind
11/18/02: The tummy track
11/11/02: Dysfunctional documents?
11/04/02: Why go to college? Why test schools?
10/28/02: Pride goeth before an F
10/21/02: Diversity adversity
10/14/02: Bad hat day
10/07/02: Inflated sense of worth
09/30/02: The Royal road to knowledge
09/24/02: Sierra's Club
09/20/02: Stupidity Watch
09/03/02: First, win the war
08/26/02: Out of their field, out of their minds?
08/20/02: Fun with failure

© 2003, Joanne Jacobs