Jewish World Review April 11, 2004 / 21 Nissan, 5764

Joanne Jacobs
Math instruction doesn't add up
http://www.NewsAndOpinion.com | It's time to tell students the truth, writes James E. Rosenbaum in American Educator: If you do poorly in high school, you'll do poorly in college and on the job. A useful sidebar explains what you need to do in high school to be successful.
The vast majority of high school seniors say they plan to get a college degree. Yet less than 40 percent will earn a two or four-year degree. Success is linked closely to high school performance: While 64 percent of "A" students with college plans earn a two-year or higher degree, only 14 percent of college-bound seniors with averages of "C" or lower earn any sort of degree. Half of the "C" and "D" students will not earn a single college credit. They'll take remedial classes and then give up.
Almost 40 percent of college-bound students "believed that school effort had little relevance for their future careers," writes Rosenbaum, a Northwestern professor. Wrong. "Over half the students who do more than 10 hours of homework a week will get a four-year college degree; only about 16 percent of those doing less than three hours of homework a week will earn a bachelor's degree."
For students who go directly into the workforce, high school grades predict pay. "B" students earn considerably more than "C" students.
Let Math Be Math
The Connected Math curriculum is controversial in Madison, Wisc., — especially with parents who are mathematicians. The Capital Times compares a problem for seventh graders.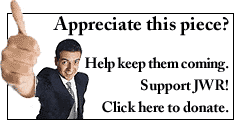 A gas station sells soda in three sizes. A 20-ounce cup costs 80 cents, a 32-ounce cup is 90 cents and a 64-ouncer goes for $1.25.
Traditional: What size offers the most soda for the money?
Connected: If the gas station were to offer an 84-ounce Mega Swig, what would you expect to pay for it?
A student, for instance, could argue that the 84-ouncer would cost what the 20-ounce and 64-ounce cups cost together. Another student could say that soda gets cheaper with volume, and then choose an answer based on some per-ounce price slightly less than what was given for the 64-ounce drink.
Or a student could skip calculating the per-ounce prices and just pick a number: $1.50 seems about right.
On one side, those who support Connected Math say that engaging students by presenting problems as real-life scenarios, often with no absolute solution or single path to arrive at an answer, fosters innovation and forces students to explain and defend their reasoning as they discover mathematical concepts.
The other side says the approach trades the clear, fundamental concepts of math, distilled through thousands of years of logical reasoning, for verbiage and vagary that may help students learn to debate but will not give them the foundation they need for more advanced mathematical study.
. . . University of Wisconsin-Madison math and computer science Professor Jin-Yi Cai is a critic.
"It goes around and around and things never really get down to the really crisp, elegant, basic fundamental principles," Cai said of the Connected Math texts.
"It takes away the elegance, it takes away the beauty, it takes away the most basic logic structure. And the students are left with a vague, touchy-feely idea," he said.
Cai and UW-Madison mathematician Melania Alvarez, who is running for school board, also object to all the essay writing required by Connected Math. Writing isn't math, they say.
My algebra teacher, Miss Diedrick, said that math is a language of its own.
X + Y = ?
Starting this year, California students are supposed to pass algebra to earn a high school diploma, but many districts are seeking waivers. That includes districts that made algebra a graduation requirement years ago, yet never really enforced it.
The requirement has forced schools to get serious about teaching algebra. For one thing, flunkers get better teachers, reports the San Jose Mercury News.
At Milpitas High School, Lam Le — who has taught mathematics at the college level — teaches two classes of beginning algebra.
Le inherited several students who were failing but says she has only one F student now.
In her class, students actually start work before the bell rings. And they don't start to pack up until it rings again. "Math takes discipline, and clear direction,'' Le said.
...Several students in her class said they support the requirement linking algebra to graduation, despite their struggles. "If you don't know how to do math, you can't get a good job,'' said Jouit Soliano, who came from the Philippines last year.
California's standards call for students to learn algebra in eighth grade. Yet the graduation exam was postponed because so many students were flunking the math portion of the test, which required only a 55 percent. Only the hardest questions required high school math skills.
David Klein, a math professor at Cal State-Northridge, writes about California's math mess. At his campus, the ethnic studies departments run remedial math classes in which everyone passes. Klein teaches an arithmetic class for future elementary teachers, who are allowed to use calculators on the arithmetic exam.
Engineering Is Expendable
San Francisco State's president, forced to cut the budget, is threatening to close the School of Engineering, writes Debra Saunders in the Chronicle. Raza Studies, Recreational and Leisure Studies and Women Studies would remain, preparing students for...Well, leisure studies will come in handy for the permanently unemployed. The Institute on Sexuality, Social Inequality and Health is not threatened. Saunders writes:
It makes you wonder if the guys in Engineering should rename their discipline. You know, call it The School of Engineering, Structural Inequality and Disparity Dynamics. Even better: The School of Social Engineering.
Some 700 engineering students would be out of luck if SF State dumps the department.
Every weekday JewishWorldReview.com publishes what many in Washington and in the media consider "must reading." Sign up for the daily JWR update. It's free. Just click here.


JWR contributor Joanne Jacobs, a former Knight-Ridder columnist and San Jose Mercury News editorial writer, blogs daily at ReadJacobs.com. She is currently finishing a book, Start-Up High, about a San Jose charter school. Comment by clicking here.
04/05/04: Companies outsource for better workers, study says; nothing succeeds like failure; suspending everyone
04/01/04: Average pay gets average teachers; failing teachers; fake Master's
03/15/04: Translating Shakespeare, the Princess and the 'B'
03/08/04: School sued for saving lives; teachers protest students; saive oure skules; graduate yourself; jumping for Darwin
03/01/04: No Drugs? No problem; double standard; control
02/23/04: Over-Praised New Yorkers; Under-Educated Hawaiians; Mothers and Nannies
02/17/04: Under the skin; don't call them 'gifties'; a piece of sheepskin; parent participation — or else
02/09/04: The Limits of Discovery Learning; science lite; not just a buzzword; fish, unfried
02/02/04: Flight from excellence; the look that screams; show them the money
01/26/04: It's the Parents, Stupid
01/20/04: High School Blahs, Naked Math, Boys in Trouble
12/22/03: Saving the teacher, skipping a grade, paying for AP tests, laptops don't boost scores
12/15/03: Missing Columbine; tuned out; kindergarten kamikazes; Suffer the Little Children; ungot greats; dangerous rhymes
12/08/03: Desensitizing students to f-word; Like a Rock; Unmannered; Cool Christians on Campus
11/24/03: Integrating lunch; peewee athletes; The Promise
11/17/03: School Principals Gone Wild; School vs. Bloggers; A Is For Absent
11/10/03: Feeling history; no-sided history; passing on a record; winning respect; bright flight
11/03/03: Super Pay for Super Teachers?; 'Failing' Teachers; Dissect the Bunny; Yuck
10/27/03: Parent, teachers, parents as teachers; cramming in education; out of control
10/21/03: Go, Samaritan; 2 + 2 = ?; Majoring in Middle-class Status
10/14/03: To Gag a Mockingbird; saying 'hate' is hate speech; protest school
10/08/03: No Homework Overload; Self-centered Social Studies; The Boy Code; Codswallop; College 101: Don't Jump Out of Your Bunk Bed
09/29/03: Flunking mom; classroom classics; ritalin gag rule; lousy children
09/22/03: Order, disorder
09/08/03: No Child Left Behind: A Primer
08/29/03: The Decline and Fall of Social Studies
08/18/03: F is for valedictorian
08/14/03: Start-up success
08/11/03: Subliterate Superintendent
08/04/03: Alternative High School
07/28/03: Out of the System
07/21/03: Too Snobby for Shop
07/14/03: Be very afraid
07/09/03: Know-nothing nonsense
06/30/03: Affirmative action reactions
06/23/03: Overdressed Students, Underdressed Teachers, Dressed-down Exams
06/16/03: Paper 'Is-ness,' Excluding Awards, New Racial Consciousness and Politics
06/09/03: Racist math, red tape for charters, potty reading
06/02/03: Teacher Pay, Illiteracy , No Republicans Allowed
05/27/03: Research papers, athletics, reading
05/19/03: Soft America, plagiarism, Minutemen and Jets
05/12/03: Demographics, nerves, valedictorian, vouchers
05/05/03: Gender Bias, Banned Words, Helen of Troy
04/28/03: Tests, home-schooling, self-esteem
04/25/03: Lessons, American Pride, Iraqi Schools
04/14/03: Iraqi Textbooks and the English language
03/31/03:Teachers, hugging, text messaging
04/07/03: War talk at school
03/24/03: Watching the war
03/10/03: Classroom chaos
03/03/03: Teaching tales
02/24/03: Segregation stories
02/18/03: Writing Essays, America, Beyond Bert and Ernie
02/13/03: Size matters
02/10/03: Parental homework, cheaters and memoirs
02/03/03: Diplomas, academics, preschools and Ritalin
01/27/03: Head Start, Social Studies, Marx, Africa and Math
01/22/03: Teachers as targets
01/13/03: Big Bully's Feelings
01/06/03: School of 60's Whining and Communal Destruction
12/23/02: Teaching in
12/16/02: Chocolate city?
12/10/02: Mandatory Victimhood --- and when cleaning up a school is 'racist'
11/25/02: Multi-colored math, sensitive science
11/20/02: How to leave no child behind
11/18/02: The tummy track
11/11/02: Dysfunctional documents?
11/04/02: Why go to college? Why test schools?
10/28/02: Pride goeth before an F
10/21/02: Diversity adversity
10/14/02: Bad hat day
10/07/02: Inflated sense of worth
09/30/02: The Royal road to knowledge
09/24/02: Sierra's Club
09/20/02: Stupidity Watch
09/03/02: First, win the war
08/26/02: Out of their field, out of their minds?
08/20/02: Fun with failure

© 2003, Joanne Jacobs