Jewish World Review June 7, 2004 / 18 Sivan, 5764

Lou Dobbs
Patriot games
http://www.jewishworldreview.com | The federal government, last week, awarded the multibillion-dollar US-VISIT border security contract to Accenture LLP. This contract to monitor visitors who enter the United States by air, sea or land could be worth as much as $10 billion over 10 years.

The award is especially surprising because the federal government passed over two U.S. bidders, Lockheed Martin and Computer Sciences Corp., in order to give the contract to Accenture LLP, whose parent company, Accenture Ltd., is headquartered in Bermuda.

The deal raises questions as to whether government contracts, especially security contracts, should be awarded to non-U.S. companies and, more broadly, whether the United States is doing enough to discourage companies from expatriating and incorporating overseas.

"I think this is just awful," says Sen. Harry Reid, D-Nev. "The problem is (that) those companies who do it fairly (and) stay in the United States, like Lockheed Martin, Computer Sciences and other U.S.-based corporations, are put at a sizable disadvantage because they've remained in this country and have to pay taxes. And this, I believe, unpatriotic company is now given this $10 billion contract."

Sen. Reid is also concerned that "under this contract Accenture will link to about 20 government databases to collect information on when visitors enter the U.S. and when they leave. To allow them to have that advantage is wrong."

Frighteningly, the US-VISIT contract is not an isolated case. A study conducted in 2002 by the General Accounting Office found that four of the 100 largest federal contractors, including Accenture, are incorporated offshore in tax-haven countries in order to lower their corporate taxes.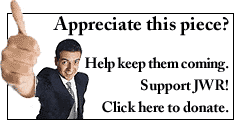 In response Accenture contends that it never was a U.S. company since it operated as a series of partnerships before incorporating in Bermuda in 2001. But as Rep. Lloyd Doggett, D-Texas, put it: "They got to Bermuda before other companies considered doing it and because they were a spin-off of Arthur Anderson and were starting anew. But it was for the same purpose as all of those that chose to reincorporate in Bermuda."

The other three companies named in the GAO report, McDermott, Foster Wheeler and Tyco, were previously incorporated in the United States before reincorporating in a foreign tax-haven nation. Together, all four companies were awarded an incredible $2.7 billion in government contracts in 2001.

CEOs of expatriated companies have often complained that U.S. tax laws are so unfair that they have virtually no other choice but to seek tax shelter offshore. After the Ingersoll-Rand company decided to reincorporate in Bermuda, the chief financial officer said, "We thought very long and hard about it." But he added, "At the end of the day, we were dealing with a competitive disadvantage, and we have a duty to our shareholders."

Ironically, these companies are simply finding a way around their duty of paying American taxes. It is estimated that the move offshore has allowed Ingersoll-Rand to avoid paying roughly $40 million annually in U.S. taxes.

Several legislative initiatives have been introduced in an effort to dissuade companies from unfairly utilizing offshore tax havens. The Corporate Patriot Enforcement Act (S. 384) sponsored by Sen. Reid would deny tax perks to companies that reincorporate in tax-haven nations. And Rep. Doggett has introduced The Fairness and Accountability International Taxation Act (HR 2184), which he says is "designed to deny tax treaty benefits to entities like Accenture that are in foreign countries but are not predominantly owned by foreigners." Doggett also stresses, "When your main tax overhead is a palm tree in Bermuda, that is just not fair (to) other companies."

It is also not fair to America. Our nation's federal budget deficit hit a record $374 billion in 2003. By choosing to incorporate overseas, many American companies are depriving the U.S. Treasury of billions of dollars in tax revenue. It is up to Congress, Democrats and Republicans alike, to ensure that companies benefiting from the U.S. marketplace are paying their fair share back to America. Some might say to do otherwise would be unpatriotic.
Every weekday JewishWorldReview.com publishes what many in Washington and in the media consider "must reading." Sign up for the daily JWR update. It's free. Just click here.


Lou Dobbs is the anchor and managing editor of CNN's "Lou Dobbs Moneyline." Comment by clicking here.
06/01/04: Our first line of defense still needs attention
05/17/04: Wasting minds
05/11/04: Outsourcing of jobs leads to information leaks
05/04/04: Labor issues getting some much-needed attention
04/27/04: Outsourcing the jobs debate
04/20/04: Revisiting the final frontier
04/11/04: The source of terror
03/22/04: Our new consumer economy
03/15/04: Finding a balance between free trade and protecting our national interest
03/09/04: Choice between Bush and Kerry isn't much of a choice
03/02/04: Election stakes are getting higher
02/24/04: Help wanted: Free trade policies hurt working Americans
02/17/04: All the news that's fit
02/04/04: American jobs must be protected
01/03/04: Dangerously dependent
01/27/04: Who's working for working Americans?
01/20/04: U.S. selling itself short with "free" trade
01/12/04: Bush on the wrong track with immigration idea
01/05/04: Business leaders should resolve to lead by example in 2004
12/29/03: Immigration needs stricter, not looser, controls
12/11/03: Trade deficit with China a big problem
12/09/03: Let our children be children
12/01/03: Broken borders pose a serious health risk
11/25/03: Free trade costs plenty
11/18/03: European Union is playing a dangerous game
11/10/03: This time, it's not the economy
11/04/03: Overseas outsourcing is an alarming trend
10/28/03: Spending so much time 'making a living', we don't live
10/21/03: As population soars, U.S. faces tough choices
10/14/03: Schools need to re-emphasize math and science
10/07/03: It's lonely at the top
09/30/03: Is America over-medicating?
09/23/03: Corporate execs need to stop selling out U.S. workers
09/16/03: The scandals just keep on coming
09/09/03: Let's get real on energy
09/02/03: Is free enterprise the answer to education woes?
08/26/03: Building the road to recovery
08/12/03: War on drugs is still a war worth fighting
08/06/03: An attack on progressive thought
07/29/03: Prosperity begins at home
07/22/03: Real earnings, or really creative earnings?
07/15/03: Flirting with disaster
07/08/03: It's good to be the king
07/01/03: Border disorder
06/24/03: Prairie dogs and mosquito bogs
06/17/03: Bullish on America
06/10/03: Retirement realities: we need new solutions — soon
06/03/03: Curing what ails us
05/27/03: America's export problem
05/21/03: Wall Street's new imperative: Integrity
/13/03: Losing sight of the dangers in creating further fiscal stimulus
05/06/03: Optimism is unfashionable, but here's some anyway
04/29/03: Nuclear nightmare
04/22/03: Naysayers ignore signs of economic recovery
04/15/03: Game over--but for whom?
04/08/03: No more fool's games
03/31/03: United States must seriously review foreign economic and political relationships
03/24/03: Delusional Chirac may be a thorn in coalition's side, but new alliances are forming in response to 21st-Century threats without him and UN
03/18/03: Bush critics offer little more than hyperbole
03/11/03: Geopolitical visibility
03/04/03: Freedom: Our best export
02/27/03: Guns, butter and greasing the way
02/18/03: Looking for a silver lining
02/10/03: Space program remains a valuable investment
02/04/03: Hi pal, come back
01/28/03: Bush address a chance to bolster confidence
01/22/03: Here we go again!
01/14/03: Bush's bold bid
01/07/03: The only thing certain is uncertainty
12/30/02: No need to be so negative as new year approaches
12/23/02: NY's AG deserves credit for settlement
12/18/02: Critics of Bush nominees should tone down rhetoric
12/09/02: A lot rides on prez's Treasury pick
12/04/02: A fast fix for corporate credibility?
11/26/02: Urge to merge is hard to resist
11/19/02: Are we really so bad off?
11/12/02: Bush's lucky week bodes well for recovery
11/05/02: Wall Street firms treat investors as fools
10/29/02: Earnings estimates offer some hope
10/22/02: Economy's strength tied to national security
10/17/02: Harvey Pitt, get real!
10/08/02:Are we experiencing the fall before the rise?
10/01/02: Concerns about earnings are justified
09/24/02: Business leaders must abandon stall tactics
09/17/02: Wall Street's reality check
09/12/02: There's no better time for leaders to show resolve

© 2003, TMS