Jewish World Review Nov. 10, 2003 / 15 Mar-Cheshvan, 5764

Lou Dobbs
This time, it's not the economy
http://www.jewishworldreview.com | The surprisingly strong October employment report showing the creation of 300,000 jobs over the last three months is a further signal of a rebounding economy more robust than anyone, even the hopeful Bush administration, could have predicted.
The employment rate dropped to 6 percent and surprised most economists in doing so. The unexpectedly good news on employment was followed by a GDP report revealing the strongest quarterly economic growth rate in 19 years.
"We think that the concern a couple of months ago was that the economy was strong (only) because of tax cuts and mortgage refinancing, and that the economy would falter because there were no jobs being created," Gary Thayer, chief economist at the brokerage firm A.G. Edwards, told me.
But Thayer says October's report shows that that problem is dissipating. "Businesses are probably feeling more comfortable with taking a longer-term view and hiring some people here," he said.
Thayer expects that by election time in November 2004, the unemployment rate will most likely have dropped to 5 percent or 5.5 percent.
Even after the report that third-quarter GDP grew at 7.2 percent, the strongest rate in nearly two decades, the Democratic candidates for their party's presidential nomination clung to their "What about the jobs?" mantra. Rep. Richard Gephardt was quick to complain: "If this were a recovery - and I hope it is - without job creation, then they haven't solved the economic problem that most people out in the country face."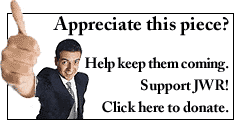 Sen. Joe Lieberman joined the chorus: "The economists may think it looks like the beginning of a recovery, but until middle-class Americans and those working hard to get into the middle class get their jobs back . then we don't have an economic recovery."
But early indications are that their pessimism is overdone. The economy added an unexpected 126,000 jobs in October on top of a revised gain of 125,000 for September. Additionally, August's reported job loss was revised to a gain of 35,000. Most economists expect the economy to continue to improve, and some say that October's positive jobs report is only the beginning.
David Rosenberg, chief North American economist at Merrill Lynch, says that the overall economy should be going strong next year. "The good news is that the economy will probably put in its best performance since 2000 in 2004," he said.
Rosenberg said that the stimulus already moving through the economy will be the reason for the strength. He credits the well-timed fiscal stimulus with laying a firm foundation for next year's GDP growth. "When you take a look at the budget measures passed this year and the impact on 2004, it's going to add at least 1.5 percent to GDP growth right there," he said.
If historical trends hold true, 2004 will be no help to the Democratic presidential candidate. The last two years of the past 43 administrations produced a net market gain of 718 percent, nearly triple the 244 percent gain of the first two years of those administrations. So far this year the Nasdaq has gained 48 percent, the Dow has gained 18 percent, and the S&P has gained 20 percent. Whoever wins the Democratic nomination may well have to go significantly beyond "It's the economy, stupid" as a campaign strategy.
I, for one, hope the Democratic nominee has to contend with a rising stock market, a strongly growing economy and the creation of hundreds of thousands of new jobs. The nominee and, ultimately, the Bush administration might then be forced to deal with fundamental socio-economic issues that are, in my opinion, as threatening as terrorism itself: failure of our public schools, decaying infrastructure, our broken borders over which 700,000 illegal aliens cross each year, corporate America's outsourcing of hundreds of thousands of jobs each year to cheap overseas labor markets, and a population that is growing far too fast for our limited natural resources. Those issues and the way in which we resolve them will shape our nation and our future economy.
Go growth, go market, go jobs.
Every weekday JewishWorldReview.com publishes what many in Washington and in the media consider "must reading." Sign up for the daily JWR update. It's free. Just click here.


Lou Dobbs is the anchor and managing editor of CNN's "Lou Dobbs Moneyline." Comment by clicking here.
11/04/03: Overseas outsourcing is an alarming trend
10/28/03: Spending so much time 'making a living', we don't live
10/21/03: As population soars, U.S. faces tough choices
10/14/03: Schools need to re-emphasize math and science
10/07/03: It's lonely at the top
09/30/03: Is America over-medicating?
09/23/03: Corporate execs need to stop selling out U.S. workers
09/16/03: The scandals just keep on coming
09/09/03: Let's get real on energy
09/02/03: Is free enterprise the answer to education woes?
08/26/03: Building the road to recovery
08/12/03: War on drugs is still a war worth fighting
08/06/03: An attack on progressive thought
07/29/03: Prosperity begins at home
07/22/03: Real earnings, or really creative earnings?
07/15/03: Flirting with disaster
07/08/03: It's good to be the king
07/01/03: Border disorder
06/24/03: Prairie dogs and mosquito bogs
06/17/03: Bullish on America
06/10/03: Retirement realities: we need new solutions — soon
06/03/03: Curing what ails us
05/27/03: America's export problem
05/21/03: Wall Street's new imperative: Integrity
/13/03: Losing sight of the dangers in creating further fiscal stimulus
05/06/03: Optimism is unfashionable, but here's some anyway
04/29/03: Nuclear nightmare
04/22/03: Naysayers ignore signs of economic recovery
04/15/03: Game over--but for whom?
04/08/03: No more fool's games
03/31/03: United States must seriously review foreign economic and political relationships
03/24/03: Delusional Chirac may be a thorn in coalition's side, but new alliances are forming in response to 21st-Century threats without him and UN
03/18/03: Bush critics offer little more than hyperbole
03/11/03: Geopolitical visibility
03/04/03: Freedom: Our best export
02/27/03: Guns, butter and greasing the way
02/18/03: Looking for a silver lining
02/10/03: Space program remains a valuable investment
02/04/03: Hi pal, come back
01/28/03: Bush address a chance to bolster confidence
01/22/03: Here we go again!
01/14/03: Bush's bold bid
01/07/03: The only thing certain is uncertainty
12/30/02: No need to be so negative as new year approaches
12/23/02: NY's AG deserves credit for settlement
12/18/02: Critics of Bush nominees should tone down rhetoric
12/09/02: A lot rides on prez's Treasury pick
12/04/02: A fast fix for corporate credibility?
11/26/02: Urge to merge is hard to resist
11/19/02: Are we really so bad off?
11/12/02: Bush's lucky week bodes well for recovery
11/05/02: Wall Street firms treat investors as fools
10/29/02: Earnings estimates offer some hope
10/22/02: Economy's strength tied to national security
10/17/02: Harvey Pitt, get real!
10/08/02:Are we experiencing the fall before the rise?
10/01/02: Concerns about earnings are justified
09/24/02: Business leaders must abandon stall tactics
09/17/02: Wall Street's reality check
09/12/02: There's no better time for leaders to show resolve

© 2003, TMS