Jewish World Review June 1, 2004 / 12 Sivan, 5764

Lou Dobbs
Our first line of defense still needs attention
http://www.jewishworldreview.com | Last week's announcement from U.S. Attorney General John Ashcroft regarding the probability of another terrorist attack on American soil provoked both serious concern from the public and suspicion from several Democrats and members of the media. Since the color-coded terror threat level was not raised and no new information was offered, speculation grew as to whether the new warning was just more political posturing rather than a genuine attempt at communication.

"We'll never know if the administration has new and justifiable information for this new warning," Sen. Dick Durbin, D-Ill., said following Ashcroft's announcement "I think there's a building skepticism about warnings from the Bush administration."

Ashcroft rebuffed insinuations about political motivations for the announcement by saying, "I just don't think my job is to worry about what skeptics say."

Regardless of the rationale behind the warning, the fact is that the United States remains vulnerable to terrorist attacks. The Century Foundation gave the Department of Homeland Security a mediocre grade of C-plus for total performance in its annual appraisal. And the Progressive Policy Institute gave President Bush a grade of D in its assessment of the state of homeland security.

Central Intelligence Agency Director George Tenet recently cautioned that it will be another five years before the CIA is adequately positioned to effectively combat the terrorist threat. Nearly two years since President Bush officially proposed the creation of a new Department of Homeland Security, our borders remain porous, our ports are dangerously penetrable, and our local firemen, police, paramedics and emergency workers still lack sufficient resources to adequately respond to a terrorist attack.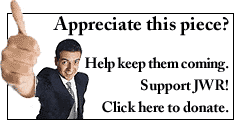 "From a practical point of view, first responders are our first line of defense," says Dr. Peter Chalk, a terrorism expert with the Rand Corporation, "not only in terms of preemption but actually in terms of consequence management. It is absolutely critical that local first responders have the necessary resources and equipment at their disposal in order to react and to manage attacks. And that obviously requires funding."

Unfortunately, funding for first responders won't increase next year. In fact, the federal budget for 2005 allocates $1 billion less for state and local first responder grants than the previous year's budget.

Despite the knowledge that several of the Sept. 11 attackers were here illegally, our borders remain dangerously open to intruders. Detentions at the border, which are used to gauge illegal immigration levels, jumped 25 percent over the previous year during a six-month period ending in March. In addition, it is estimated that illegal crossings increased by roughly 10 percent in January and February alone following the announcement of President Bush's proposed guest worker program.

And our ports are hardly more secure than our borders. The United Nation's maritime agency announced last week that fewer than 6 percent of the world's seaports and ships comply with UN rules geared towards preventing terrorist attacks. Frighteningly, only 5 percent of cargo containers entering U.S. ports last year were inspected, according to U.S. customs data.

Much has been achieved by the administration in the fight against radical terrorists, but we must further bolster our defenses. And the first line of defense should be, without question, our borders and ports.
Every weekday JewishWorldReview.com publishes what many in Washington and in the media consider "must reading." Sign up for the daily JWR update. It's free. Just click here.


Lou Dobbs is the anchor and managing editor of CNN's "Lou Dobbs Moneyline." Comment by clicking here.
05/17/04: Wasting minds
05/11/04: Outsourcing of jobs leads to information leaks
05/04/04: Labor issues getting some much-needed attention
04/27/04: Outsourcing the jobs debate
04/20/04: Revisiting the final frontier
04/11/04: The source of terror
03/22/04: Our new consumer economy
03/15/04: Finding a balance between free trade and protecting our national interest
03/09/04: Choice between Bush and Kerry isn't much of a choice
03/02/04: Election stakes are getting higher
02/24/04: Help wanted: Free trade policies hurt working Americans
02/17/04: All the news that's fit
02/04/04: American jobs must be protected
01/03/04: Dangerously dependent
01/27/04: Who's working for working Americans?
01/20/04: U.S. selling itself short with "free" trade
01/12/04: Bush on the wrong track with immigration idea
01/05/04: Business leaders should resolve to lead by example in 2004
12/29/03: Immigration needs stricter, not looser, controls
12/11/03: Trade deficit with China a big problem
12/09/03: Let our children be children
12/01/03: Broken borders pose a serious health risk
11/25/03: Free trade costs plenty
11/18/03: European Union is playing a dangerous game
11/10/03: This time, it's not the economy
11/04/03: Overseas outsourcing is an alarming trend
10/28/03: Spending so much time 'making a living', we don't live
10/21/03: As population soars, U.S. faces tough choices
10/14/03: Schools need to re-emphasize math and science
10/07/03: It's lonely at the top
09/30/03: Is America over-medicating?
09/23/03: Corporate execs need to stop selling out U.S. workers
09/16/03: The scandals just keep on coming
09/09/03: Let's get real on energy
09/02/03: Is free enterprise the answer to education woes?
08/26/03: Building the road to recovery
08/12/03: War on drugs is still a war worth fighting
08/06/03: An attack on progressive thought
07/29/03: Prosperity begins at home
07/22/03: Real earnings, or really creative earnings?
07/15/03: Flirting with disaster
07/08/03: It's good to be the king
07/01/03: Border disorder
06/24/03: Prairie dogs and mosquito bogs
06/17/03: Bullish on America
06/10/03: Retirement realities: we need new solutions — soon
06/03/03: Curing what ails us
05/27/03: America's export problem
05/21/03: Wall Street's new imperative: Integrity
/13/03: Losing sight of the dangers in creating further fiscal stimulus
05/06/03: Optimism is unfashionable, but here's some anyway
04/29/03: Nuclear nightmare
04/22/03: Naysayers ignore signs of economic recovery
04/15/03: Game over--but for whom?
04/08/03: No more fool's games
03/31/03: United States must seriously review foreign economic and political relationships
03/24/03: Delusional Chirac may be a thorn in coalition's side, but new alliances are forming in response to 21st-Century threats without him and UN
03/18/03: Bush critics offer little more than hyperbole
03/11/03: Geopolitical visibility
03/04/03: Freedom: Our best export
02/27/03: Guns, butter and greasing the way
02/18/03: Looking for a silver lining
02/10/03: Space program remains a valuable investment
02/04/03: Hi pal, come back
01/28/03: Bush address a chance to bolster confidence
01/22/03: Here we go again!
01/14/03: Bush's bold bid
01/07/03: The only thing certain is uncertainty
12/30/02: No need to be so negative as new year approaches
12/23/02: NY's AG deserves credit for settlement
12/18/02: Critics of Bush nominees should tone down rhetoric
12/09/02: A lot rides on prez's Treasury pick
12/04/02: A fast fix for corporate credibility?
11/26/02: Urge to merge is hard to resist
11/19/02: Are we really so bad off?
11/12/02: Bush's lucky week bodes well for recovery
11/05/02: Wall Street firms treat investors as fools
10/29/02: Earnings estimates offer some hope
10/22/02: Economy's strength tied to national security
10/17/02: Harvey Pitt, get real!
10/08/02:Are we experiencing the fall before the rise?
10/01/02: Concerns about earnings are justified
09/24/02: Business leaders must abandon stall tactics
09/17/02: Wall Street's reality check
09/12/02: There's no better time for leaders to show resolve

© 2003, TMS