Jewish World Review March 2, 2004 / 9 Adar, 5764

Lou Dobbs
Election stakes are getting higher
http://www.jewishworldreview.com | President Bush has been hammered by the Democratic presidential nominees over the past two months. Last week he counterattacked. It's clear that the Bush administration has no choice but to go on the offensive earlier than it planned, especially on the issue of the economy.

Fourth-quarter GDP growth was revised slightly upward this week, but the news on jobs and manufacturing isn't improving enough to help Bush's bid for reelection. In fact, initial jobless claims unexpectedly rose by 6,000 last week, and new orders for durable goods fell by nearly 2 percent in January.

The president's chief political advisor, Karl Rove, has said that this election will be close. Recent polls show the president, at this point, losing to either Sen. John Kerry, who presumably will win the Democratic nomination, or Sen. John Edwards.

Well, I doubt the president would admit that those polls shock him. But the truth is, while Bush has pursued a war against the Taliban and al-Qaida in Afghanistan, and a war against Saddam Hussein's dictatorship in Iraq, he has thus far failed to engage in the conflict of ideas regarding the policies that will shape the nation's prosperity and future.

That engagement will require a commitment to deal with complex ideas, reach difficult decisions and carry out new policies. And most of that energy must be channeled toward understanding what is happening to working men and women in this country, because both parties have taken the easy path to this point.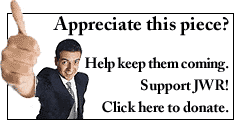 I've always believed that presidents are generally given too much credit for the success of the economy and too much blame when it falters. But the president has left himself vulnerable on a host of economic issues critical to the future of the country. If he does not assert his leadership on the challenges facing this country and its future, he will, in my opinion, lose this election.

Our manufacturing base continues to wither. U.S. multinationals continue to export hundreds of thousands of American jobs to cheap foreign labor markets. Our trade deficit continues to worsen, and our economy is burdened by millions of illegal aliens.

The president's advisors aren't serving him well. What has been the president's response to these critical issues? Bush has mouthed platitudes about free trade, his economists have said the loss of thousands of jobs to outsourcing is good for us, and the administration has completely ignored our mounting trade deficit. And to address immigration, the president wants to create a guest-worker program for the illegal aliens who are depressing the wages of millions of American citizens.

The Democratic presidential hopefuls recognize Bush's weaknesses and are raising the stakes daily. While neither party is dealing honestly with the issue of illegal immigration - which Americans oppose in overwhelming numbers, according to nearly every public opinion survey done on the subject - they are taking on the issue of trade policies. I imagine they are hoping no one points out the fact that the disastrous consequence of those policies is the fault of both parties.

The millions of unemployed Americans in this country deserve better, and so do the millions of Americans threatened by mindless trade, labor and immigration policies. The winning candidate will be from the party who comes to terms with the new world in which we live, rejects the domination of special interests and paralyzing orthodoxies, embraces fresh thinking and demonstrates real concern for a people in need of a far more effective government.
Every weekday JewishWorldReview.com publishes what many in Washington and in the media consider "must reading." Sign up for the daily JWR update. It's free. Just click here.


Lou Dobbs is the anchor and managing editor of CNN's "Lou Dobbs Moneyline." Comment by clicking here.
02/24/04: Help wanted: Free trade policies hurt working Americans
02/17/04: All the news that's fit
02/04/04: American jobs must be protected
01/03/04: Dangerously dependent
01/27/04: Who's working for working Americans?
01/20/04: U.S. selling itself short with "free" trade
01/12/04: Bush on the wrong track with immigration idea
01/05/04: Business leaders should resolve to lead by example in 2004
12/29/03: Immigration needs stricter, not looser, controls
12/11/03: Trade deficit with China a big problem
12/09/03: Let our children be children
12/01/03: Broken borders pose a serious health risk
11/25/03: Free trade costs plenty
11/18/03: European Union is playing a dangerous game
11/10/03: This time, it's not the economy
11/04/03: Overseas outsourcing is an alarming trend
10/28/03: Spending so much time 'making a living', we don't live
10/21/03: As population soars, U.S. faces tough choices
10/14/03: Schools need to re-emphasize math and science
10/07/03: It's lonely at the top
09/30/03: Is America over-medicating?
09/23/03: Corporate execs need to stop selling out U.S. workers
09/16/03: The scandals just keep on coming
09/09/03: Let's get real on energy
09/02/03: Is free enterprise the answer to education woes?
08/26/03: Building the road to recovery
08/12/03: War on drugs is still a war worth fighting
08/06/03: An attack on progressive thought
07/29/03: Prosperity begins at home
07/22/03: Real earnings, or really creative earnings?
07/15/03: Flirting with disaster
07/08/03: It's good to be the king
07/01/03: Border disorder
06/24/03: Prairie dogs and mosquito bogs
06/17/03: Bullish on America
06/10/03: Retirement realities: we need new solutions — soon
06/03/03: Curing what ails us
05/27/03: America's export problem
05/21/03: Wall Street's new imperative: Integrity
/13/03: Losing sight of the dangers in creating further fiscal stimulus
05/06/03: Optimism is unfashionable, but here's some anyway
04/29/03: Nuclear nightmare
04/22/03: Naysayers ignore signs of economic recovery
04/15/03: Game over--but for whom?
04/08/03: No more fool's games
03/31/03: United States must seriously review foreign economic and political relationships
03/24/03: Delusional Chirac may be a thorn in coalition's side, but new alliances are forming in response to 21st-Century threats without him and UN
03/18/03: Bush critics offer little more than hyperbole
03/11/03: Geopolitical visibility
03/04/03: Freedom: Our best export
02/27/03: Guns, butter and greasing the way
02/18/03: Looking for a silver lining
02/10/03: Space program remains a valuable investment
02/04/03: Hi pal, come back
01/28/03: Bush address a chance to bolster confidence
01/22/03: Here we go again!
01/14/03: Bush's bold bid
01/07/03: The only thing certain is uncertainty
12/30/02: No need to be so negative as new year approaches
12/23/02: NY's AG deserves credit for settlement
12/18/02: Critics of Bush nominees should tone down rhetoric
12/09/02: A lot rides on prez's Treasury pick
12/04/02: A fast fix for corporate credibility?
11/26/02: Urge to merge is hard to resist
11/19/02: Are we really so bad off?
11/12/02: Bush's lucky week bodes well for recovery
11/05/02: Wall Street firms treat investors as fools
10/29/02: Earnings estimates offer some hope
10/22/02: Economy's strength tied to national security
10/17/02: Harvey Pitt, get real!
10/08/02:Are we experiencing the fall before the rise?
10/01/02: Concerns about earnings are justified
09/24/02: Business leaders must abandon stall tactics
09/17/02: Wall Street's reality check
09/12/02: There's no better time for leaders to show resolve

© 2003, TMS