http://www.NewsAndOpinion.com | The arrival of Apple Computer's iMac G5 offers pause: how much better can a computer get? In the case of the iMac , the answer is, substantially better, in ways large and small.

In a world where you can get a very good Windows-based computer and flat-panel display — a one-piece assembly, no less — for less than half the $2,152 price tag of the (very well-equipped) 20-inch iMac G5 sent for review, why shell out the extra money for the Apple logo and operating system? Well, the Apple logo and operating system are themselves compelling arguments: Apple Computer is known, nowadays at least, for building very, very good computer systems, ones that are high in both "initial quality" and which can last over the long term. And Mac OS X, now in its "Panther" incarnation, is a rock-solid operating system that doesn't crash.

Both things are worth a premium. But, too, the stylish appearance of the iMac G5 is another plus: other critics have noted its resemblance to an overgrown iPod portable music player. This striking design may impress you, or it may not. However, the system's performance and technical accomplishment in loading the "guts" of the PC so stylishly behind the display will likely soften even the hardest of computing hearts.

For example, the "SuperDrive," which records and reads both DVD and CD discs, is positioned on the right side of the monitor. Also on the right rear are a string of ports for USB, FireWire and other connections. All of that's a good move on Apple's part.

So, too, is Apple"s push to get users to buy a wireless keyboard and mouse with their new iMac G5s, and not just any such wireless duo, but Apple"s Bluetooth pair. Using the Bluetooth technology, the keyboard and mouse transmit signals to a pre-installed transmitter in the computer/monitor, keeping at least two wires off of one"s desk. Elegance, thy name is iMac, it would appear.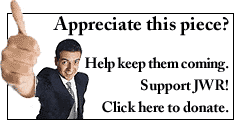 The 20-inch display on the unit I tested is, of course, sharp and clear, and easy to look at for extended periods, just as Apple's stand-alone 20-inch display is. What's nice is that this one is not only "backed" with all of the comptuer's components, but also that it pivots on the included display stand, and does so easily. Repositioning the monitor for easy viewing is not a hassle at all.

Setup of the iMac G5 is the easiest this reviewer has ever, ever encountered with a Macintosh system — or any other computer, for that matter. It's a true plug-and-play device: attach the power cord, install the (supplied) "AA" batteries for the wireless mouse and keyboard, press the rear-mounted power button, and you're good to go. If you have, as I do, an AirPort Extreme 802.11g wireless base station, the computer will find it and log on quickly. If Ethernet or a dial-up modem are your preferred means of connecting, the computer has ports for those connections, too.

This top-end model is equipped with a 160 Gigabyte hard disk drive, eight times the "standard" drive on the old Mac Cubes of a couple of years back. Apple will sell you a 250 GB hard disk instead, if you so desire. My test unit came with 512 Mbytes of RAM, which impresses me (among other reviewers, as well) as what SHOULD be the standard, instead of the 256 Mbytes Apple advertises.

The extra RAM, plus installation of an AirPort Extreme wireless networking card and a Bluetooth module, as well as the Apple wireless keyboard/mouse combo, push the $1899 "base" price of the 20-inch iMac G5 to the $2,152 level mentioned before. But all that expense will give you a very good machine that should offer dependable service and a great computing experience.
Find this column useful? Why not sign-up for the daily JWR update. It's free. Just click here.
JWR contributor Mark Kellner has reported on technology for industry newspapers and magazines since 1983, and has been the computer columnist for The Washington Times since 1991.Comment by clicking here.