http://www.NewsAndOpinion.com | A recent discussion of the Kanguru USB-style "flash memory" device - a 1 GB solid-state "drive" that attaches to a computer's USB ports - brought an interesting and disturbing letter from a reader, who wrote "not for attribution."

Readers may recall some advantages of these flash drives: large capacity ones will let you move files around the office (or to your home computer) with ease, eliminating worry about whether a CD-ROM has enough capacity for a task. The flash drives can be erased and reused, and they can work across platforms, say from a Mac to a Windows PC.

"I like[d] the idea," this reader wrote, "so I spoke to my company's I[nformation] T[echnology] director about doing this, at least on a small scale to start with. He gave me a quick 'dark side' response to the idea.

The IT director said the device would be too handy for corporate espionage or, lacking virus protection, the delivery of malicious viruses or worms into a corporate network.

The reader was confronted with a stark response: Not only will his company not purchase USB Flash Drives for employees, but their IT department will "craft a policy for management approval wherein the mere possession of a personally-owned Kanguru device on company premises may be grounds for termination of employment," as my correspondent concluded.

Now I have no idea of where this reader is employed. I would imagine it is in private industry, since he referred to his "company," as opposed to an "agency." He did not disclose the name of his employer, nor their line of business. This reader's place of business might be a glue factory, or they could be a critical sub-contractor to the federal government.

In troubled, however, by the objections raised by this reader's technology manager, and have to wonder if that manager has really thought things through.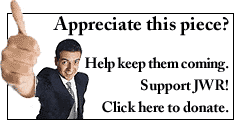 Perhaps they have: if the company involved is, in fact, a private-sector partner of a federal agency, particularly one connected with national security work, then I can understand the extreme caution such a company must have.

This is why there are firms, many of them around the Beltway, that specialize in highly secure computer systems and hard disk storage. These products are engineered to detect tampering and other intrusions, and to respond accordingly.

If, on the other hand, the concern is the theft of intellectual property or dishonesty by employees, then there's a far different set of issues that need to be addressed, perhaps by senior management.

No company has the "right" to become a victim, or to have its intellectual property stolen. By the same token, however, employers should make it easy for colleagues to share information and data. The use of USB Flash Drives is a net positive for workgroups in my view, not a negative, because they make it easier for teams to work like, well, teams.

"Paranoia strikes deep in the heartland," Paul Simon once sang, "but I think it's all overdone." If your IT department is getting hot and bothered over technology improvements that make working a better experience, they might just benefit from some education in the latest developments in their field.

How might you - or my reader - gain the advantage in such situations? Become an "evangelist" inside your circle for such new technology. Marshal your facts, get the information together, and see how you can present such ideas to senior management as to win their approval.

If your leadership won't listen, and refuses to do so more than once, you might want to dust off your resume.
Find this column useful? Why not sign-up for the daily JWR update. It's free. Just click here.
JWR contributor Mark Kellner has reported on technology for industry newspapers and magazines since 1983, and has been the computer columnist for The Washington Times since 1991.Comment by clicking here.