http://www.NewsAndOpinion.com | On Jan. 19, 1979, almost two years to the day before he became President, Ronald Reagan delivered a radio commentary about "the phone company," the old American Telephone & Telegraph combine which held in its integrated structure all the elements of telephony in this country, from local service to long distance to equipment.

Mr. Reagan noted that a federal antitrust suit against AT&T apparently ignored the relatively low cost of a coast-to-coast phone call: $1.30 in 1979 versus $9.50 in the 1930s. Phone service, he said, was private and affordable, unlike his earlier experience with the family's Depression-era "party line" phone connection.

"Today," he said then, according to the book "Reagan, In His Own Hand" (Click HERE to purchase. Sales help fund JWR.), "the miracles we already have are going to be topped by [the] video phone; there are recorder gadgets to take phone calls and messages when you are absent, and now they talk of electronic mail. If the cost differential continues at the present rate, it is possible the telephone may put the post office out of business within the next 10 or 20 years."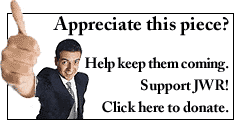 Things unfolded a bit differently than Mr. Reagan envisioned — video phones are by no means commonplace — but what did unfold owed a lot to Ronald Reagan, his political philosophy and his actions. During the 1980s, it was the Reagan administration that oversaw the divestiture of AT&T's local phone units, settling that antitrust case he complained about in that radio commentary. That divestiture began a wave of change in America's phone network that led to massively lower prices for phone service overall, especially long distance, but also for access to the phone network by data transmission services. In turn, those lower phone costs helped fuel the growth of CompuServe, America Online and other online services, paving the way for today's Internet.

It was the Reagan White House that became the first to use personal computers on a large scale, along with e-mail, the latter coming back to haunt some staffers during the Iran-Contra investigation.

The first IBM personal computers rolled off the assembly lines in August of 1981, eight months after Mr. Reagan's inaugural, and at a time when substantial tax cuts for individuals and businesses came along. Those cuts helped make the IBM PC (as well as CP/M-based microcomputers, the Apple II, and Tandy Corp.'s TRS-80 systems) affordable. An improving economy, where inflation declined, also led many into software and hardware development and birthed companies that eventually dominated the field.

There was also the public side of his involvement: in 1985, Mr. Reagan presented the National Medal of Technology to Apple Computer co-founders Steve Wozniak and Steve Jobs, specifically for "their development and introduction of the personal computer." He also lauded data processing pioneer Grace Murray Hopper on her promotion from Captain to Commodore of the U.S. Naval Reserve, hosting an Oval Office ceremony for her in 1983.

Mr. Reagan didn't start a telecom revolution by himself, of course. In 1987, he named a then-36-year-old attorney, Dennis R. Patrick, to chair the Federal Communications Commission. Mr. Patrick, his predecessor Mark Fowler, and FCC colleagues such as Patricia Diaz Dennis and James Quello were at the vanguard of regulating new telecommunications services and markets, opening up the field for hundreds of companies and thousands of workers.

It wasn't the telephone, but rather the data that traveled over deregulated and divested telephone circuits, that challenged the postal monopoly and changed our lives. While the daily mail is still a part of American life, it can truly be said that the digital revolution got a major push from the actions of a former radio commentator named Ronald Reagan.
Find this column useful? Why not sign-up for the daily JWR update. It's free. Just click here.
JWR contributor Mark Kellner has reported on technology for industry newspapers and magazines since 1983, and has been the computer columnist for The Washington Times since 1991.Comment by clicking here.