http://www.NewsAndOpinion.com | For the past few weeks, I've been carrying a gigabyte in my pocket. A gigabyte is 1,000 Mbytes of data, the rough equivalent of 1200 copies of the King James version of the Bible.

In other words, that's a lot of data.

This massive amount of information is stored on a "flash drive," which plugs into a Universal Serial Bus, or USB, port, on a computer, either Macintosh or Windows. It will also work with some versions of the Linux operating system. Measuring just 3 inches in length and weighing a mere 21 grams, it sure beats carrying a removable hard disk, or even a data cartridge, around.

Called the KanguruMicro Drive 2.0, the $279.95 device carries a hefty price tag to match its hefty capacity. But those 1,000 Mbytes of data make shuttling data from one machine to another (home to office, or office to client) very easy and convenient. Once plugged into the aforementioned USB, the Kanguru device appears as another "drive" to your operating system.

That's the way all of the recent USB Flash Drive or "UFD" devices as they're called, work with computer systems. They come in sizes as small as 16 Mbytes (perfect for use as a data distribution media for your next corporate press kit) and up to the 1 GB and 2 GB range. With compression software (so far only for Windows machines) those higher limits can be doubled.

I'm impressed with the size and performance of this device. Like all UFDs, the Kanguru is a "solid state" drive which means there are no moving parts to break. Its compatibility with various operating systems makes it a bridge between platforms, and if you string this device from the supplied lanyard, you'll be wearing what may be the latest in "geek chic."

But fashion aside, the KanguruMicro Drive 2.0 does its job and well. I might not want to buy the 1 GB unit for everyone in my office, but I would certainly consider its smaller siblings for a mass purchase. If you're in the publishing industry, for example, and need to shuttle large files between locations, it might make sense to get the biggest size you can.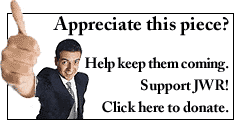 Either way, such devices are part of "the future" as industry experts would say, with forecasts stating that UFDs will become the primary removable storage device sold around the world next year. That might well make this is a good time to invest in a lanyard-maker, too.

For more information on the drive and its maker, Kanguru Solutions of Ashland, Mass., visit their web site at www.kanguru.com.

GREAT SCANNING SOFTWARE: I've spoken before about the products of I.R.I.S., a Belgian concern which offers a unique business card scanner for Mac users. They've come out with Readiris Pro 9 for Macintosh, list $429, which will do just about everything a Mac user might want or need in terms of document scanning. There's a Windows version, too.

I tested a copy with a 450-page manuscript. In the space of an evening, I had 70 percent of the manuscript done and imported into Microsoft Word with minimal correcting. It's far superior to a competing product that came with the Epson Stylus CX6400 I used for the scans, and a 30-day trial version lets you decide whether this is "right" for your needs. Details and downloads at http://www.irisusa.com/, and it's worth checking out.
Find this column useful? Why not sign-up for the daily JWR update. It's free. Just click here.
JWR contributor Mark Kellner has reported on technology for industry newspapers and magazines since 1983, and has been the computer columnist for The Washington Times since 1991.Comment by clicking here.