http://www.NewsAndOpinion.com | Epson America's Stylus CX6400, $199 before a $20 rebate, could easily win a permanent place on my desktop, for one of the simplest - yet most profound - features I've seen in a long time, and it has nothing, directly, to do with printing.

On the front of the printer is a panel which contains slots for various digital media, such as a SecureDigitial or xD memory card, or a Compact Flash (CF) card, including the one I used earlier in the day to take photographs.

Silly me: I hooked up a card reader to my computer, in a less-than-convenient place, forgetting the card reader on the Epson printer. When I disconnected the card reader, and placed the CF card in the printer, its contents were accessible via my computer's desktop. The fun didn't stop there, however: a few button presses on the front of the CX6400 and my image is printing out, without having gone "through" the printer.

As digital photography merges more and more with our daily lives, a device such as the Epson Stylus CX6400 will become important in many functions. It's not the first to let users slide a digital media card into a slot and directly print photos or "contact sheets," but its implementation is nice. It's not the first to combine scanning - of documents or photos - with a printer, but that's nice too. And it's not the first to offer very sharp text printing for an inkjet, but it does.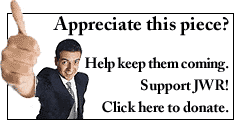 What may set the CX6400 apart from many of its peers and almost all of its predecessors is its economics: at $199, or less depending on where you shop and on that rebate, it's a highly reasonable price to pay. The cost of replacement inks also seems reasonable: a high-capacity black ink cartridge can be had for around $30, and a four-pack of the individual color cartridges is under $35. I've not yet run down the cartridges to see how many pages one gets, but I can imagine a good cartridge life when the device is used to print standard documents. Run off a bunch of copies of your vacation or wedding snapshots, and things might change. You'll probably need to get more ink and photo paper more often.

But that's a tradeoff, I suppose: the Epson "DuraBrite" paper and ink yielded truly borderless 4-by-6 inch prints that were in every way the equal of anything I could get at my local processor. And I had the results in a minute or so, as opposed to an hour or a couple of days. Epson sent along a 100ml bottle of water with a DuraBrite print sample submerged in the liquid; the ink didn't run. I guess that'll hold for my photo prints, too.

As a regular-duty printer, I have found the CX6400 to be as good as anything I've seen. It's fast, up to 22-pages-per-minute in monochrome text printing, and it's super quiet. The ink cartridges are easy to install, paper flows from the back to the front, lessening the chance of paper jams, and the scanner is a single-sheet device which can accommodate books and magazines. The unit functions as a stand-alone copier as well.

More information can be found at http://www.epson.com/, as well as at retailers.

CORRECTION: I erred last week in saying Gmail, the Google e-mail service, can't import addresses from PC or Mac programs. It can -- and does -- when such address books are presented as "Comma Separated Value" or CSV files.
Find this column useful? Why not sign-up for the daily JWR update. It's free. Just click here.
JWR contributor Mark Kellner has reported on technology for industry newspapers and magazines since 1983, and has been the computer columnist for The Washington Times since 1991.Comment by clicking here.