http://www.NewsAndOpinion.com | Last Sunday wasn't a good day for me, tech-wise. During the afternoon, the high-tech computer-cum-entertainment system in my car hiccupped: the next thing I knew, my electrical system was shot. A jump to the battery got things going again, but now I fear for my alternator, battery - and of course the audio system, which is part of a device built around Microsoft's AutoPC design.

That evening, I decided to try my hand, again, at Voice over Internet Protocol, or VoIP . As you will doubtless hear often in the coming months, VoIP is the "hot" technology now, what with AT&T making a big push in the space, as is Verizon Corp., which wants to sell you broadband and VoIP in a nice little package.

My first experience with VoIP, a few months ago, was with Vonage, and it was rather enjoyable. Now, a McLean, Virginia-based firm, Primus Telecommunications, is really shaking things up with its offer to consumers of a $19.95 monthly service that includes free long distance in the U.S., Canada and most of Western Europe. It promises a 2-cents-per-minute rate to Israel, and equally low rates to Australia, South Korea and much of the rest of the world. The firm is marketing its VoIP under the name "Lingo," and details are available online at http://www.lingo.com.

How can one say no to an offer like that? I didn't - although I kept my regular Verizon Corp. phone service as a backup, and a good thing, it turns out.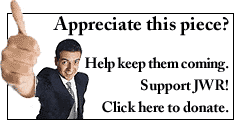 Within less than a week, a package of hardware and cables arrived from the Primus office, ready for setup. VoIP service requires you to supply your own phone and broadband Internet service; the provider, in this case, Lingo, will give you a connector box that sits between your phone and the broadband network. The box establishes your phone connection and converts voice into data bits and bits into voice.

Things start to get technical here, but bear with me: there are two ways to connect a phone to the broadband network. One is more-or-less directly, by hooking the connector box to the cable or DSL modem, and then go from the connector box to the computer. In that mode, I had no problems: I was able to get a dial tone on the phone and all was well.

Unfortunately, I'm not the only computer user in La Casa Kellner, so I need to include others in my home network. That means a router and also a wireless access point. In short, that's a lot of chances for things to go wrong.

The Primus/Lingo folks anticipated this and offer rather explicit instructions on setting things up if one has a router and so forth. The only problem is that, on following the instructions, I still had no dial tone. A call to customer service was in order.

Perhaps Sunday evening isn't the prime customer service time, but a recorded message saying I'd have to wait "five minutes or longer" was entirely correct: my wait was 32 minutes before I spoke with a live person. The fellow, who shall remain nameless for the purposes of this article, was helpful enough, but admitted he was a bit stymied when it came to using a Mac (which I was) to try and configure various devices through their Internet Protocol, or IP , addresses. His best advice? Find out from the router maker how to make things work.

Hmmm. I shall try that, I suppose, and I might even try a different brand of router, just to see if it'll work better. But unlike the ease I had with another VoIP service, Vonage, a few months back, my lack of getting the "lingo" of dealing with Primus/Lingo is not a happy experience. You could say that's life on the cutting, or even "bleeding," edge of technology, and you would be correct. For companies to succeed in the marketplace, however, their products have to be accessible and usable by the masses. How successful Primus ultimately is in this quest could tell a lot about the future of VoIP from non-Bell providers.
Find this column useful? Why not sign-up for the daily JWR update. It's free. Just click here.
JWR contributor Mark Kellner has reported on technology for industry newspapers and magazines since 1983, and has been the computer columnist for The Washington Times since 1991.Comment by clicking here.