Roger Simon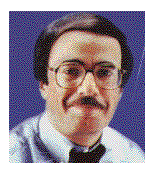 Censure-plus
WASHINGTON -- I was at the head table waiting to give my speech when the guy next to me said: "I've got the punishment."
I haven't done anything yet, I said. Wait until after the speech.
"No, no," he said. "The punishment for Clinton."
How to punish the president is the hottest topic in Washington.
As I write this, it is unclear whether the House will impeach him, though I think it is very clear that the Senate will not muster the two-thirds vote necessary to remove him from office.
But many lawmakers don't want him to get off without some punishment.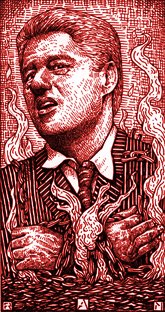 First, they talked about censure, which has a precedent. Andrew Jackson was censured by Congress, and you can see the effect today: He is on the $20 bill.
So censure is not enough, many lawmakers figured.
Which is how censure-plus was born. Censure-plus is supposed to be a way of ratcheting up the punishment a little.
Some have suggested that President Clinton be forced to pay for Independent Counsel Kenneth Starr's investigation of him, which cost the taxpayers millions of dollars.
But what about the many more millions that Starr spent on investigations of Clinton that went nowhere? Should Starr pay the public back for that?
"I heard this punishment on National Public Radio," the guy next to me said. "Congress doesn't let him give the State of the Union speech. Congress bars the doors."
Well, it would be legal, I said. The Constitution says there has to be a State of the Union assessment by the president but doesn't say he has to give it verbally. And, in fact, presidents did not use to do so. So I guess the lawmakers could say that Clinton doesn't deserve to rub elbows with people as honest and moral as they are. And then we could all have a good laugh.
"Well, we've got to do something," the guy said.
How about a spanking machine? I suggested. Or we could let every member of Congress give him a wedgie. Or we could de-pants him and throw him into the girls' locker room.
"That's the last thing we want to do!" the guy said.
Good point, I said.
But the problem is an interesting one. Here we have all these lawmakers spending day after day figuring out how to punish Bill Clinton at the same time most Americans just want to forget about the whole thing.
Clinton should be on the ropes. We have thousands of pages of testimony filled with grisly details of sexual impropriety. We have an independent counsel who believes there is a clear case for impeachment. We have the Republican majority on the House Judiciary Committee ready to impeach Clinton at least on one and maybe on more counts. And we have the mass media who have gorged and feasted on this story for 11 months.
And the result? Clinton's poll numbers remain high. The public continues to approve of the job he is doing. Clinton not only is not on the ropes, but he has knocked one of his biggest enemies, Newt Gingrich, out of the ring.
Barbra Streisand may have put it best.
Standing behind a microphone at an Oct. 24 Democratic fund-raiser in Beverly Hills, she pointed at Clinton and said to the audience: "Lo and behold this weakened president, this president who is unable to govern!"
Everybody laughed.
"Lo and behold this weakened president, this president who is unable to govern, who has strong-armed the Republican Congress and wrestled them to the ground!" she said.
"They were out to get him from day one," she continued, "with partisan attacks that observe no limits of decency or even legality. But guess what? The ... people ... are ... too ... smart! The president's job approval rating is 65 percent! They have elected Bill Clinton twice to be their president, not to be their pope! A president's private life historically has never affected his ability to lead! We must stop this attempted coup on our government!"
She brought down the house.
OK, that is not surprising. The audience was made up of people who have given big bucks to the Democratic Party, and they all love Clinton.
But there continues to be a huge disconnect in this country between the people who want to remove Bill Clinton from office and the majority of the American people.
And the talking heads in Washington have been blaming the American people for it for some time now.
Joan Didion wrote a wonderful essay about it in the Oct. 22 New York Review. She thinks the public is right and the talking heads are wrong.
"There ... seemed to be, outside the capital, a general recognition that the entire 'crisis,' although mildly entertaining, represented politics-as-usual," she wrote. "But the American people were increasingly seen as recalcitrant children, fecklessly resistant to responsible guidance."
Congress can read the polls, however, and election results. And, to put it mildly, there is no mandate for impeaching this president or a great desire on the part of most Americans to see him punished in any but the most symbolic way. ("Be it hereby resolved that Bill Clinton should not have misled people and we think it really stinks that he did.")
So what is Congress to do?
I've got an idea, I said to the guy next to me. Congress could say: Let's put partisan politics aside and decide what really would be best for the country.
The guy stared at me, and I stared at him.
Right, I said. Forget about it. B>