Jewish World Review Jan. 2, 2004 / 8 Teves, 5764

Lori Borgman
2003 boasted a cast of colorful characters
http://www.NewsAndOpinion.com | Before we bid a hasty farewell to a year whose headlines were all too often punctuated by J-Lo and Jacko, let us not forget that they were not the only characters prompting gasps or chortles.
A Dutch artist boldly announced plans to marry herself to show she loves the different sides of her personality. The bride ordered a complete wedding party, wedding dress and marriage certificate. The bride says she will never divorce herself, as "this marriage is really for better or for worse." Congratulations to the happy single. Er, couple. Whatever.
Dolly Parton isn't as worried about her marriage as she is her looks. In a crows-feet-be-hanged statement, the 57-year-old country star announced that she is "never gonna graduate from collagen." You younger girls should stay in school and continue to moisturize.
In other cosmetic news, Izzat Ibrahim Douri, a top aide to Saddam Hussein, made news by shouting at Kuwait's state minister for foreign affairs, "A curse be on your mustache, you traitor!" You know the enemy's arsenal is waning when they resort to cursing facial hair.
Yoko Ono took a bold and buff stand for peace on a Paris stage with a one-woman performance art show titled, "Cut Piece." Audience members cut off pieces of her clothing with instructions to send them to the ones they love. Ono said she did the nude show "with love for you, for me and for the world." Maybe it's time to love a little less?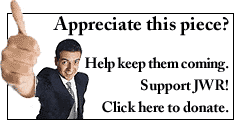 The state of Kentucky aired some bizarre laws still on the books, such as the one mandating people take a bath once a year and another requiring the sheriff collect a small tax on every dog, "or shoot the dog." Kentucky has not repealed the laws, but fortunately, neither have they enforced them.
Pigs in England rooted wildly as farmers were ordered to provide footballs and squeaky toys for entertainment to prevent the pigs from growing bored. Farmers who failed to provide toys for their pigs faced huge fines. Other farm animals were reportedly jealous over the pigs obtaining pie in the sty.
The most notable food fight of the year took place at United Nations headquarters when food workers walked off their jobs. Thousands of U.N. employees invaded the building's five cafeterias, helping themselves to everything from food to silverware. It may be time for the U.N. to screen for forks and spoons as well as knives.
In case you missed it (and be glad you did) French President Jacques Chirac posed nude for the cover of Entertainment Weekly in an attempt to win back American favor. Word on the street: It impressed no one but the Dixie Chicks.
College kids, plus sex and alcohol added up to predictable results and a box office flop in the form of a reality movie titled "The Real Cancun." One of the female wet T-shirt participants said, "I'd rather be known for this instead of being smart of something. There's a million people who are smart. There's only 16 of us who were in Cancun together." A million versus 16, and she doesn't question the numbers?
Ah, but one person can make a difference - and so can one building. Jody Mason chained himself to the federal Department of Energy building in Olympia, Wash. as a personal anti-war protest, only to find he had actually padlocked himself to the building next door which oversees the state's grain industry. I hate it when that happens.
Farewell 2003. May 2004 bring peace, prosperity and the courage to graduate from collagen. Happy New Year.
Enjoy this writer's work? Why not sign-up for the daily JWR update. It's free. Just click here.

JWR contributor Lori Borgman is the author of I Was a Better Mother Before I Had Kids. To comment, please click here. To visit her website click here.
12/19/03: Hours at the stove, moments at the table
12/12/03: The way they dress, "boxers or briefs?" isn't a question
12/05/03: Hey, hey, we're the monkeys (or close enough)
11/26/03: Hardship? We don't know the meaning
11/21/03: Good kids! Wonder who raised them
11/14/03: Safety first, even when danger has passed
10/24/03: NFL fan learns to handle heightened sensations
10/03/03: Chipping away at misunderstood lists
09/26/03: Boundaries disappear, society pays the price
09/19/03: Easy (bike) rider
09/12/03: Got Mom?
09/05/03: S'Mores Maker threatens all we hold dear (and gooey)
07/25/03: Private journals, public records
07/25/03: Star appears bright-eyed, bushy-tailed
07/18/03: Girls pool talents for commercial success
07/11/03: Summer; the living is easy
07/03/03: Terrible twos make terrific workout
06/27/03: Emergency a matter of definition
06/13/03: A Father's Day roast for Mother Goose
06/05/03: Good examples of bad parenting
05/23/03: Faulty equations on the love calculator
05/16/03: Busted for Oreos!
05/09/03: Mom plus shipping equals excitement
05/02/03: Mom shudders at thought of the m-a-l-l
04/21/03: Mother Confessions
04/11/03: Husband snoring: Hit or mist
04/04/03: Flip flops hashed at the lunch table
03/28/03: Bare facts on protesters
03/21/03: Madonna: Like an Author
03/17/03: Mom develops rapport with son's answering machine
03/07/03: The call for courage
02/28/03: My relationship with Mister Rogers
01/31/03: Mom pushes memories out the door
01/24/03: Picture this! Human 'beans'
01/10/03: Password, please!
12/31/02: Who it was a good year for
12/06/02: Radio show guarantees family-size audience
12/02/02: High-seas adventure would enlist few takers today
11/15/02: Frozen turkey makes cook chicken out
11/15/02: What's going on with "going out?"
11/01/02: The crazy mind of middle-age
10/25/02: Relationship rooted in willow talk
10/18/02: The challenge of being spontaneous
10/11/02: No wheels, no keys, no problem?
10/04/02: Lessons of a childhood survivor --- my children's
09/20/02: "Cutting the Cord" to the Tube
09/13/02: Over there
08/30/02: The Last One Left
08/23/02: Rare sighting made on the patio
08/16/02: Kids get reality paycheck
08/08/02: We look like this . . . no, Kidman!
08/02/02: We should be a nation of 'nuts'!
07/26/02: Hold your applause --- please!
07/19/02: Greed and Mints on the Pillows
07/12/02: Remodeling: Blueprint for Disaster
07/08/02: The Botox wrinkle
06/28/02: One perfect day
06/21/02: Flush with excitement
06/14/02: The Ways a Father Says "I Love You"
06/07/02: Garage Sale Treasures
05/31/02: No Pudgy Hour at the gym
05/19/02: Ozzy, if you come for dinner, bring change
05/19/02: Instant Messaging and LOL
05/10/02: Some mothers get something more
05/03/02: I Nudge, Therefore I Am
04/25/02: Motherhood is seasonal work
04/19/02: Paper trail to college
04/12/02: What to cook or not to cook
03/31/02: Mom and Dad Break Curfew
03/22/02: Introducing P.P.M. (Partners Per Month)
03/15/02: Birth of a Pothole
03/08/02: When Enron Momma gets mad
03/01/02: Little hope for bookaholic
02/22/02: Wrestling with prejudice
02/15/02: Say What?
02/08/02: Kitchen intelligence
02/01/02: Age-old words
01/25/02: Abortion: Switching Sides
01/18/02: Kids, take note
01/11/02: The heart-stopper e-mail
01/04/02: The slightly sunny side of 2001
12/28/01: The Way Things Work
11/30/01: The Leftover Shuffle begins
11/27/01: Glasses bring age into focus
11/16/01: A different portion of Thanks
11/09/01: The Next Stage of Parenting
11/01/01: Of boys and patriotism
10/26/01: College Son the Invisible Man
10/19/01: Out of the closet ... and into the school
10/12/01: A Parent's Guide to Dating
10/05/01: "Taking Care of You"
09/28/01: Time indivisible
09/24/01: Refueling capitalism
09/14/01: A time to mourn
09/07/01: Lack of modesty stirs the troops
08/31/01: Scholarship search an education
08/24/01: The test for parents
08/17/01: Immodest proposals
08/10/01: Trying to R-r-r-re-re-relax
08/03/01: It may be shabby and chic, but it ain't cheap
07/20/01: Bride showered with sage advice
07/13/01: Baby Bear Finds Driving "Just Right"
07/06/01: Pale at the Thought of Bronze
06/29/01: A Dog's Best Friend
06/22/01: Rethinking fatherhood
06/14/01 Don't forget to lock the door
06/07/01 How grandma punishes her kids
06/01/01 Hearing voices
05/25/01 Cyborgs for Better or Worse
05/18/01 The death of Common Sense

© 2001, Lori Borgman