Jewish World Review Nov. 26, 2003 / 1 Kislev, 5764

Lori Borgman
Hardship? We don't know the meaning
http://www.NewsAndOpinion.com | We're soft, you know, at least by ye olde Pilgrim standards. We're Cool Whip soft. Foam on the top of a latte soft. Upper arm flab soft.
Each year as Thanksgiving rounds the bend, I am reminded that my thankfulness is several shades lighter than the Pilgrims'. Without constant calibration, my thanksgiving tends to be on the wimpy side. Too much fat and not enough lean.
My thankfulness is often based on the creature comforts around me. Yes, I am thankful for ample food and a house with heat. It doesn't take much depth to come up with a list like that.
Truthfully, there are times when the list qualifies as cushy. I'm thankful tennis shoes were on sale last week. I am thankful for the "Do-Not-Call" telemarketer list, and I am thankful my son got a hair cut.
Somehow, I doubt those type of things were high on the Pilgrims' list of thanks.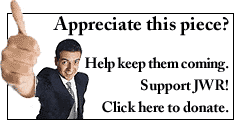 I'm not alone here. Every Thanksgiving, news reporters survey kids asking what they're thankful for. Inevitably one of them will say, "Play Station 2, my soccer ball and my dog."
Sure, we give thanks, but there's often a direct correlation between our thankfulness and our comfort. We do a fine Norman Rockwell when the kids are healthy, the house sparkles and the stock market jumps. We bubble with thanks when life is to our liking. When life isn't so good - a kid pushes the envelope, the job stinks, the house needs a new roof - we tend to be tight-lipped.
The Pilgrims' heart of thanks was remarkable in that it was not dependent on circumstances. The Pilgrims were thankful in spite of their circumstances. Their Thanksgiving feast followed a brutal winter that cut a wide swath of hunger, deprivation and death.
I let a bout with the flu or a common cold send me into a tail spin. I wonder how I would respond if, like the Pilgrims, many of my loved ones were suddenly gone? Would I still believe the goodness of G-d outweighs every trouble and trial?
In the biting cold of 1777, General George Washington stopped his worn and weary troops near Valley Forge to give thanks to G-d.
I pat myself on the back for reading Scripture a few times a week with a cup of hot tea in my hands. I wonder how I'd feel about bowing for prayer if I was like Washington's men - ill-fed, ill-clothed, beaten down and nearly freezing to death?
In the midst of the bloodiest war to ever divide this nation, President Abraham Lincoln paused to issue a proclamation of Thanksgiving. President Lincoln asked G-d to "heal the wounds of the nation" and to restore the country to the "full enjoyment of peace, harmony, tranquillity, and Union."
If the security and liberty of this country were threatened by enemies in, oh, say some sort of war with terror, would I simply scan the headlines and watch the news? Or would I earnestly pray for peace and resolution?
We could use more Pilgrim fortitude today - unfaltering hearts that beat with the pulse of praise. We could use an infusion of Pilgrim spirit focused on the trustworthiness of the Creator. We could use an attitude of thanks that sees beyond tennis shoes and Play Stations to the blessings of faith, hope and love, and the gift of family and friends.
My prayer this Thanksgiving season is that I would not be soft, but that I would gain the solid substance of a Pilgrim's heart.
I'll still eat Cool Whip. I just don't want to be Cool Whip.
Enjoy this writer's work? Why not sign-up for the daily JWR update. It's free. Just click here.

JWR contributor Lori Borgman is the author of I Was a Better Mother Before I Had Kids. To comment, please click here. To visit her website click here.
11/21/03: Good kids! Wonder who raised them
11/14/03: Safety first, even when danger has passed
10/24/03: NFL fan learns to handle heightened sensations
10/03/03: Chipping away at misunderstood lists
09/26/03: Boundaries disappear, society pays the price
09/19/03: Easy (bike) rider
09/12/03: Got Mom?
09/05/03: S'Mores Maker threatens all we hold dear (and gooey)
07/25/03: Private journals, public records
07/25/03: Star appears bright-eyed, bushy-tailed
07/18/03: Girls pool talents for commercial success
07/11/03: Summer; the living is easy
07/03/03: Terrible twos make terrific workout
06/27/03: Emergency a matter of definition
06/13/03: A Father's Day roast for Mother Goose
06/05/03: Good examples of bad parenting
05/23/03: Faulty equations on the love calculator
05/16/03: Busted for Oreos!
05/09/03: Mom plus shipping equals excitement
05/02/03: Mom shudders at thought of the m-a-l-l
04/21/03: Mother Confessions
04/11/03: Husband snoring: Hit or mist
04/04/03: Flip flops hashed at the lunch table
03/28/03: Bare facts on protesters
03/21/03: Madonna: Like an Author
03/17/03: Mom develops rapport with son's answering machine
03/07/03: The call for courage
02/28/03: My relationship with Mister Rogers
01/31/03: Mom pushes memories out the door
01/24/03: Picture this! Human 'beans'
01/10/03: Password, please!
12/31/02: Who it was a good year for
12/06/02: Radio show guarantees family-size audience
12/02/02: High-seas adventure would enlist few takers today
11/15/02: Frozen turkey makes cook chicken out
11/15/02: What's going on with "going out?"
11/01/02: The crazy mind of middle-age
10/25/02: Relationship rooted in willow talk
10/18/02: The challenge of being spontaneous
10/11/02: No wheels, no keys, no problem?
10/04/02: Lessons of a childhood survivor --- my children's
09/20/02: "Cutting the Cord" to the Tube
09/13/02: Over there
08/30/02: The Last One Left
08/23/02: Rare sighting made on the patio
08/16/02: Kids get reality paycheck
08/08/02: We look like this . . . no, Kidman!
08/02/02: We should be a nation of 'nuts'!
07/26/02: Hold your applause --- please!
07/19/02: Greed and Mints on the Pillows
07/12/02: Remodeling: Blueprint for Disaster
07/08/02: The Botox wrinkle
06/28/02: One perfect day
06/21/02: Flush with excitement
06/14/02: The Ways a Father Says "I Love You"
06/07/02: Garage Sale Treasures
05/31/02: No Pudgy Hour at the gym
05/19/02: Ozzy, if you come for dinner, bring change
05/19/02: Instant Messaging and LOL
05/10/02: Some mothers get something more
05/03/02: I Nudge, Therefore I Am
04/25/02: Motherhood is seasonal work
04/19/02: Paper trail to college
04/12/02: What to cook or not to cook
03/31/02: Mom and Dad Break Curfew
03/22/02: Introducing P.P.M. (Partners Per Month)
03/15/02: Birth of a Pothole
03/08/02: When Enron Momma gets mad
03/01/02: Little hope for bookaholic
02/22/02: Wrestling with prejudice
02/15/02: Say What?
02/08/02: Kitchen intelligence
02/01/02: Age-old words
01/25/02: Abortion: Switching Sides
01/18/02: Kids, take note
01/11/02: The heart-stopper e-mail
01/04/02: The slightly sunny side of 2001
12/28/01: The Way Things Work
11/30/01: The Leftover Shuffle begins
11/27/01: Glasses bring age into focus
11/16/01: A different portion of Thanks
11/09/01: The Next Stage of Parenting
11/01/01: Of boys and patriotism
10/26/01: College Son the Invisible Man
10/19/01: Out of the closet ... and into the school
10/12/01: A Parent's Guide to Dating
10/05/01: "Taking Care of You"
09/28/01: Time indivisible
09/24/01: Refueling capitalism
09/14/01: A time to mourn
09/07/01: Lack of modesty stirs the troops
08/31/01: Scholarship search an education
08/24/01: The test for parents
08/17/01: Immodest proposals
08/10/01: Trying to R-r-r-re-re-relax
08/03/01: It may be shabby and chic, but it ain't cheap
07/20/01: Bride showered with sage advice
07/13/01: Baby Bear Finds Driving "Just Right"
07/06/01: Pale at the Thought of Bronze
06/29/01: A Dog's Best Friend
06/22/01: Rethinking fatherhood
06/14/01 Don't forget to lock the door
06/07/01 How grandma punishes her kids
06/01/01 Hearing voices
05/25/01 Cyborgs for Better or Worse
05/18/01 The death of Common Sense

© 2001, Lori Borgman