Jewish World Review Nov. 14, 2003 / 19 Mar-Cheshvan, 5764

Lori Borgman
Safety first, even when danger has passed
http://www.NewsAndOpinion.com | We have two kids in college and one in high school, yet I just dragged a chair over to a kitchen cabinet so I could retrieve felt-tipped markers from a top shelf. What's wrong with this picture?
The red, green, black and blue Sharpies are bundled together with a rubber band and hidden behind a meat thermometer and a pedestal cake plate. I began keeping the markers up high when the kids were little and never got around to moving them down low. I guess it's time. It's been ages since any of them even wrote on their hands, let alone the walls. Then again, the oldest did splatter-paint a pair of his shoes in the name of art recently.
The markers stay.
My husband complains that to find a box of matches he has to tunnel his way to the far back of a pantry shelf behind boxes of Jell-O, cereal, pasta and snack crackers. Even when he worms his way to the back of the cabinet, the matches are sealed in a round tin that is difficult to open.
"A man shouldn't have to work this hard to get a simple match," he says. "I keep them there for safety purposes," I snap. "Little boys are fascinated with flames."
He looks me and says, "The little boy is 22. He goes camping on a regular basis and can start a bonfire with chips of flint and dryer lint."
"Maybe," I answer. "But I couldn't sleep at night knowing the matches were within reach of little hands. The matches stay."
"I suppose you're going to keep winding up the cords on the mini-blinds every morning, too," he says.
"You betcha. I know nobody's going to tie anybody else up in them, but when they're all home and get to roughhousing, someone could catch a foot in there and it could get ugly."
"You don't think the ugly part would be when the mini-blinds ripped off the wall?"
The markers, matches and cords stay; however, I announce that I am open to negotiating the outlet covers and latches on the cupboard doors under the kitchen sink. "Those can go," I say. "At least on a trial basis, we'll try removing them for a couple of weeks. If anyone even looks like he or she might be thinking about sticking a car key into an outlet, the covers go back on."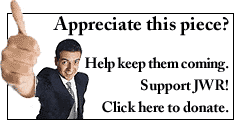 "I think we're safe," he says.
"Good, because safety is what I'm about," I say. "And hey, turn the handle on the pan to the back of the stove would you? And where do you think you're going with that empty plastic bag?"
"Listen," he says, opening a concealed compartment in the silverware drawer where I hide serrated steak knives, "I know these things can be hard for you, but I think it's time we take the foam padding off the corners of the coffee table. If any of them rammed into the coffee table now, all they'd hurt are their shins."
"So the children's shins don't mean anything to you?" I say.
"Fine, but I'm still tucking the tablecloth corners under the table. I'm not comfortable taking chances. And don't start with me about putting poinsettias on top of the bookshelf every year."
"The danger of anyone chewing on the poisonous leaves and berries is absolutely nil," he says. "Their taste buds have matured considerably. You're just having a hard time letting go."
"Not at all I say," as we sit down to dinner. " I'm making wonderful progress.
"Can I cut your meat for you?"
Enjoy this writer's work? Why not sign-up for the daily JWR update. It's free. Just click here.

JWR contributor Lori Borgman is the author of I Was a Better Mother Before I Had Kids. To comment, please click here. To visit her website click here.
10/24/03: NFL fan learns to handle heightened sensations
10/03/03: Chipping away at misunderstood lists
09/26/03: Boundaries disappear, society pays the price
09/19/03: Easy (bike) rider
09/12/03: Got Mom?
09/05/03: S'Mores Maker threatens all we hold dear (and gooey)
07/25/03: Private journals, public records
07/25/03: Star appears bright-eyed, bushy-tailed
07/18/03: Girls pool talents for commercial success
07/11/03: Summer; the living is easy
07/03/03: Terrible twos make terrific workout
06/27/03: Emergency a matter of definition
06/13/03: A Father's Day roast for Mother Goose
06/05/03: Good examples of bad parenting
05/23/03: Faulty equations on the love calculator
05/16/03: Busted for Oreos!
05/09/03: Mom plus shipping equals excitement
05/02/03: Mom shudders at thought of the m-a-l-l
04/21/03: Mother Confessions
04/11/03: Husband snoring: Hit or mist
04/04/03: Flip flops hashed at the lunch table
03/28/03: Bare facts on protesters
03/21/03: Madonna: Like an Author
03/17/03: Mom develops rapport with son's answering machine
03/07/03: The call for courage
02/28/03: My relationship with Mister Rogers
01/31/03: Mom pushes memories out the door
01/24/03: Picture this! Human 'beans'
01/10/03: Password, please!
12/31/02: Who it was a good year for
12/06/02: Radio show guarantees family-size audience
12/02/02: High-seas adventure would enlist few takers today
11/15/02: Frozen turkey makes cook chicken out
11/15/02: What's going on with "going out?"
11/01/02: The crazy mind of middle-age
10/25/02: Relationship rooted in willow talk
10/18/02: The challenge of being spontaneous
10/11/02: No wheels, no keys, no problem?
10/04/02: Lessons of a childhood survivor --- my children's
09/20/02: "Cutting the Cord" to the Tube
09/13/02: Over there
08/30/02: The Last One Left
08/23/02: Rare sighting made on the patio
08/16/02: Kids get reality paycheck
08/08/02: We look like this . . . no, Kidman!
08/02/02: We should be a nation of 'nuts'!
07/26/02: Hold your applause --- please!
07/19/02: Greed and Mints on the Pillows
07/12/02: Remodeling: Blueprint for Disaster
07/08/02: The Botox wrinkle
06/28/02: One perfect day
06/21/02: Flush with excitement
06/14/02: The Ways a Father Says "I Love You"
06/07/02: Garage Sale Treasures
05/31/02: No Pudgy Hour at the gym
05/19/02: Ozzy, if you come for dinner, bring change
05/19/02: Instant Messaging and LOL
05/10/02: Some mothers get something more
05/03/02: I Nudge, Therefore I Am
04/25/02: Motherhood is seasonal work
04/19/02: Paper trail to college
04/12/02: What to cook or not to cook
03/31/02: Mom and Dad Break Curfew
03/22/02: Introducing P.P.M. (Partners Per Month)
03/15/02: Birth of a Pothole
03/08/02: When Enron Momma gets mad
03/01/02: Little hope for bookaholic
02/22/02: Wrestling with prejudice
02/15/02: Say What?
02/08/02: Kitchen intelligence
02/01/02: Age-old words
01/25/02: Abortion: Switching Sides
01/18/02: Kids, take note
01/11/02: The heart-stopper e-mail
01/04/02: The slightly sunny side of 2001
12/28/01: The Way Things Work
11/30/01: The Leftover Shuffle begins
11/27/01: Glasses bring age into focus
11/16/01: A different portion of Thanks
11/09/01: The Next Stage of Parenting
11/01/01: Of boys and patriotism
10/26/01: College Son the Invisible Man
10/19/01: Out of the closet ... and into the school
10/12/01: A Parent's Guide to Dating
10/05/01: "Taking Care of You"
09/28/01: Time indivisible
09/24/01: Refueling capitalism
09/14/01: A time to mourn
09/07/01: Lack of modesty stirs the troops
08/31/01: Scholarship search an education
08/24/01: The test for parents
08/17/01: Immodest proposals
08/10/01: Trying to R-r-r-re-re-relax
08/03/01: It may be shabby and chic, but it ain't cheap
07/20/01: Bride showered with sage advice
07/13/01: Baby Bear Finds Driving "Just Right"
07/06/01: Pale at the Thought of Bronze
06/29/01: A Dog's Best Friend
06/22/01: Rethinking fatherhood
06/14/01 Don't forget to lock the door
06/07/01 How grandma punishes her kids
06/01/01 Hearing voices
05/25/01 Cyborgs for Better or Worse
05/18/01 The death of Common Sense

© 2001, Lori Borgman