Jewish World Review Dec. 12, 2003 / 17 Kislev, 5764

Lori Borgman
The way they dress, "boxers or briefs?" isn't a question
http://www.NewsAndOpinion.com | Meet Matt. Matt is a 19-year-old college student in a large Midwest shopping mall who is wearing absolutely nothing except for red and white boxers. Oh yeah, and a Santa hat and red socks.

Matt is a holiday greeter for Abercrombie and Fitch. It's the Wal-Mart concept without the blue vest - and pants and shirt and shoes.

"What does your mom think of this, Matt?".

"I told her I was doing it and she was, like, cool. Do you want to call her and talk to her?"

"Oh, like, maybe later. So, Matt, do you get paid extra for standing around half- naked?"

"I do," Matt says, flashing perfect pearly whites.

"Hmm. Say, I'm wondering if you had to parade with other sales clerks to see who was the most buff?"

"No, I would have lost," Matt says.

Matt is being modest. Matt has exactly the look A&F goes for - white, athletic frat boy with a big smile and tousled hair. A&F aims for the casual chic buyer comfortable in Destroyed Vintage Chugger Boot denims (100% cotton, blown out knee, oil and bleach stains, wallet mark on back pocket, blasted and whiskered, walked-on hem). Goodwill would heave the jeans into a trash bin, but at A&F teen shoppers blithely pay $69.50 for a pair.

"Matt, I can't help but notice that this female greeter standing next to you is fully clothed." Well, I should qualify that. Her pants are slung low, the top of thong is visible and her flimsy tank top wouldn't offer protection from a window fan. You'd think an old-school outfitter like A&F would know something about dressing for cold weather, but go figure.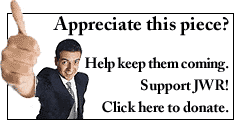 "Matt, does it strike you as a double standard that you're standing here in your skivvies and she's wearing regular clothes?"

"No," he says.

"Looks like exploitation to me, Matt."

"Well, I don't do anything I'm not comfortable doing."

The 2003 Quarterly Christmas catalog, the latest in a long line of A&F catalogs, has made a lot of people very uncomfortable. Boasting of"280 pages of Moose, Ice Hockey, Chivalry, Group Sex & More," story headlines too vulgar to quote, and plenty of nudity, the shrink-wrapped catalog, available only to buyers 18 and older, was recently pulled from distribution.

Previous catalogs have featured erotic book reviews, an interview with a porn star (with how-to tips) and suggestions for binge drinking. Earlier this year, the chain promoted a line of thong underwear for girls 7-14 featuring sayings such as "eye candy" and "wink wink."

"Exactly what are you selling here, Matt?"

"Shirts, we're selling shirts," he says, pointing to a table of shirts waaaaay behind him. Ah, but A&F sells so much more than shirts. A&F sells teen sex - promiscuous sex, casual sex, group sex, sex without commitment, and sex without conscience. A&F has a knack for making the most vulnerable, intimate act between two human beings look so casual, so flip, so scratch-my-back and I'll-scratch-yours.

"Matt, have you looked at the catalog?"

"No," he says.

"Well, good boy, because I think Larry Flynt edits it."

I thank Matt for talking to me and go for the handshake instead of the hug. "Stay warm," I call to him.

Nice kid, but he seemed a touch uncomfortable. I doubt he is used to adults engaging him in conversation. Like so many other young people, Matt is used to moms and dads shelling out cash and then looking the other way. But then, A&F counts on that. They count on it all the way to the bank.
Enjoy this writer's work? Why not sign-up for the daily JWR update. It's free. Just click here.

JWR contributor Lori Borgman is the author of I Was a Better Mother Before I Had Kids. To comment, please click here. To visit her website click here.
12/05/03: Hey, hey, we're the monkeys (or close enough)
11/26/03: Hardship? We don't know the meaning
11/21/03: Good kids! Wonder who raised them
11/14/03: Safety first, even when danger has passed
10/24/03: NFL fan learns to handle heightened sensations
10/03/03: Chipping away at misunderstood lists
09/26/03: Boundaries disappear, society pays the price
09/19/03: Easy (bike) rider
09/12/03: Got Mom?
09/05/03: S'Mores Maker threatens all we hold dear (and gooey)
07/25/03: Private journals, public records
07/25/03: Star appears bright-eyed, bushy-tailed
07/18/03: Girls pool talents for commercial success
07/11/03: Summer; the living is easy
07/03/03: Terrible twos make terrific workout
06/27/03: Emergency a matter of definition
06/13/03: A Father's Day roast for Mother Goose
06/05/03: Good examples of bad parenting
05/23/03: Faulty equations on the love calculator
05/16/03: Busted for Oreos!
05/09/03: Mom plus shipping equals excitement
05/02/03: Mom shudders at thought of the m-a-l-l
04/21/03: Mother Confessions
04/11/03: Husband snoring: Hit or mist
04/04/03: Flip flops hashed at the lunch table
03/28/03: Bare facts on protesters
03/21/03: Madonna: Like an Author
03/17/03: Mom develops rapport with son's answering machine
03/07/03: The call for courage
02/28/03: My relationship with Mister Rogers
01/31/03: Mom pushes memories out the door
01/24/03: Picture this! Human 'beans'
01/10/03: Password, please!
12/31/02: Who it was a good year for
12/06/02: Radio show guarantees family-size audience
12/02/02: High-seas adventure would enlist few takers today
11/15/02: Frozen turkey makes cook chicken out
11/15/02: What's going on with "going out?"
11/01/02: The crazy mind of middle-age
10/25/02: Relationship rooted in willow talk
10/18/02: The challenge of being spontaneous
10/11/02: No wheels, no keys, no problem?
10/04/02: Lessons of a childhood survivor --- my children's
09/20/02: "Cutting the Cord" to the Tube
09/13/02: Over there
08/30/02: The Last One Left
08/23/02: Rare sighting made on the patio
08/16/02: Kids get reality paycheck
08/08/02: We look like this . . . no, Kidman!
08/02/02: We should be a nation of 'nuts'!
07/26/02: Hold your applause --- please!
07/19/02: Greed and Mints on the Pillows
07/12/02: Remodeling: Blueprint for Disaster
07/08/02: The Botox wrinkle
06/28/02: One perfect day
06/21/02: Flush with excitement
06/14/02: The Ways a Father Says "I Love You"
06/07/02: Garage Sale Treasures
05/31/02: No Pudgy Hour at the gym
05/19/02: Ozzy, if you come for dinner, bring change
05/19/02: Instant Messaging and LOL
05/10/02: Some mothers get something more
05/03/02: I Nudge, Therefore I Am
04/25/02: Motherhood is seasonal work
04/19/02: Paper trail to college
04/12/02: What to cook or not to cook
03/31/02: Mom and Dad Break Curfew
03/22/02: Introducing P.P.M. (Partners Per Month)
03/15/02: Birth of a Pothole
03/08/02: When Enron Momma gets mad
03/01/02: Little hope for bookaholic
02/22/02: Wrestling with prejudice
02/15/02: Say What?
02/08/02: Kitchen intelligence
02/01/02: Age-old words
01/25/02: Abortion: Switching Sides
01/18/02: Kids, take note
01/11/02: The heart-stopper e-mail
01/04/02: The slightly sunny side of 2001
12/28/01: The Way Things Work
11/30/01: The Leftover Shuffle begins
11/27/01: Glasses bring age into focus
11/16/01: A different portion of Thanks
11/09/01: The Next Stage of Parenting
11/01/01: Of boys and patriotism
10/26/01: College Son the Invisible Man
10/19/01: Out of the closet ... and into the school
10/12/01: A Parent's Guide to Dating
10/05/01: "Taking Care of You"
09/28/01: Time indivisible
09/24/01: Refueling capitalism
09/14/01: A time to mourn
09/07/01: Lack of modesty stirs the troops
08/31/01: Scholarship search an education
08/24/01: The test for parents
08/17/01: Immodest proposals
08/10/01: Trying to R-r-r-re-re-relax
08/03/01: It may be shabby and chic, but it ain't cheap
07/20/01: Bride showered with sage advice
07/13/01: Baby Bear Finds Driving "Just Right"
07/06/01: Pale at the Thought of Bronze
06/29/01: A Dog's Best Friend
06/22/01: Rethinking fatherhood
06/14/01 Don't forget to lock the door
06/07/01 How grandma punishes her kids
06/01/01 Hearing voices
05/25/01 Cyborgs for Better or Worse
05/18/01 The death of Common Sense

© 2001, Lori Borgman