Jewish World Review June 23, 2003 / 23 Sivan, 5763

Bill O'Reilly
Anchors away

http://www.NewsAndOpinion.com | The death of journalist David Brinkley brought the usual cries of how terrible the state of TV news is these days. Newsweek magazine, always a predictable source of establishment angst, praised Brinkley as one of a kind and far superior to the "blowhard" TV news types these days. I felt quite a breeze as that insult whizzed by.
Anyway, Brinkley was unique and skilled and an innovator, there's no doubt about it. He was one of the few TV anchor people who never pandered to the powerful, and his skepticism separated him from the fawning majority of television types who, above all, want access to the famous and infamous. For Brinkley, accurate analysis and information was the goal, and if that offended somebody, so be it. He also had style and wit, something severely lacking on Broadcast Row these days.
But the new era of instant information rendered David Brinkley and many other broadcast veterans almost powerless. No longer is the American public a captive audience, and no longer will the folks settle for an expressionless recitation of the news. With the advent of the Internet and round-the-clock cable news, the audience quickly knows the basic facts of a story. But often along with those facts comes instant spin and contradiction. Informational fog develops, leaving busy Americans in need of context. They want to know how the journalists they trust feel about things that are important to their lives. The news consumer is almost desperate for someone to define the truth of the matter.
Thus, the good old days when the Brinkleys, the Cronkites and even Tom, Dan and Peter could simply introduce stories in measured tones are coming to an end. The audience for dispassionate TV news is shrinking, the demand for passionate reporting and analysis is on the rise.
That trend, of course, is like a cross in front of a vampire for the TV news traditionalists. They hate that. Even though newspapers have editorialized from the very beginning of this republic, and print columnists are legion, analysis during a TV news broadcast is still very daunting for many network news types.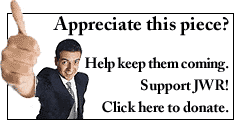 The question is, why? I had to ask Peter Jennings five times on my program if it frustrated him to keep his opinions to himself all the time. He finally admitted it did (or maybe he just wanted to shut me up). But it makes sense. Jennings as well as Dan Rather and Tom Brokaw know a lot more than they're telling you. They understand the issues and know who the charlatans are. These three men should be commentators, not news readers. They have insights far beyond most Americans. For the good of the country they should share them.
Two things hold them back. First, it is risky to do news analysis. You are bound to tick off some powerful people. Whatever opinion you throw out, somebody's not going to like it. These guys are not used to taking heat. When you have gazillions of dollars in the bank, who needs that?
Secondly, the network suits would get nervous. Newspaper columnists are expected to offend people. TV types are not. They are basically diplomats, and some are even a calming influence. Can you imagine Peter Jennings pointing his finger demanding that President Bush come clean about weapons of mass destruction? Can you picture Tom Brokaw pounding his desk and chiding Hillary for writing a book full of propaganda? It is hard to imagine, but wouldn't you like to see it?
Just about anybody can be taught to read the news. Topo Gigio, the little Italian mouse could do it. Why are brilliant men like Jennings, Rather and Brokaw wasting their time chucking headlines at us? The country needs clarity and honest insights. David Brinkley is gone, but the others still have some time.
Enjoy this writer's work? Why not sign-up for the daily JWR update. It's free. Just click here.

JWR contributor Bill O'Reilly is host of the Fox News show, "The O'Reilly Factor," and author of the new book, "The No-Spin Zone: Confrontations with the Powerful and Famous in America" Comments by clicking here.

06/16/03: The Hillary chronicles
06/09/03: Cronkite comes out of the closet
06/02/03: Teed off
05/27/03: The lynching of Bill Bennett
05/19/03: Get back home, Madonna
05/12/03: Prom night -- all white
05/05/03: Let's misbehave
04/28/03: No pain, no gain?
04/21/03: We stand of guard for thee
04/14/03: The spoils of war
04/07/03: When the truth is a casualty
03/31/03: Yes, you're entitled to your uninformed opinion
03/24/03: That's the way it isn't, Walter
03/17/03: This loyal Catholic believes that, humanistically, the Pope is one of the many Saddam enablers
03/10/03: The new Nazis
03/03/03: Hey, it's personal
02/24/03: A peace of the action
02/18/03: Cash for what?
02/10/03: Runaway train
02/03/03: Dissenting dishonest dissent
01/27/03: The Clooney Factor
01/21/03: Poverty-inducing entertainment
01/13/03: To protect and serve
12/30/02: Global double Crossing
12/30/02: The villains of 2002
12/23/02: Finding offense where none is intended is a form of selfishness
12/16/02: The Houston lesson
12/09/02: Somewhere Santa is weeping
12/02/02: A taxing situation
11/26/02: Talk is expensive when it comes to Bill Moyers
11/18/02: Sanity has left the building
11/11/02: The right stuff
11/04/02: The Attorney General blues
10/28/02: This ain't no game
10/21/02: It's only rock and roll, but it's brutal
10/14/02: The root of all evil
10/07/02: When children murder
09/30/02: THE TRUTH BE TOLD
09/23/02: The death of outrage
09/17/02: Singing a different tune
09/09/02: Answering my critics about the Roush case
09/03/02: Let's misbehave
08/26/02: Money makes the world go 'round
08/19/02: Long live the King
08/12/02: A friendly reminder
08/05/02: Heaven only knows
07/29/02: Blood money
07/22/02: Suffer the children
07/15/02: Reaching critical mass
07/08/02: Believe it or not
07/01/02: Charity begins at home
06/24/02: Spinning a tale and the case for "Stupid White Men"
06/17/02: Blank those Europeans!
06/10/02: What does Bono want from us?
06/03/02: On fighting evil
05/28/02: A Tale of Two Churches
05/20/02: Crimes against humanity
05/13/02: Silence of the lambs
05/06/02: Hide the children
04/29/02: 'Paul, Paul, Paul!'
04/22/02: Barbarians in the Church
04/15/02: Pray for peace, polish the weapons
03/11/02: Do no harm? Time to spank "Dr. Phil"
03/04/02: Promoting the general welfare
02/25/02: Who's responsible?
02/19/02: Lay it on them
02/11/02: Buy dope, fund terror
02/04/02: Back room deals
01/28/02: From boom to bust
01/21/02: The Fairness Doctrine
01/14/02: Hey, Paula, take it to the bank and hush up
01/07/02: And justice for none
12/31/01: All that's left
12/24/01: Santa is appalled
12/17/01: Fight the power
12/10/01: The black challenge
12/03/01: How things have changed
11/26/01: Waiting in the Bushes
11/19/01: The sign of the Cross
11/09/01: Hollyweird strikes back
11/06/01: The fear factor
10/26/01: Show me the money
10/22/01: See no evil
10/15/01: Peace, but no quiet
10/08/01: The air war
10/01/01: I don't understand
09/24/01: We are all soldiers, and we have a job to do
09/14/01: Evil on display
09/11/01: Family matters!
09/04/01: End of summer blues
08/27/01: Summertime -- and the livin' ain't easy
08/20/01: The rap on rap
08/13/01: The truth hurts
08/06/01: Amnesty for illegals: Bush's political investment
07/30/01: The big picture on Condit-Levy
07/24/01: Silence of the Shams
07/16/01: Condit, Kennedy and cable news
07/09/01: Heather needs a childhood: The unnecessary loss of innocence
07/02/01: What would have happened if Steven Spielberg had recut "Schindler's List" for German audiences so they wouldn't be confronted with "emotional issues"?
06/25/01: Freak dancing
06/18/01: Work or die
06/11/01: Soundbite nation
06/04/01: Paying through the nose
05/29/01: Graduation Day 2001
05/21/01: Accepting the unacceptable
05/14/01: The Clinton legacy
05/07/01: Kerrey's ordeal
04/27/01: Is the party over?
04/20/01: Racism in public education
04/16/01: The fleecing of America
04/10/01: People who need perspective
04/03/01: Dubya's bottom line --- and ours
03/27/01: Don't tell, don't ask
03/20/01: Greenspan with envy
03/13/01: Clinton and Jackson
03/07/01: All that's left in America
02/27/01: The Letterman experience
02/20/01: Bread and circuses
02/06/01: How the Clintons do it
01/30/01: The Bush dilemma
01/24/01: I have been investigating Jackson's finances for the past two years
01/17/01: Sifting Ashcroft's record

© 2001 Creators Syndicate