Jewish World Review April 6, 2001 / 13 Nissan 5761

Morton Kondracke

Newtie versus Dubya?


http://www.jewishworldreview.com -- PRESIDENT BUSH is keeping his promise to help double the federal government's medical research budget, but he's facing criticism for low-balling other research vital to U.S. productivity.

Democrats, scientists, corporate groups -and former Speaker Newt Gingrich (R-Ga.) - have protested net cuts after inflation in the budgets of the National Science Foundation, NASA and energy research.

Testifying before the House Armed Services Committee last month, Gingrich said it is important for our national security that Congress increase Bush's science budget request.

Gingrich represented a blue-ribbon commission on national security headed by former Sens. Warren Rudman (R-N.H.) and Gary Hart (D-Colo.), which concluded that, next to terrorist attacks within our borders, flagging science investment and science education are the greatest foreseeable threats to the United States.

In an interview earlier, Gingrich told me that the budget for the NSF, which supports non-medical university research and trains scientists, "should be $11 billion," not the $4.5 billion that Bush requested. The President's mere $56 million boost for NSF was "a tragic mistake," he said.

Bush's budget calls for a 13 percent increase for the National Institutes of Health, but only a 2.5 percent increase for other civilian science, space and technology programs - a cut after inflation is taken into account.

The Defense Science Board also has protested that defense research other than missile defense is not receiving adequate funding.

Gingrich and other critics argued that failure to support basic scientific research will stifle innovation and productivity that fuel economic growth.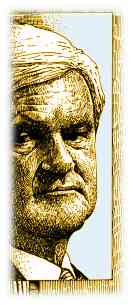 Newt returns
Specific areas needing funds, they said, include development of "post-silicon" computer chips, climate change and alternative energy sources, such as fusion, earthquake detection and advanced imaging.
Bush met with a group of high-tech executives last week and extolled their past performance. "This administration has great confidence in the future of the high-technology industry," he said, despite recent drops in technology stocks.
"You've changed the way we work and communicate, and you've changed the way we learn," he said. "You've done for American economic leadership in the 21st century what heavy industry did in the 20th century."
"You've done so much for your country, it's time for your country to do something for you," he added. In other words, cut their income taxes and extend the tax credit for corporate research-and-development expenses.
However, Bush's critics, particularly Democrats, say his tax cuts are actually crowding out investments in research and endangering the long-term growth of the economy.
Democrats on the House Budget Committee proposed scientific spending 50 percent higher than what House Republicans approved, following Bush's request.
In an interview, Bush budget director Mitch Daniels said, "We did what we felt we could afford" in science funding.
Daniels added that "we'll listen" if Congress wants to find more money for science by cutting other programs to stay within spending limits.
He acknowledged that the proposed increase for NSF is "very small," but said the agency had received 7 percent more funds last year. Moreover, he noted that some energy research amounts to subsidies for corporations, which should be investing more themselves.
The Bush budget contains a $2.8 billion increase for the National Institutes of Health. Daniels said Bush plans a $4.1 billion increase next year to complete the task of doubling NIH's budget over five years.
After that, he said, it may be "appropriate" to shift funds to other scientific research. But critics, including the former head of NIH, Nobel Prize winner Harold Varmus, argue that medical research is being held back by underfunding in other areas, such as imaging and computing.
For instance, Gingrich said it's theoretically possible for surgeons to use images and computers to perform "virtual surgery" on patients as practice for actual operations, thereby limiting mistakes.
The critics' strongest case, however, is economic. A group of industry executives and scientific organizations headed by the National Association of Manufacturers wrote Bush in February that "If we cut federal investment in science today, it will be at the cost of lower productivity increases tomorrow."
Groups protesting Bush's budget often quote Alan Bromley, his father's White House science adviser, who declared in a New York Times op-ed piece in early March that "The proposed cuts in scientific research are a self-defeating policy" for an administration that wants to encourage growth and budget surpluses.
"No science, no surplus. It's that simple," Bromley concluded.

JWR contributor Morton Kondracke is executive editor of Roll Call, the newspaper of Capitol Hill. Send your comments by clicking here.

04/03/01: Coming soon: A battle royal over free trade
03/29/01: As economy wilts, is Bush too passive on early tax cuts?
03/27/01: Ex-Clinton Adviser Thinks Bush Needs More Upbeat 'Vision'
03/16/01: Cultural indicators improved during Clinton years. Why?
03/13/01: Nice talk aside, Bush team wants to win above all
03/08/01: Tax fight turns back to question of what's 'fair'
03/06/01: Bush and Congress should prepare for lean years
03/01/01: Bush needs group to promote ideas in Black America
02/26/01: Bush should talk about long-term budget challenges
02/22/01: AARP's agenda at odds with Bush priorities
02/20/01: When will Dems finally say Clinton is unfit leader?
02/14/01: McCain won't run against Bush again, just differ on issues
02/12/01: Is Joe Lieberman tilting left toward 2004?
02/07/01: The controversy starts: Bush orders HHS study of fetal, stem cell issues
02/05/01: Dems move toward bush on taxes, but ...
02/01/01: Bush should be open with press
01/30/01: Bush Should go for broke early on education
01/23/01: Clinton ain't going away, folks
01/19/01: Bush should try for legacy as 'Great Reconciler'
01/16/01: Left-Center Rift Re-emerges For Democratic Leaders
01/12/01: Clinton doing Bush no favors in Mideast
01/09/01: Bush and Democrats can deal
12/14/00: Will Daschle make it his business to get along with President Bush?
12/08/00: GOP is in danger of ruining record on medical research
11/27/00: Some fascinating stories about how and why people voted
11/22/00: GOP Survived health bullets, but one is left
11/20/00: Can next president and Hill deal?
11/15/00: With nation split, leaders must reach across party divide
11/07/00: The Envelope, Please:Bush Beats Gore, GOP Holds Hill
11/03/00: Parties appeal to two 'gospels'
11/01/00: Lurking in the shadows
10/26/00: What's Gore's Social Security plan?
10/18/00: While Bush, Gore debate surplus, Congress spends it
10/16/00: Two debates leave lots of questions
10/03/00: What questions should be debated?
09/28/00: Gore and Bush should prepare to lead
09/19/00: Bush let values issue slip away
08/25/00: Gore hands center to Bush
08/22/00: AlGore, look to future, not to Bubba
08/08/00: 2000 race could leave high road for low
08/03/00: Convention must point Bush to center
08/01/00: GOP Readies 'Debt Lockbox' As 2000 Strategy
07/27/00: Cheney adds heft to GOP ticket
07/25/00: Foreign, Defense Policy Deserves Full 2000 Debate
07/20/00: Truman Show: Gore Replays 1948, But Bush Isn't Dewey
07/18/00: Bush Must Fight Gore's Drug Plan As 'Bad Medicine'
07/13/00: Mexico's Election Supports U.S. Action On NAFTA, Bailout
07/10/00: Abortion is good for something --- just ask AlGore
07/06/00: Meet Steve Ricchetti, Bubba's secret weapon
06/30/00: AlGore is down, but is he out?
06/27/00: Social programs caught in election-year game of one-up
06/22/00: Congress Is Near Flunking a Test On School Reform
06/16/00: Doting on the grandparents
06/13/00: On Stem Cells, Bush Has Wrong Pro-Life Stance
06/08/00: Has Gore Caught Bush?
05/26/00: PNTR Vote Could Tell Which Party Fits 'New Economy'
05/23/00: The secret to winning the election: Economic programs
05/18/00: Gore should regroup
05/16/00: McCain's Support Is Tepid, But Lets Bush Focus on Gore
05/11/00: Voters need wonk training
05/09/00: Bush Could Score With Charge That Gore's Too Partisan
04/28/00: Reno's force aids Clinton, not Elian
04/25/00: Should Clinton be indicted?
04/24/00: Can Gore win on Bush tax cuts?
04/18/00: Levin's 'bridge' key to China trade?
04/11/00: Congress, U.S. Voters Still Aren't Ready For Campaign Reform
04/06/00: Bush, Gore Silent As Popular Culture Gets Ever Coarser
03/30/00: Is 2000 Like 1948, 1976 or 1960? Or Is This Unparalleled?
03/28/00: Will Bush, Gore Go for a Better Way To Pick Nominees?
03/23/00: Medicare cutbacks bleed hospitals
03/20/00: Chances Improve That China Trade Will Pass Congress
03/16/00: Lieberman as veep would help Gore
03/14/00: Can Bush, McCain Unite to Beat Gore?
03/09/00: Can GOP Forge Unity After Nasty McCain-Bush Race?
03/07/00: What accounts for McCain's excesses?
03/02/00: 'Debate' Proved Gore Is This Year's Best Gut-Fighter
02/29/00: Surprises! The 2000 GOP race is full of it
02/25/00: Voters want centrist in White House
02/23/00: Gore would hit McCain's record
02/15/00: Will negativity hurt McCain in S.C.?
02/10/00: How hard should Bush hit McCain?
02/08/00: Bush must retool his entire campaign
01/27/00: Could Gore beat Bush as Truman beat Dewey?
01/20/00: Big New Surplus Estimates Could Alter 2000 Politics
12/21/99: Bush improves, everyone panders
12/16/99: Prospects improve for campaign reform
12/14/99: Riots raise free trade as 2000 issue
12/10/99: Gore won GOP 'debate' in N.H.
12/07/99: Election pits Bush cuts vs. Medicare boost
12/03/99: Can race be a constructive issue in 2000?
11/19/99: White House race may be best in decades
11/16/99: Where is Bush on health care fight?
11/11/99: Will TV stop profiteering from politics?
11/09/99: Is GOP isolationist, or just partisan?
11/04/99: Gore, Bradley Run Opposite Races On Style, Substance
11/01/99: GOP, Clinton could reach deal swiftly
10/27/99: Bush to fight 'culture wars' -- positively
10/21/99: Porter, Mack: heroes on medical research
10/19/99: Gore scores among party big shots, but polls go South
10/14/99: Bush critiques could help GOP Congress
10/12/99: Congress can save health care from ruin
10/07/99: Will gun-control cause the GOP to shoot itself in the foot?
10/05/99: Gore moves: Desperate but necessary
10/01/99: Fox, Armstrong make case for NIH
09/28/99: Dems' race brightens Bush's chances
09/23/99: East Timor deflates `Clinton Doctrine'
09/21/99: Buchanan v. Bush? Yeah right
09/17/99: Candidates turn attention to poverty
09/15/99: Bush's education problem
09/09/99: Budget makes 2000 an `issues' election
09/07/99:Airport rage increases, with good reason
09/02/99: U.S. future up for grabs in 2000
08/31/99: U.S. Capitol needs visitor's center -- soon
08/24/99: Will 2000 be the year of the foreign crisis?
08/19/99: Neither party has upper hand for '99
08/17/99: Ford gets freedom medal one month early
08/12/99: There's time to catch Bush, say Gore aides
08/10/99: Rudy, Hillary try much-needed makeovers
08/09/99: GOP must launch new probe of Chinagate
08/02/99: Pols blow fiscal smoke on budget surplus
08/02/99: One campaign reform should pass: disclosure
07/27/99: Gore leads Bush in policy proposals

©1999, NEA