Jewish World Review April 24, 2000 /19 Nissan, 5760

Morton Kondracke

Can Gore win on
Bush tax cuts?


http://www.jewishworldreview.com -- TWO OF PRESIDENT CLINTON'S leading 1992 campaign operatives acknowledge that Vice President Al Gore trails Texas Gov. George W. Bush, R, right now. But they say Gore can catch up, though maybe not until October.

In a memo released last week, Democratic pollster Stan Greenberg and strategist James Carville confirmed what public polls also show -- that Bush holds a 5-point lead among likely voters and is liked better as a person.

Last week, the Bush campaign, reviewing 28 public polls published since March 1, asserted that Bush's lead has widened from an average of 1.4 points last month to 5.7 points in April.

In a poll last month, Greenberg and his partner, Al Quinlan, also found that on a test of how warmly voters feel toward the two candidates, Bush rated 50.5 and Gore, 46.3. Some GOP pollsters think that the election will be decided more on perceptions of the candidates' personal "attributes" than on issues.

The ex-Clinton strategists clearly do not agree. "If the Democrats remain on the offensive," they wrote, "there are very good reasons to believe this election will shift Democratic -- though probably late in the cycle, maybe even in October."

To win both the presidential and congressional election, Carville and Greenberg wrote, Democrats have to attack GOP tax cuts, emphasize education, Medicare and health issues, and be more reassuring to voters on values.

"The massive Bush-Republican tax cut is the single biggest thematic advantage available to Democrats in 2000," their memo advised. "They should never lose sight of it."

In their poll, Greenberg and Quinlan tested several attack lines against Bush and found that the one with the most impact was: "Bush wants to spend the lion's share of the budget surplus on a massive, $1.8 trillion tax cut. That will leave almost no money to invest in education, protect Medicare and retire the national debt."

Variations on the tax-cut theme -- including charges that most cuts would go to the wealthy and would preclude a prescription-drug benefit for seniors and health insurance for children -- beat out all other attack lines.

When voters were told that both candidates would use the budget surplus to protect Social Security, then were asked to choose between Bush's tax cut "for American families" and Gore's "investments" in education and Medicare, voters preferred Gore's position, 52 percent to 43 percent.

After taxes, attacks on Bush's "opposition to gun safety," his health policies and his Texas environmental record had the most power, the Clintonites declared.

Carville and Greenberg are not involved in the Gore campaign, but the veep and his strategists obviously have similar views on how to win, judging by Gore's constant assaults on Bush's "risky tax scheme."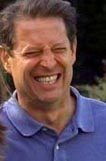 Oy, AlGore!

Greenberg told reporters at a breakfast last week that he thinks the Bush campaign also thinks it's vulnerable on taxes because it emphasizes the five-year total of the cut, $483 billion, instead of the larger 10-year total, which Bush puts at $1.3 trillion.

Gore claims that the Bush tax cut actually would cost $2.1 trillion over 10 years. Gore strategist Bob Shrum said, "This will use up the non-Social Security surplus and either require cuts in education and health, create a deficit, or make it necessary to invade the Social Security surplus. Bush can't decide which petard to sit on."

Bush's campaign manager, Karl Rove, says that the $2.1 trillion figure is "ridiculous, but we're going to let (Gore) exaggerate it and clobber him with it later."

It's not clear how that will happen. Even Bush aides acknowledge that some spending cuts will be needed to make the tax cuts fit into the surplus, and they haven't identified the cuts.

According to Greenberg, Gore can win on issues, but Democrats are running behind on "values," having become identified with "permissiveness" as a result of Clinton's impeachment.

As a result, Bush and Gore are tied among women voters, Bush leads by 19 points among white seniors, and Democrats trail by 25 points among white married voters.

To recoup, the Greenberg-Carville memo suggests that Gore decry the loss of respect for rules among young people and emphasize smaller, safer classrooms and more discipline in schools.

By 52 percent to 34 percent, that message trumps a Bush theme based on moral decline among leaders and more emphasis on religion as an answer.

One GOP pollster, Frank Luntz, dismisses all emphasis on issues and themes. "Gore is at a hopeless disadvantage because attributes count more than issues," says Luntz. "He can't re-cast himself as someone who says what he thinks and does as he says."

But Greenberg contends that Bush is dropping on "attributes" -- basically because people think he's "not up to the job."

All told, the evidence suggests an uphill climb for Gore. When he did the right thing and said that little Elian Gonzalez should have a chance to stay in the United States, his poll numbers dropped. The public believes Gore's a panderer.

JWR contributor Morton Kondracke is executive editor of Roll Call, the newspaper of Capitol Hill. Send your comments to him by clicking here.

04/18/00: Levin's 'bridge' key to China trade?
04/11/00: Congress, U.S. Voters Still Aren't Ready For Campaign Reform
04/06/00: Bush, Gore Silent As Popular Culture Gets Ever Coarser
03/30/00: Is 2000 Like 1948, 1976 or 1960? Or Is This Unparalleled?
03/28/00: Will Bush, Gore Go for a Better Way To Pick Nominees?
03/23/00: Medicare cutbacks bleed hospitals
03/20/00: Chances Improve That China Trade Will Pass Congress
03/16/00: Lieberman as veep would help Gore
03/14/00: Can Bush, McCain Unite to Beat Gore?
03/09/00: Can GOP Forge Unity After Nasty McCain-Bush Race?
03/07/00: What accounts for McCain's excesses?
03/02/00: 'Debate' Proved Gore Is This Year's Best Gut-Fighter
02/29/00: Surprises! The 2000 GOP race is full of it
02/25/00: Voters want centrist in White House
02/23/00: Gore would hit McCain's record
02/15/00: Will negativity hurt McCain in S.C.?
02/10/00: How hard should Bush hit McCain?
02/08/00: Bush must retool his entire campaign
01/27/00: Could Gore beat Bush as Truman beat Dewey?
01/20/00: Big New Surplus Estimates Could Alter 2000 Politics
12/21/99: Bush improves, everyone panders
12/16/99: Prospects improve for campaign reform
12/14/99: Riots raise free trade as 2000 issue
12/10/99: Gore won GOP 'debate' in N.H.
12/07/99: Election pits Bush cuts vs. Medicare boost
12/03/99: Can race be a constructive issue in 2000?
11/19/99: White House race may be best in decades
11/16/99: Where is Bush on health care fight?
11/11/99: Will TV stop profiteering from politics?
11/09/99: Is GOP isolationist, or just partisan?
11/04/99: Gore, Bradley Run Opposite Races On Style, Substance
11/01/99: GOP, Clinton could reach deal swiftly
10/27/99: Bush to fight 'culture wars' -- positively
10/21/99: Porter, Mack: heroes on medical research
10/19/99: Gore scores among party big shots, but polls go South
10/14/99: Bush critiques could help GOP Congress
10/12/99: Congress can save health care from ruin
10/07/99: Will gun-control cause the GOP to shoot itself in the foot?
10/05/99: Gore moves: Desperate but necessary
10/01/99: Fox, Armstrong make case for NIH
09/28/99: Dems' race brightens Bush's chances
09/23/99: East Timor deflates `Clinton Doctrine'
09/21/99: Buchanan v. Bush? Yeah right
09/17/99: Candidates turn attention to poverty
09/15/99: Bush's education problem
09/09/99: Budget makes 2000 an `issues' election
09/07/99:Airport rage increases, with good reason
09/02/99: U.S. future up for grabs in 2000
08/31/99: U.S. Capitol needs visitor's center -- soon
08/24/99: Will 2000 be the year of the foreign crisis?
08/19/99: Neither party has upper hand for '99
08/17/99: Ford gets freedom medal one month early
08/12/99: There's time to catch Bush, say Gore aides
08/10/99: Rudy, Hillary try much-needed makeovers
08/09/99: GOP must launch new probe of Chinagate
08/02/99: Pols blow fiscal smoke on budget surplus
08/02/99: One campaign reform should pass: disclosure
07/27/99: Gore leads Bush in policy proposals

©1999, NEA