http://www.jewishworldreview.com -- I first met Arnold Schwarzenegger in an inner-city school in Philadelphia. It was last summer during the Republican National Convention, and this well-built white guy was wowing a big audience of sweltering black kids.
What was it, I asked myself, that created this palpable rapport between this fellow with a Teutonic accent and these African-American teenagers, both boys and girls?
The "Mr. Universe" thing -- that he'd made his name as a world champion body builder? The "Terminator" image he'd constructed on the movie screen?
I decided it was his basic, human authenticity. Here, in a bad neighborhood in summer-in-the-city Philly, was this 53-year-old guy in running shoes pitching physical fitness and healthy competition, the same sweaty stuff that took him to the top.
It's this "genuine article" sensation you get upon meeting Arnold Schwarzenegger that makes this $20 million-a-movie Austrian immigrant a serious Republican prospect for California governor next year. In a state beset by electrical blackouts and political grayness, he could loom next year as the star who lights up the Golden State sky.
I asked him at that first meeting why he, unlike so many Hollywood figures, became a Republican. He said it was something he saw on TV during the 1968 presidential battle between Richard Nixon and Democrat Hubert Humphrey.
"I was sitting in front of a television set, and I didn't even understand half of it because my English wasn't good enough then. It became apparent very quickly what Nixon stood for and what Humphrey stood for.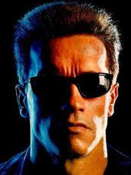 Schwarzenegger
"Humphrey stood for government solving all our problems. Nixon said, 'No, let the people decide. Let the people make the choices of what products they want.' So I said to myself, 'This is great! I'm a Republican!' "My friend who was translating said, 'Oy vey! This is all I need!'
"That's where it really began," he said, "because I came from a socialistic country. I saw what the advantages and big disadvantages of big government are."
How does such rugged capitalism comport with his Inner City Games program?
"I came over here with a tremendous will, and there was nothing that could stop me from making it. I had this big vision of being the best in all of those different things. But what about the guy who doesn't have that drive? Should we just leave him behind? I think if you are a really good Republican you would go out and accomplish the things you want to, then use that power to pull along those who have been left behind."
A race for governor, which would put such Bush-style compassionate conservatism to the popular test, would obviously present risks.
Timing is everything.
Richard Nixon watched Gov. Pat Brown get booed mercilessly at the opening of Candlestick Park in 1961. A year later, after taking a licking from Brown, it was Nixon who had to suffer the booing.
Four years later, it was a different story. Pat Brown tried laughing off a challenge from actor/TV personality Ronald Reagan, only to find himself choking on Reagan's trail dust.
Gov. Gray Davis has been hit hard by California's historic energy crisis. But that's this year. Will the incumbent have control of events by next November? Will 2002 be a rerun of 1962 or 1966?
The gamble may appeal to a man who has defied critics and the odds since his youth.
Schwarzenegger was told as a kid that an Austrian could never make it in body-building, a world dominated by Americans. He became Mr. Universe six times. Even after his marriage to JFK niece Maria Shriver, he was told he couldn't make it in the movies, not with his accent and outlandish moniker. Even family members suggested he try something in the nutrition field.
He proved the critics wrong then. Next November he may do it again.

JWR contributor Chris Matthews is the author of Hardball. and hosts a CNBC show of the same name. Send your comments to him by clicking here.