Jewish World Review August 6, 2004 / 19 Menachem-Av 5764

Neil Cavuto
The summer of 2001
http://www.jewishworldreview.com | I know you're still focused on having fun this summer. Maybe you're back from vacation or just about to start one. Maybe you'll host some barbecues or family gatherings. Maybe both. I'm the last person in the world to want to rain on your parade. But I want to remind you of a different summer. A different time that wasn't all that long ago. Actually, it was just three summers ago.

I want to remind you of the summer of 2001. It was the first summer with a president named George W. Bush, and a rough summer for anyone named "investor." The market was correcting, and once-favored technology stocks were imploding.

But we as a nation were playing. Taking trips. Going to ballgames. Enjoying barbecues. Typical summer stuff. And at the movie theaters, it was typical summer fare. A third installment of a flick about dinosaurs and yet another crack at a movie about apes.

More telling that summer was a movie that proved very big that summer — a movie about terror, about a surprise attack, about the worst single assault on U.S. soil ever. It was called "Pearl Harbor." We watched it in awe. We debated again how it could have happened, what signals we missed, what the president could have done. I remember documentaries anew that pondered that fateful day. Things we learned. Things we didn't.

Little did I know, little did any of us know, that as we debated what enemies were planning to do to us back in 1941, few of us could have comprehended what enemies were plotting in 2001. The very summer we were looking back, they were looking forward. When we were focused on a movie about a terror attack 60 years earlier, they were focused on an attack they would launch just weeks later.

It was an innocent time — our last innocent time — when we gamely took commercial flights and thought little of the danger, and worked in tall office buildings and feared little of the threat. But the danger was building and the threat palpably escalating. There would be practice flights that summer, by the very teams that would launch evil on us that September. Some of us sat next to these terrorists and didn't know it. Maybe you shared a first-class cabin with them and didn't think twice about it.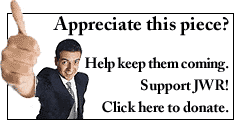 In those days, only three summers ago, we flew planes effortlessly and traveled the world fearlessly. We didn't fear bridges, trains or tunnels. We were devil-may-care, unaware a devil was there.

It's funny how only a few short years erase the memories, how we revert to the good images and forget the bad. It's almost as if Sept. 11 never happened. News organizations refuse to show the brutality of that day to this day. We gloss over the issue of terror with sanitized snapshots of a couple of skyscrapers on fire. We never show the sequence of events that led to that fire or the fallout from that fire. We dare not show planes ramming into those buildings or people jumping from those buildings.

We have moved on from then. Perish the thought we should be reminded of that time. I could understand us glossing over horror in the summer of 2001. It amazes me our ability to gloss over terror in the summer of 2004. As if it didn't happen. As if it didn't jolt. And scare. And shock. And destroy. As if people didn't jump to their deaths and heroes didn't save many more from certain death. It's as if we've learned nothing.

Well, it's time for me to remind us all of something. We were attacked. Three thousand of our people died. And the people who murdered them are still after us. They're still trying to kill us. To bury us. Destroy us. Because . . . they know us. They know how we like to gloss over and move on, bury the bad thoughts and think only good thoughts. They know we have neither the stomach nor the tolerance for the unpleasant. They count on that. They count on us. Just like they did three summers ago.

Just like they are doing this summer.

Americans are a wonderfully resourceful and upbeat people . . . we bury the bad. But that doesn't mean we should forget the bad or what bad people do. Our enemies counted on that then. They shouldn't count on that now.
Every weekday JewishWorldReview.com publishes what many in Washington and in the media consider "must reading." Sign up for the daily JWR update. It's free. Just click here.


Neil Cavuto is managing editor of Business News at FOX News Channel. He is also the host of "Your World with Neil Cavuto" and "Cavuto on Business." He's the author of "More Than Money : True Stories of People Who Learned Life's Ultimate Lesson". (Click HERE to purchase. Sales help fund JWR.) Comment by clicking here.

07/30/04: IF YOU DON'T LIKE IT, SHOVE IT!
07/23/04: For the life of me . . . what about life?
07/19/04: Love America or love to hate America?
07/09/04: Why don't ugly people have charisma?
07/02/04: NOT SO FAST, AL!
06/25/04: SHOW IT! ALL OF IT!
06/21/04: Too nice for his own good?
06/14/04: They always come back
06/04/04: The power of 'thank you'
05/28/04: Why do we tolerate awful people?
05/24/04: Good golly, Ms. Gandhi! Lessons for President Bush
05/17/04: Yes, it's cool . . . to be nice!
05/10/04: Bill and me: The story of the former president who took on the current business anchor!
05/03/04: Cleaning up in life
04/26/04: Ignore that man behind the curtain!
04/19/04: Sorry for not being sorry
04/11/04: Dying . . . to live
04/02/04: The rude CEO
03/30/04: Shut up, move on, watch out!
03/22/04: LET HIM LOOSE!
03/15/04: FREE MARTHA! (Kinda)
03/08/04: Al, how do we love thee?
03/01/04: ISN'T THAT RICH?!
02/23/04: The real issue on tax cuts
02/17/04: Let Atkins rest in peace!
02/15/04: The smallest slight, the biggest headache
02/09/04: Sign it, send it, be done with it!
02/02/04: What a pain in the class!
01/26/04: Pundits punt it
01/19/04: What's wrong with having a temper?
01/12/04: When the applause stops
01/05/04: 2003 — The year of the optimist
12/22/03: Nothing succeeds . . . like success
12/15/03: When the boss takes your call
12/08/03: The day I realized my daughter had grown up
12/01/03: Let's give thank$
11/24/03: Camelot . . . not
11/17/03: Cordially speaking, I hate you!
11/03/03: I can't "wait" to get back at you!
10/27/03: What would we die to know?
10/20/03: Smile while you work
10/13/03: Dull man walking: Why Gray was too gray
10/05/03: Who says we're so depressed?
09/29/03: Thanks, but no thanks
09/22/03: Big Companies vs. Big Government
09/15/03: Terrorists and idiots: Financial lessons learned
09/08/03: Watch out, Mr. President
09/03/03: Tips for Empty Nesters
08/25/03: Friends and hypocrites
08/18/03: When good news goes bad
08/11/03: I'VE GOT YOUR NUMBER!
08/04/03: PHONY BALONEY!
07/28/03: The meaning of a pin
07/21/03: We are what we eat
07/14/03: Don't like it, don't keep it!
07/07/03: The check, and the recovery, is in the mail!
06/29/03: Who says Al's our pal?
06/23/03: The big pitch for the "big get," no big deal!
© 2003, Neil Cavuto