Jewish World ReviewJune 14, 2004 / 25 Sivan, 5764

Neil Cavuto
They always come back
http://www.jewishworldreview.com | One thing I've learned about the Europeans is they always come back. Oh, sure, they bash our arrogance. They even bash our ignorance. They say we're not cultured or refined. They call our presidents who shoot from the hip empty in the head. They said the same of Ronald Reagan. They say much the same of President Bush.

But in all these retrospectives on Reagan and his life this past week, one remarkable fact stands out — even the Europeans come around. And Reagan is the perfect example. When he first came into office, the French press, in particular, called him a cowboy (the hat didn't help). The Germans bemoaned his lack of sophistication. Even some in the often-uppity British press called him clueless. His Strategic Defense Initiative was similarly blasted for being naive at best, and a global threat at worst. His huge tax cuts were labeled a huge mistake for which the world would pay a huge bill. Ronnie Reagan could do no right.

But things changed, namely because the economy changed; not only in the U.S. but abroad. And as things picked up in Paris and Stockholm and Lisbon and Bonn, suddenly the economy ring-leading this turnaround was getting credit, albeit grudging credit. Now the same vicious press that lambasted Reagan's tax cuts as reckless was praising them as prescient, even brilliant. Not only had those tax savings lifted American spending for American goods, they had lifted American spending for European goods. And a fellow named Ronald Reagan had made it all possible — the guy with the simplistic economic solutions that had led to a simply marvelous global economic turnaround.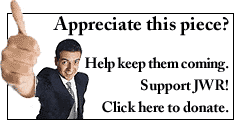 Ditto Reagan's infamous Star Wars campaign. It prompted the Russians to retreat, and eventually communism itself to die. And all this prompted Europe to rethink, reanalyze and reassess the man for whom it had held such collective disdain.

It's too soon to say whether President Bush will enjoy the same swing in support. But we're already getting signs he just might. During his recent European tour, commemorating the 60th anniversary of D-Day, European leaders that used to avoid him suddenly had no problems yapping with him. The cozy pow-wows continued at the G-8 summit in Sea Island, Ga., as heads of state sauntered up to the head of the biggest and most economically productive state. The improving U.S. economy might be a big reason. After all, their economic engines are following our lead, and I guess, by extension, our leader. His tax cuts also seem to have done some good getting things going. So respect, or at least "like," is back.

Now don't get me wrong. George Bush is no hero with the French. But the fact the French are willing to consider dipping their toes back in some United Nations-sponsored role in Iraq closer to Washington's liking than Jacques Chirac's says something.

It just got me thinking. With success comes influence. With power comes prestige. And with prestige, stubborn recognition. Ronald Reagan experienced it first-hand. There were enormous doubts about this cowboy actor when he stepped into the White House. There were enormous doubts about this cowboy Texas governor when he stepped into the White House. But each in his own and different way compels even his critics to take a second look.

To be sure, each had his problems even after winning over converts. Deficits loomed large for Reagan. They loom larger still for Bush. Reagan had Iran-Contra. Bush has Iraqi prisons. But Reagan made a nation forget the bad, and I suspect this president will make a nation and a world forget the embarrassing.

The sum of each man's good accomplishments ultimately triumph over the perception of all the bad. It worked for Reagan, who ended up wowing Europe.

It will work for Bush, who just might end up surprising Europe.
Every weekday JewishWorldReview.com publishes what many in Washington and in the media consider "must reading." Sign up for the daily JWR update. It's free. Just click here.


Neil Cavuto is managing editor of Business News at FOX News Channel. He is also the host of "Your World with Neil Cavuto" and "Cavuto on Business." He's the author of "More Than Money : True Stories of People Who Learned Life's Ultimate Lesson". (Click HERE to purchase. Sales help fund JWR.) Comment by clicking here.

06/04/04: The power of 'thank you'
05/28/04: Why do we tolerate awful people?
05/24/04: Good golly, Ms. Gandhi! Lessons for President Bush
05/17/04: Yes, it's cool . . . to be nice!
05/10/04: Bill and me: The story of the former president who took on the current business anchor!
05/03/04: Cleaning up in life
04/26/04: Ignore that man behind the curtain!
04/19/04: Sorry for not being sorry
04/11/04: Dying . . . to live
04/02/04: The rude CEO
03/30/04: Shut up, move on, watch out!
03/22/04: LET HIM LOOSE!
03/15/04: FREE MARTHA! (Kinda)
03/08/04: Al, how do we love thee?
03/01/04: ISN'T THAT RICH?!
02/23/04: The real issue on tax cuts
02/17/04: Let Atkins rest in peace!
02/15/04: The smallest slight, the biggest headache
02/09/04: Sign it, send it, be done with it!
02/02/04: What a pain in the class!
01/26/04: Pundits punt it
01/19/04: What's wrong with having a temper?
01/12/04: When the applause stops
01/05/04: 2003 — The year of the optimist
12/22/03: Nothing succeeds . . . like success
12/15/03: When the boss takes your call
12/08/03: The day I realized my daughter had grown up
12/01/03: Let's give thank$
11/24/03: Camelot . . . not
11/17/03: Cordially speaking, I hate you!
11/03/03: I can't "wait" to get back at you!
10/27/03: What would we die to know?
10/20/03: Smile while you work
10/13/03: Dull man walking: Why Gray was too gray
10/05/03: Who says we're so depressed?
09/29/03: Thanks, but no thanks
09/22/03: Big Companies vs. Big Government
09/15/03: Terrorists and idiots: Financial lessons learned
09/08/03: Watch out, Mr. President
09/03/03: Tips for Empty Nesters
08/25/03: Friends and hypocrites
08/18/03: When good news goes bad
08/11/03: I'VE GOT YOUR NUMBER!
08/04/03: PHONY BALONEY!
07/28/03: The meaning of a pin
07/21/03: We are what we eat
07/14/03: Don't like it, don't keep it!
07/07/03: The check, and the recovery, is in the mail!
06/29/03: Who says Al's our pal?
06/23/03: The big pitch for the "big get," no big deal!
© 2003, Neil Cavuto