Jewish World Review Jan. 26, 2004 / 3 Shevat, 5764

Neil Cavuto
Pundits punt it
http://www.jewishworldreview.com | When I was in college, there was this one guy on my dorm floor, Steve, who was the certifiable expert on everything.

Talk about the Yankees? "The win's in the bag."

A Steven Spielberg movie coming out? "Money in the bank."

Carter-Reagan 1980 (yes, I'm dating myself)? "Carter, without question."

Needless to say, Steve didn't exactly bat a thousand, but that didn't stop him from batting around his opinions. What amazed me was how many people in my dorm at the time took Steve's word as gospel. Maybe because Steve was loud. Maybe because Steve was big. I don't know. He just seemed so convincing, so strong in his convictions that you couldn't doubt the guy if you tried. But even back then I was not so inclined to buy his every word. Not because I was particularly prescient, but because Steve was really obnoxious, and he bugged me.

There are lots of Steves in the world today. Many of them grow up to become pundits. Pundits like to go on and on about what will happen in the world. There are all sorts of pundits, of course — political pundits, market pundits, sports pundits, and pundits who try to out-pundit the punditry of political, market and sports pundits all put together.

Political pundits concluded only a couple of weeks ago that Howard Dean was unstoppable for the Democratic presidential nomination. Iowa proved he wasn't.

Financial pundits at the height of the market bubble predicted it was all a new paradigm for years to come. It wasn't.

Sports pundits had the Yankees taking it all the last two years in a row. They didn't.

The bottom line is that pundits are no better than you and me: They make guesses that are more often follow-the-crowd than wow-the-crowd. And they are often wrong, very wrong. But that doesn't stop their punditry. What's amazing to me is why we care about what they say.

Pundits said we should see what a big deal the Dean momentum was, that it was drawing in big endorsements from the likes of Al Gore and Iowa Sen. Tom Harkin. Pundits love big politicos who out-politico their punditry. And they like symmetry with their punditry, so if they see Dean as the guy, they love it when those in power start to see Dean as the guy, too. Neither the pundits nor the politicos ever took a second to consider that hey, maybe the other guy's a dunce.

Just like the financial pundits who said after Enron exploded that faith in American corporations would tumble and that all companies — all companies — would suffer, as if every executive was a crook and every spreadsheet stained.

Just like they predicted the first mutual fund scandal would prompt a wholesale rejection of mutual funds on the part of American investors. Nowhere in their dire warnings did they calculate that investors were wise enough to conclude some funds were bad and some chief executives were bad, too. But not all. The markets went up without the pundits seeing it, and the mutual fund industry carried on without any pundit predicting it.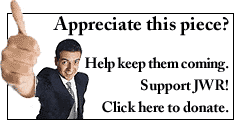 We should expose these charlatans for who they are — tea leaf readers who couldn't distinguish Lipton from Lipitor. They haven't a clue, and deep down inside they know they haven't a clue. As we speak, they're busily re-arranging their predictions, saying it's an open Democratic race now, maybe Sen. John Kerry's race to lose now.

They're looking at the markets and saying the good times are back and it's 30 percent a year gains for as far as the eye can see.

Pundits are pundits because they can't do anything else. They can't grasp much more depth than the black-and-white figures before them, "at the time" they're before them.

They pounce on the latest poll, the latest sentiment and the latest fling to make the earliest pronouncement. They think they're Nostradamas. I know they're nothing of the sort.

The sin isn't that they go on pontificating. The sin is that we bother to listen to them when they do.
Every weekday JewishWorldReview.com publishes what many in Washington and in the media consider "must reading." Sign up for the daily JWR update. It's free. Just click here.


Neil Cavuto is managing editor of Business News at FOX News Channel. He is also the host of "Your World with Neil Cavuto" and "Cavuto on Business." Comment by clicking here.

01/19/04: What's wrong with having a temper?
01/12/04: When the applause stops
01/05/04: 2003 — The year of the optimist
12/22/03: Nothing succeeds . . . like success
12/15/03: When the boss takes your call
12/08/03: The day I realized my daughter had grown up
12/01/03: Let's give thank$
11/24/03: Camelot . . . not
11/17/03: Cordially speaking, I hate you!
11/03/03: I can't "wait" to get back at you!
10/27/03: What would we die to know?
10/20/03: Smile while you work
10/13/03: Dull man walking: Why Gray was too gray
10/05/03: Who says we're so depressed?
09/29/03: Thanks, but no thanks
09/22/03: Big Companies vs. Big Government
09/15/03: Terrorists and idiots: Financial lessons learned
09/08/03: Watch out, Mr. President
09/03/03: Tips for Empty Nesters
08/25/03: Friends and hypocrites
08/18/03: When good news goes bad
08/11/03: I'VE GOT YOUR NUMBER!
08/04/03: PHONY BALONEY!
07/28/03: The meaning of a pin
07/21/03: We are what we eat
07/14/03: Don't like it, don't keep it!
07/07/03: The check, and the recovery, is in the mail!
06/29/03: Who says Al's our pal?
06/23/03: The big pitch for the "big get," no big deal!
© 2003, Neil Cavuto